The news that every Florida Panthers fan has been waiting for is about to happen. Elliotte Friedman of Sportsnet reports that the team has signed a long-term extension with Aleksander Barkov, their star center, inking a new eight-year contract that will kick in for the 2022-23 season. The deal will carry an average annual value of $10MM according to Friedman, with the majority of the money coming in the form of signing bonuses. PuckPedia reports that the deal will have a no-move clause for the first six years, and a 16-team no-trade clause in the final two. The modified no-trade clause Barkov had for this season has also been converted to a full no-move. The contract has now been officially announced, but Pierre LeBrun of The Athletic has the full breakdown:
2022-23: $1.0MM salary + $11.0MM signing bonus
2023-24: $1.0MM salary + $11.0MM signing bonus
2024-25: $1.0MM salary + $11.0MM signing bonus
2025-26: $1.0MM salary + $10.6MM signing bonus
2026-27: $1.0MM salary + $9.0MM signing bonus
2027-28: $1.0MM salary + $7.0MM signing bonus
2028-29: $1.0MM salary + $6.2MM signing bonus
2029-30: $1.0MM salary + $6.2MM signing bonus
Panthers GM Bill Zito released a statement on the deal:
Over his past eight years in South Florida, Sasha has demonstrated his leadership, character and elite playmaking ability, cementing himself as one of the best all-around players in hockey. He has earned the respect of the hockey community through work ethic and a team-first attitude. Most importantly, he is a tremendous person, athlete and friend and we are thrilled to secure Sasha as our leader on and off the ice for the next eight years.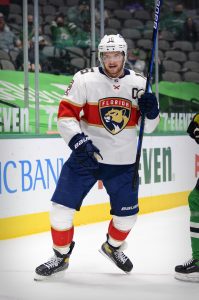 Barkov, 26, will carry just a $5.9MM cap hit this season on the last year of a deal that turned into one of the biggest bargains in the NHL. Signed in 2016 just a few months into his third NHL season, the six-year, $35.4MM contract was an absolute steal for the Panthers, who watched their young phenom turn from a lanky, inconsistent presence to a powerful two-way force. In 2018-19 Barkov recorded a career-high of 35 goals and 96 points, but the 6'3″ 215-lbs center is much more than his offensive numbers.
The reigning Selke Trophy winner, Barkov has been nominated as one of the best defensive forwards in the league every year since his sophomore season, finishing in the top-6 four times. His faceoff numbers have improved dramatically in the last few seasons and he took home the Lady Byng Trophy in 2019 as a nod to his minuscule penalty totals. Through 529 games, with an average of 20 minutes a night, Barkov has recorded just 98 penalty minutes.
There's no way the team was going to let him get anywhere near unrestricted free agency if they could help it, but that doesn't mean there isn't plenty of risk in a deal like this. Barkov likely could have secured even more on the open market, but that $10MM cap hit will tie him for 11th in the entire NHL moving forward–a tie with teammate Sergei Bobrovsky, whose free agent deal has certainly not worked out. With both of those in the fold, the Panthers become just the fourth team in the NHL with at least two players earning in excess of $10MM. The Chicago Blackhawks, Los Angeles Kings and Toronto Maple Leafs (who have three), have had well-documented salary cap crunches that have cost them depth over the years because of the big money deals at the top.
That cap crunch will be real for the Panthers, who also have $7.5MM Aaron Ekblad and $6.5MM Sam Reinhart to fit in. The team now has more than $77.8MM committed to just 16 players for next season, not leaving them a ton of room to fill out the rest of their roster.
Still, if there was ever a player to spend on, it's Barkov. Not only does he represent the best skater Florida has seen in quite some time (or perhaps ever), he also only turned 26 a month ago. An eight-year term always buys out years that could see a decline in production, but at least the Panthers aren't going into his late-thirties with this new extension.
This is also a new comparable for other top centers around the league, including Nathan MacKinnon who has just two years left on his current deal. There's no telling just how high the Colorado Avalanche will have to go with their franchise player, given his offensive numbers the last several years are even more impressive than Barkov's. It's also one of the first big dominoes for next year's free agent market, which currently includes high-end names like Mika Zibanejad, Johnny Gaudreau, and Filip Forsberg. The former in particular will be looking at Barkov's deal, though there is plenty of time for each of them to reach new extensions before free agency even approaches.
Photo courtesy of USA Today Sports Images