The Toronto Maple Leafs have locked up one of their leaders for a long time, announcing an eight-year extension for Morgan Rielly. The defenseman was in the final year of his current deal and will now be under contract through 2029-30. The deal carries an average annual value of $7.5MM, a raise on the $5MM cap hit he currently carries. Pierre LeBrun of The Athletic clarifies the trade protection in the deal, explaining that there is a no-movement clause for the entire extension, which also is extended through the rest of this season. An NMC does not actually necessarily include a no-trade clause, however, and in this case, Rielly has received (in addition to the NMC which prevents the player from being placed on waivers) a full no-trade in the first six years and a 10-team no-trade in the final two.  CapFriendly reports the full breakdown:
2022-23: $4.0MM salary + $4.0MM signing bonus
2023-24: $5.0MM salary + $5.0MM signing bonus
2024-25: $10.0MM salary
2025-26: $8.0MM salary
2026-27: $6.0MM salary
2027-28: $6.0MM salary
2028-29: $6.0MM salary
2029-30: $6.0MM salary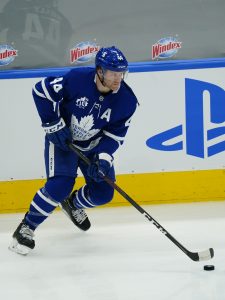 Rielly, 27, appears to have taken a discount to stay with the Maple Leafs, at least in terms of annual salary compared to some of the contracts that have been handed out in recent months. Since entering the league in 2013-14, Rielly rank 19th among defensemen in scoring with 309 points in 580 games and finished fifth in Norris Trophy voting in 2018-19. That year he posted 20 goals and 72 points, numbers that do seem to be a bit of an outlier given he has not cracked ten goals in any other season.
In fact, while Rielly's offensive numbers have been consistent and his durability has been a huge positive, his true upside doesn't appear to be quite as high as some believed in the past. Last season, for instance, Rielly finished the year with just eight more points than teammate Jake Muzzin, despite seeing drastically easier deployment and spending most of the year on the first powerplay unit.
Even with those questions around his potential upside, there's little doubt that Rielly could have secured a higher AAV on the open market, had he decided to test free agency next summer. That would have come with offers of only seven years in length though, making it easy to see why he would want to ink the eight-year pact that could very well be a higher total than he could have secured in free agency. He also is now able to stay with the team he's played with his whole career, and the one that he wears an "A" for as alternate captain.
Still, even at a relative cap hit discount, this is an extremely risky move for the Maple Leafs. The team is already dealing with huge cap hits for three forwards and are now adding $2.5MM per season to a defenseman that hasn't been able to get them over the first-round hump to this point. Rielly is a core member of the team, but he'll also turn 28 before this extension even kicks in and now eats up even more of their precious cap space.
It's hard to argue that this contract gets the Maple Leafs any closer to winning a Stanley Cup, even if it does look like a reasonable amount for a player of Rielly's skill level.
Photo courtesy of USA Today Sports Images