Topics in this edition of the PHR Mailbag include the latest on Chicago's captain, Carolina's quiet trade deadline, Taylor Hall's next destination, Colorado's goaltending situation for expansion, potential Selke Trophy candidates, targets for New Jersey in free agency, and many projections.  If your question doesn't appear here, watch for it in next weekend's mailbag.
realsox: What is the current status of Jonathan Toews?
Toews has missed the entire season due to an illness and with it being a sensitive health matter, it's nice to see that there hasn't been a lot of ill-founded speculation on his situation.  The original announcement was that he was experiencing symptoms that left him feeling drained and lethargic and quite frankly, that can be quite a few things and there's no point guessing on what it could be.  He hasn't skated lately and isn't coming back this season, even if Chicago makes a miracle run to get to the playoffs.
The good news is that last month, TSN's Darren Dreger reported that Toews' health is improving and that as things stand, he's expected to be available for next season which is great news.  That means that the Blackhawks won't be able to put his $10.5MM on LTIR for next year but with Brent Seabrook and Andrew Shaw's playing days done, they'll still have a lot of money on there and if all goes well, they'll have their captain back which would give them a huge boost at center, a position that has been a problem spot all season.
mikedickinson: Is Waddell's lack of a move at the deadline going to hurt the Canes? With Jesper Fast out last night they dressed seven defensemen and the third and fourth lines weren't anything great.
I know GM Don Waddell had suggested that they weren't going to be anywhere near as active at the trade deadline as they were a year ago but I was expecting more from them than swapping out sixth defenders (Haydn Fleury for Jani Hakanpaa and a sixth-rounder).  I thought they'd have moved out a goalie but that market didn't materialize as much as some thought it would (and with Petr Mrazek banged up again, that may wind up working out for them in the end).
I would have liked to see them add some more forward depth, especially since they had the cap space to add where a lot of other contenders didn't but there may have been a budgetary element to that as well.  Having said that, a depth winger shouldn't make or break their chances in the playoffs.  Carolina's top six is what will make the difference and that has been bolstered with Teuvo Teravainen's long-awaited return.  Teams often go as far as their top players will take them when it comes down to crunch time, so to speak and as long as those guys stay healthy, they should be in good shape regardless of their third and fourth lines.
M34: Where does Taylor Hall fail next season?
At this point, I don't see a reason to think why it won't be Boston.  Following the trade, Hall confirmed that he used his no-move clause to push a deal to the Bruins and that he had interest in joining them last fall but the money couldn't come together.  Unless things go really poorly, it's hard to see him opting to go elsewhere.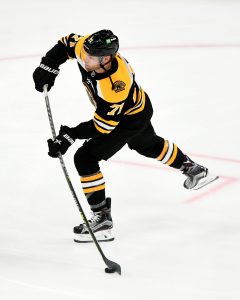 What works for Hall is that he's now in a role that's better suited for him.  At this point of his career, he's not a 20-minute player that's going to be counted on to get the key goal at the crucial moment.  He wasn't that at the end of his time in New Jersey, he wasn't that in Arizona, and he certainly wasn't that in Buffalo this season.  If he decides to hit the open market this summer in a search for a role where he can be that number one guy, he will probably struggle once again.  But he doesn't need to be that in Boston where he's clearly behind Brad Marchand in the pecking order and Marchand isn't giving up that role anytime soon.  He can get the secondary defensive matchups playing alongside David Krejci and take advantage of those which he has so far.
Also working in Boston's favor is their cap situation moving forward.  Krejci's $7.25MM comes off the books this summer and while there's a very good chance he re-signs, it'll be at a lower rate than what he's getting now.  Some of those savings can go towards Hall – who is on Boston's books at $4MM with Buffalo retaining the rest – while not drastically hurting their financial flexibility with moves still to make in terms of solidifying the defense and retaining or replacing Tuukka Rask.  Lots can change over the next few months but if I'm picking where he signs right now, it's Boston.
coachdit: If you were in Joe Sakic's shoes, what would you do with goalie regarding the expansion draft? Dubnyk and Gruby are UFA after the season, Johansson and Francouz are in their second season and I believe that means they are exempt.
Let's look at the eligibility situation first.  This is Jonas Johansson's fourth season on an NHL contract so he is eligible to be taken (but he's a pending UFA at no risk of being picked).  It's technically Pavel Francouz's third year but he hasn't played this season.  Unless he comes back, he won't accrue a year of service time which makes him exempt.  Hunter Miska is also eligible for selection.
I don't think there's much of a decision to make here.  If they can re-sign Philipp Grubauer by then, he gets protected.  If they think there's a chance to re-sign him after expansion, he gets protected.  If he goes to them and says he's testing the open market, I'd still probably protect him as there's no risk of Miska getting picked even with him on an AAV that's below the league minimum salary for 2021-22; the Avs will have better players left unprotected to pick from than him.
The only way I don't see Grubauer being protected is if his demands are so high that Colorado goes out and trades for a goalie.  In that case, whoever they get becomes protected.  Otherwise, signed or not, they may as well just protect Grubauer.
KAR 120C: Who are the Selke trophy candidates? I ask as Draisaitl is looking good, but wonder about all of the variables in play. It feels like there are always the incumbents.
Honestly, I don't think Leon Draisaitl is in the conversation.  Regardless of how good someone's defensive game is, if you're battling for a scoring title, you're probably getting overlooked for a defensive award.  He may get some fourth and fifth place votes but I doubt he sees more than that.
Yes, there are the usual suspects that are in it regularly.  Patrice Bergeron is always going to be in the mix.  So too is Ryan O'Reilly.  Last year's winner (Sean Couturier) would have been in the mix had it not been for injuries.  Mark Stone dropped to fifth last year after finishing second three years in a row and has to be given strong consideration as well.
If you're looking for a darkhorse candidate, I'll toss out Aleksander Barkov.  He has been thought of as underrated for so long that he really isn't underrated anymore so he's on the radar for voters.  He logs heavy minutes including late-game defensive situations and takes a regular turn on the penalty kill.  He's well above average at the faceoff dot.  If you look at possession and expected goals for stats (which some voters do), he stands out there as well.  And with the award seemingly gravitating towards the best two-way forward in the league instead of the best defensive one, Barkov certainly has the offensive numbers to stand out too.  You can never count out the regulars for this award but this may be the year for Barkov.
SpeakOfTheDevil: You mentioned in prior mailbags that the Devils lack an identity (which I sort of agree with you about).  That being said, name three free agents the Devs should go after this offseason to complement the pieces that we do have and that start acquiring that identity.
With the cap space New Jersey has entering a market that has few teams with big money to spend, I'm going to dream big here with a couple of these.  I don't see them landing three big fish but here is who I'd target if I was GM Tom Fitzgerald.
Dougie Hamilton – With Ty Smith and Damon Severson already on the roster plus P.K. Subban, there's a puck-rushing component to build off of.  Hamilton can add to that.  With the young group of forwards they have, Lindy Ruff is trying to get a team that plays more up-tempo.  Hamilton fits that playing style.  And with Subban being a year away from unrestricted free agency, there's a pending hole to be filled and what better way to fill it than the best UFA blueliner out there that already fits the direction they seem to want to go?
Gabriel Landeskog – There is a lot of finesse in New Jersey's young core but not a lot of high-end sandpaper.  Landeskog plays with enough of a physical edge to make him stand out among New Jersey's options and is talented enough offensively to fit alongside Jack Hughes or Nico Hischier and really bring another dimension to that line while also providing some much-needed scoring on the wing.  He'd be a huge boost on their top line.
Zach Hyman – Is he a big fish compared to these two?  Not really but he'd be a nice consolation prize nonetheless.  He has shown in Toronto that he is a perfect complementary piece for skill players and fits in an up-tempo environment.  That's what New Jersey has and is hoping to build upon.  If the plan is to build around Hughes and Hischier anchoring the top two lines, they need someone that's willing to do the dirty work around the boards and more specifically, someone that's good at it.  Hyman checks those boxes.  With his price point coming in lower than some of the top free agents out there, he's going to have plenty of interest but the Devils have the ability to outbid them all.
The Duke: Crystal Ball fortunes/rankings, please, for points and time frame for: Jarvis, Newhook, Krebs and Veleno; Kotkov, Denisenko, Kravtsov and Podkolzin; Valimaki and Fabbro – and GAA/time frame for Melnichuk, Vladar, Ingram, Larsson and Petruzzelli? Thank you in advance.
With you asking about 15 players this time instead of a smaller group, I'm going to try to be a little shorter than usual on each one but here we go.
Group One
Seth Jarvis (CAR) – I've touched on him before but I see him as a second-liner down the road which has him in the 45-50-point mark.  I could see him getting a look next year but 2022-23 may be more likely for him to debut.
Alex Newhook (COL) – Same as Jarvis in terms of point potential.  The Avs may need to put a few more entry-level players into their lineup next year depending on which UFAs they need to keep which could give Newhook a leg up.  Otherwise, 2022-23 for his start time as well.
Peyton Krebs (VGK) – Another one that's in that 45-50-point range, he could use a full AHL season before making the jump although they may opt for a longer route given his recent injuries and the fact that Cody Glass – another first-round center – has had his development stunted a bit by trying to develop him more in the NHL.  2022-23 is a possibility but 2023-24 may be more realistic.
Joe Veleno (DET) – With a full AHL year under his belt already plus spending this season overseas, he's pretty much ready to step in so I'll put 2021-22 as a timeframe.  While he was a dominant scorer in junior, I think he's more of a two-way third liner in the NHL in the 30-point range.  Don't mistake that as me being down on his upside though – he'll be an important piece of their rebuild.
Group Two
Vladislav Kotkov (SJ) – He's a good junior scorer but not great and I can't help but wonder if some of his production comes from being bigger and older than most opponents.  He needs at least two if not three years in the minors before having an NHL shot and I don't see him being a big point producer at the top level.  Still a worthwhile add as an undrafted UFA by the Sharks though.
Grigori Denisenko (FLA) – He looks more like a third liner based on his recent numbers but KHL guys with limited playing time (which is where he was before this season) are tough to project; they see him as having top-six upside which would have him around 40 points.  A year in their system (on their own farm team instead of Tampa's) is needed at a minimum to earn a full-time spot.
Vitali Kravtsov (NYR) – With the other wingers the Rangers have, I think he's more of a third liner than a top-six fit.  I know the KHL goal total was impressive this season (16 in 49 games) but was that more of an outlier?  25-30 points is the safer pick but if they clear someone out in an effort to get center help, that will go up as he'll have a window to a bigger role.  He's basically a regular now and that's unlikely to change next season.
Vasili Podkolzin (VAN) – The biggest wildcard out of anyone on here. Vancouver thinks he's a top-liner which has him in the 55-point or more range.  With how he has done against his own age group, that may be a bit high (and I'm not even going to dig into his KHL numbers).  There's a good chance he's a regular next season but he could be a 25-30-point guy to start with a gradual increase once he establishes himself.
Group Three
Juuso Valimaki (CGY) – I know it's his first year back but I think Calgary was expecting a bit more from him.  I can't write off his offensive upside entirely considering what he did in junior but unless he can play his way into a bigger role with special teams time, it's hard to see him going higher than 20 points most years.
Dante Fabbro (NSH) – He's going to be an important part of Nashville's back end – he is already – but even though he put up some points in his last year at Boston University, that's not going to be his NHL calling card, especially with those in front of him.  He could get to the 20-25-point range but I don't think he's dynamic enough offensively to go much higher.
Group Four
Alexei Melnichuk (SJ) – The fact that Josef Korenar has passed him on the depth chart is concerning.  His AHL numbers aren't pretty and with SKA St. Petersburg in Russia acquiring his rights yesterday, there is going to be a strong offer to get him to go home.  Assuming Korenar is the backup next season, I don't know if there is an NHL ETA for Melnichuk as if he's faced with the choice in 2022 of re-signing as a third-stringer or going to a top KHL team, I think he's going with the latter.
Daniel Vladar (BOS) – I like him as a third-string option but I'm not sure he's an NHL backup moving forward.  Jeremy Swayman looks like he's part of the tandem next season with a veteran (Rask, Jaroslav Halak, or a free agent) filling the other spot.  He has two more years left and maybe in that final year he gets a longer look but between now and then, it's spot duty.
Connor Ingram (NSH) – With this year being largely a write-off, I expect they'll want him to spend next season with AHL Milwaukee and then move up to be the backup to Juuse Saros.  If they're skeptical that they can get him through waivers though, he could be in the mix as soon as next season.  It's hard to project GAA numbers as a lot of the time it's team-dependent; just go two or three tenths above the starters' numbers and the projection will be pretty close.
Filip Larsson (DET) – In hindsight, staying in college would have been the better way to go.  Larsson is two years into his entry-level deal now and frankly hasn't progressed much.  He's at least two years away but needs to be qualified by then and I'm not sure he has done enough to get that yet.
Keith Petruzzelli (DET) – Larsson's fate will largely be determined by whether or not they can get Petruzzelli signed between now and the middle of August; it's intriguing that a deal hasn't been done yet.  I think he could be in the mix to be an NHL backup after a couple of professional seasons and with Detroit basically opting for veteran stopgaps in recent years, there's an opportunity for him to move fast in their system.
Photo courtesy of USA Today Sports Images.