The calendar has flipped from April to May with last month ending on a high note with the rest of their TV deal finalized and while this month started on a concerning one following some allegations regarding Vancouver's Jake Virtanen.  Meanwhile, there was some other notable news around the league which are covered in our key stories.
Seattle Joins The League: While we've been talking about Seattle becoming the 32nd team for the better part of two years now, their entry to the league was contingent on the full payment of their $650MM expansion fee.  The final instalment has been received and they have now officially become the 32nd NHL franchise.  While that means that they'll be able to take part in the draft lottery and expansion draft, in the nearer term, it also allows them to begin signing free agents right away.  While NHL players won't hit the open market until closer to the end of July, college and international free agents are still available and can sign which would help the Kraken built up their prospect pool.
Drouin Takes Leave: After missing the previous three games with what had been listed as an illness, the Canadiens transferred winger Jonathan Drouin to LTIR while granting an indefinite leave of absence for personal reasons.  It has been a tough season for the 26-year-old who has scored just twice in 44 games and some time away from the rink will hopefully help his situation.  With the placement being retroactive to his last game played, Drouin technically is eligible to return late in the regular season but obviously there is plenty of uncertainty with his situation with the team asking everyone to respect his privacy at this time.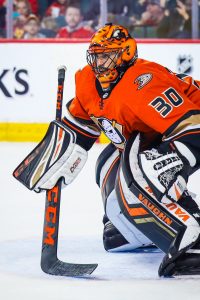 Miller To Retire: Ducks goaltender Ryan Miller has decided to call it a career, announcing that he will retire at the end of the season.  The 40-year-old has spent parts of 18 seasons in the NHL, predominantly with Buffalo and has been Anaheim's backup for the last four seasons.  His expected final NHL start came on Saturday and it was a good one as he allowed just two goals on 25 shots in a 6-2 victory over the Kings.  Assuming that he doesn't see any more game action, he'll hang up his skates with 391 career victories, the most of any American-born player in NHL history while posting a .914 SV% along with 44 shutouts over 795 appearances.
Roy Wants To Return: Patrick Roy has been out of the NHL since his abrupt resignation from Colorado as their head coach back in 2016 but it appears he is interested in trying his hand at the top level once again.  Roy has signed with Neal Glasberg of PBI Sports & Entertainment with an intention of returning to the NHL as either a coach or GM.  While he has no front office experience in the NHL, he has been the GM of the Quebec Remparts of the QMJHL for 13 years over two separate stints (while serving as their head coach for most of those).  With what happened with the Avalanche though, it will be interesting to see if that winds up affecting potential interest in him as vacancies open up over the next few weeks.
Shaw Ends Playing Career: Blackhawks winger Andrew Shaw has battled frequent concussions in recent years and decided that it's time to hang up his skates as he announced the end of his playing career.  Technically, while he has effectively retired, he still has another year left on his contract so he will land on LTIR again next season alongside Brent Seabrook.  Shaw finishes up his playing days with 247 points (116 goals and 131 assists) in 544 career NHL games between Chicago and Montreal and a pair of Stanley Cup rings with the Blackhawks in 2013 and 2015.
Photo courtesy of USA Today Sports Images.