Although we're not even two months into the season, the trade deadline is just over a month away.  Where does each team stand and what moves should they be looking to make?  We continue our look around the league with the Calgary Flames.
Expectations were high in Calgary heading into the season.  Goaltending was a concern last year so they went and got the best one on the market in Jacob Markstrom.  T.J. Brodie moved on to Toronto in free agency but Chris Tanev was brought in.  The offense largely remained intact and while they underachieved a bit last season, the talent is there for improvement.  But the results haven't met the expectations.  One big change was already made behind the bench but GM Brad Treliving will have to decide over the next several weeks if more moves need to happen.
Record
11-12-3, 6th in North Division
Deadline Status
Buyer
Deadline Cap Space
$1.890MM in full-season space ($4.435MM at the trade deadline), 0/3 retention slots used, 46/50 contracts used per CapFriendly.
(This number fluctuates considerably with Derek Ryan being recalled or sent to the taxi squad on a near-daily basis.  The above amount is with Ryan on the taxi squad, not the active roster.)
Upcoming Draft Picks
2021: CGY 1st, CGY 2nd, CGY 3rd, EDM 3rd, CGY 5th, CGY 6th, CGY 7th
2022: CGY 1st, CGY 2nd, CGY 3rd, CGY 4th, CGY 5th, CGY 6th, CGY 7th
Trade Chips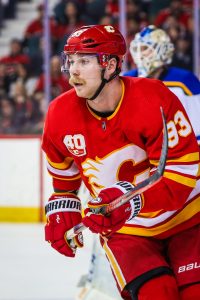 Sam Bennett's desire to play elsewhere is well-known after his agent, Quartexx's Darren Ferris, made that request public late in January.  Since then, he has basically been everywhere from the front line to the press box.  Accordingly, it's hard to imagine his name not being in play over the next month.  However, the recent coaching change that brought Darryl Sutter throws a wrinkle into things.  The veteran bench boss encourages a grittier style of play, one that would seemingly benefit Bennett more than most on that roster.  Accordingly, it's not easy to see the 24-year-old stepping up over the next few weeks, potentially taking his name out of consideration in the process.  If not, the pending restricted free agent – who carries a $2.55MM AAV and needs a qualifying offer at that rate this summer – is going to be in plenty of speculation between now and April 12th.
Oliver Kylington has been an interesting player on Calgary's back end.  After he somewhat shockingly slipped to the end of the second round in 2015 going 60th overall, it was a slow climb to the NHL but he looked to have the inside track for a spot on the third pairing after playing 48 games last season.  However, he cleared waivers back in January, has been sent down to the taxi squad a dozen times, and has played in just three games this season.  Still just 23 and carrying a cap hit of just below $788K, Kylington is a prime candidate to be moved to a team that may be rebuilding and would have more of a willingness to live with the ups and downs of his performance.
Dominik Simon looked like a quality pickup for the league minimum back in October.  After recording 22 and 28 points over his previous two seasons with Pittsburgh, the 26-year-old seemed like a good addition to their fourth line while being someone that could move up if needed.  Instead, he has hardly played, suiting up in only nine games and clearing waivers earlier this month.  He doesn't have the potential upside that Kylington does but the winger is the type of affordable depth that teams often try to add closer to the trade deadline on the cheap.  The fact he can now be assigned to the taxi squad actually makes him more valuable than he was just a week ago when he was on waivers.
Others to Watch For: F Josh Leivo ($875K, UFA), F Matthew Phillips ($733K, RFA), D Alexander Yelesin ($925K, RFA)
Team Needs
1) Scoring help – Calgary sits 23rd in the NHL in goals per game, a number that stands out even more considering how high-scoring the North Division is; four of the top nine teams in the league in that department are from there.  Johnny Gaudreau is their only double-digit scorer and only four players have 15 points or more on the season.  In a division where many of the teams are high-scoring, the Flames will need to outscore their way out of trouble, not just rely on Markstrom.  A top-six forward would go a long way towards accomplishing that.
2) End of roster depth – Simon and Leivo were among those that Calgary brought in to give themselves some extra depth and be able to roll four lines.  Unfortunately, it hasn't worked to the point where they've rotated several players into that role with Leivo being the only one logging more than 10 minutes a night.  Recent recalls have been in the five-to-eight-minute range.  More is needed from their bottom few forwards.  On the back end, Nikita Nesterov has seemingly won the battle for the sixth spot but hasn't provided much at either end.  Upgrading on him would also be a boost; a reunion with former Calgary defender Travis Hamonic – a pending UFA – would make some sense but an upgrade in general on the right side would be worthwhile.
Photo courtesy of USA Today Sports Images.