2020 was certainly a unique year away from the rink.  However, it was also a year that featured several big trades and free agent signings, coaching changes, and much more.  We continue our look back at the top stories from around the game on a month-by-month basis.  Next up is September, a month that had many teams entering offseason mode and there was plenty of activity as a result.
Canadiens Strike Early: Rather than wait for free agency to try to fill all of their roster holes, the Canadiens opted to make some early trades to get a head start on their shopping.  First, they acquired Jake Allen from St. Louis for a third-round pick and a swap of seventh-rounders to give Carey Price a reliable backup goaltender to work with.  Then, after picking up the negotiating rights to pending UFA Joel Edmundson, they inked the blueliner to a four-year, $14MM contract.  They then started to work on their early contract extensions, signing defenseman Jeff Petry to a four-year, $25MM extension.  GM Marc Bergevin has long been a believer of building from the net out and these moves certainly continued that trend.
GM Hirings: The two GM vacancies around the league were both filled.  First, Florida hired Columbus assistant GM and former agent Bill Zito as their new general manager, replacing Dale Tallon who had been with the team for more than a decade.  Zito wasted little time making his first big move, acquiring Patric Hornqvist from Pittsburgh for Mike Matheson and Colton Sceviour.  Arizona then found their new GM, bringing in former St. Louis assistant Bill Armstrong for that role.  He took the place of John Chayka who abruptly resigned back in July in what appeared to be an attempt to go elsewhere in one of the more bizarre situations of 2020.  As it turns out, the fallout for that one wasn't finalized until just yesterday.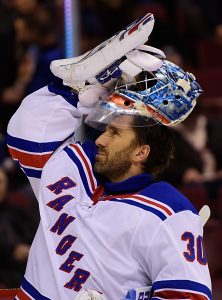 End Of An Era: While it had been expected for a while especially following the emergence of Igor Shesterkin between the pipes, it was still notable that the Rangers bought out the final year of Henrik Lundqvist's contract, ending his tenure with New York after 15 seasons.  The veteran is their all-time leader in games played, wins, saves, and shutouts but his $8.5MM AAV was simply too rich for the Rangers considering he was likely to be their third-stringer in 2020-21.  Instead, they opted for the buyout which saved them $3MM in cap room for this season though it also increased their dead money on the books to nearly $13MM, a number that doesn't even consider their bonus cushion limitations.
Brodin Extension: Minnesota decided that defenseman Jonas Brodin is very much in their long-term plans, signing the veteran to a seven-year contract extension that carries a $6MM AAV.  The 27-year-old has never been an offensive dynamo – he had a career-best 28 points last year – but he remains one of the more unheralded defensive defensemen in the league.  Notably, Brodin also received a no-move clause which ensures that he'll be protected from Seattle in this summer's expansion draft.  Considering teams typically only opt to protect three defenders and Brodin joins Jared Spurgeon and Ryan Suter as guaranteed protectees due to their NMCs, this contract also calls Mathew Dumba's long-term future with the Wild into question.
Coaching Hires: It wasn't just GM positions getting filled in September.  Calgary lifted the interim tag off of Geoff Ward, promoting him to the full-time role while San Jose did the same with Bob Boughner with neither move coming as much of a surprise.  Meanwhile, Washington found their new bench boss, hiring veteran Peter Laviolette as their new head coach, replacing Todd Reirden who was let go after two seasons (he subsequently went back to Pittsburgh as an assistant).  After going with a first-time head coach with Reirden, Laviolette falls in the veteran category with more than 1,200 games of head coaching experience in the NHL with the Islanders, Hurricanes, Flyers, and Predators.
Photo courtesy of USA Today Sports Images.