We've now gotten past Thanksgiving and the holiday season is right around the corner. Like the last few years, PHR will take a look at what teams are thankful for but this year comes with a bit of a change. Normally teams would have an idea of where their season was heading, coming up on the one-quarter mark with mountains of statistics to analyze. Instead, in this unprecedented year, the season hasn't even begun. We'll still take a look at what each group is excited about and what they could hope for once the calendar turns to 2021.
What are the Hurricanes most thankful for?
Stable(ish) ownership.
Yes, Hurricanes owner Tom Dundon does have something of an "out-clause" in his ownership agreement, but as Sara Civian explained in a mailbag for The Athletic last month, it's not really something for fans to worry about. Dundon has been great for Carolina overall, even if his methods have sometimes garnered negative attention from national media. The team is sitting in a strong position on the ice and he has given the front office the ability to spend right to the cap, even in this financial climate. The Hurricanes got everyone signed and will be paying Sebastian Aho more than $10.5MM this season thanks to his huge, signing-bonus laden contract.
The test will really come next year, when the team will enter negotiations with budding superstar Andrei Svechnikov on his next deal. After a brutal 2020, ownership all over the league will be tightening purse strings to try and balance things out. Will the Hurricanes be able to lock him up to an expensive, long-term deal? So far they've shown no sign of slashing player payroll, with more than $80MM committed to this season.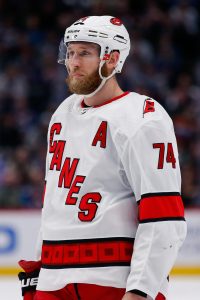 Who are the Hurricanes most thankful for?
At a time when those finances are so tight, one can only marvel at the contract that Slavin is under. He'll enter just the third season of a seven-year deal signed in 2017 that carries a $5.3MM cap hit, already an incredible bargain for a top-pairing defender in his prime. But because there was a potential threat of a lockout this year, Slavin's deal is actually structured to have its lowest salary in 2020-21. He's owed just $3.9MM for this season, giving the team a little more flexibility in a depressed economic climate.
Of course, it's easy to point to him and say "good and cheap," but that may undercut just how valuable Slavin has been on the ice for Carolina. The 26-year-old scored 36 points in 68 games this season, all while continuing to be an incredible defensive player and logging more than 23 minutes a night for the Hurricanes. Those impressive numbers earned him a fifth-place finish in Norris Trophy voting, while the incredibly-low total of ten penalty minutes landed him fourth in the Lady Byng vote. Slavin is just entering the years in which defensemen are usually at their best, meaning he could have even more to give on the ice. Locked up for the next five years, he was recently listed as one of the most valuable assets in the league by Jonas Siegel of The Athletic.
What would the Hurricanes be even more thankful for?
A Dougie Hamilton extension.
Because Slavin is so effective at such a reasonable price and the Hurricanes have some money coming off the books after this season, a Hamilton extension is a realistic possibility. GM Don Waddell explained last month that he hoped to reach a deal before this season got underway, though it is not clear if that will actually happen. Even if it doesn't happen immediately, a new deal for Hamilton would lock in what is one of the most impressive defensive corps in the league long-term. Slavin, Brady Skjei, Jake Gardiner, and Brett Pesce are already signed for at least three seasons, while Haydn Fleury is on a cheap two-year bridge deal and Jake Bean won't have arbitration rights. Of that group only Gardiner has reached his 30th birthday.
The question is whether or not Hamilton even wants an extension and whether he'd be looking for a long-term deal. The 27-year-old was on track to challenge for the Norris this season before he was injured (he still finished seventh in voting) with 14 goals and 40 points in his first 47 games. An analytical darling for years, Hamilton looked like he took another step offensively and was ready to show he is one of the most effective defensemen in the entire league. The threat of a shortened or even canceled season will be frustrating for both him and the Hurricanes, who are set to part ways without an extension of some sort. Hamilton carries a $5.75MM cap hit for this year, but that number is sure to increase on his next contract.
What should be on the Hurricanes' holiday wish list?
A long-term answer in net.
James Reimer and Petr Mrazek are not it, simply. They're both NHL goaltenders and shown an ability to put up very good numbers at times—they combined for a .931 in eight postseason games—but neither one has been consistent enough to hang a long-term extension on. With the strong roster the Hurricanes have put together, a legitimate top goaltender could potentially put them over the edge. They showed interest in Frederik Andersen earlier this summer and could potentially circle back if he hits the open market in the offseason, but what they really need is a younger option that can grow with the core and really put his stamp on the crease.
Cam Ward was that once, leading the team to a Stanley Cup as a rookie in 2006 and locking down the position for the next decade. But even Ward had his struggles and only played in one other postseason run. In a perfect scenario someone like Alex Nedeljkovic, the 2019 AHL Goaltender of the Year would be able to take a step forward and force himself onto the roster, but the Hurricanes may potentially have to look externally for their next netminder.
Photo courtesy of USA Today Sports Images