It's Thanksgiving this week in the United States and the holiday season is right around the corner. Like the last few years, PHR will take a look at what teams are thankful for but this year comes with a bit of a change. Normally teams would have an idea of where their season was heading, coming up on the one-quarter mark with mountains of statistics to analyze. Instead, in this unprecedented year, the season hasn't even begun. We'll still take a look at what each group is excited about and what they could hope for once the calendar turns to 2021.
What are the Sabres most thankful for?
A deep forward group.
No longer are the Sabres putting all their hopes on youngsters. The team is suddenly loaded with established players who have proven themselves. To go with Jack Eichel, the team has added a number of key additions to go with solid playmakers as the team now boasts Eichel, Taylor Hall, Eric Staal, Sam Reinhart, Jeff Skinner, Victor Olofsson and a number of other players who can thrive in bottom-six roles like Kyle Okposo, Cody Eakins, Dylan Cozens, Casey Mittelstadt, etc. The depth at forward is a major improvement for a team that needs to score and this team should have that quality of depth that should be able to give Buffalo a chance to earn their first playoff appearance in nine years.
Who are the Sabres most thankful for?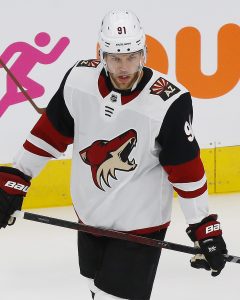 Taylor Hall.
With the pandemic flattening out the salary cap for the foreseeable future, there weren't too many long-term offers for Hall, the top free agent of the 2020 free agent class. Instead, Hall looked for a short-term deal from a team with extra cap room and surprised quite a few people when he picked the Sabres, due to the chance to play next to Eichel for the year.
The addition of Hall, totally enhances the team's top-nine as he immediately will slot into the top line next to Eichel and will finally get a chance to play next to an elite center, something he hasn't had in quite a number of years. The hope is that Hall can find his game from two years ago when he was the Hart Trophy winner with the New Jersey Devils, leading them single-handedly into the playoffs. If he can do that for the Sabres, Buffalo should have a legitimate chance to break their nine-year drought and Hall will establish himself again as the top free agent for 2021 in hopes of landing that big-term deal.
What would the Sabres be even more thankful for?
A return to form of Jeff Skinner.
After posting a 40-goal season in 2018-19 and signing a eight-year, $72MM deal, things never panned out after that for Skinner, who struggled mightily with just 14 goals and 23 points in 59 games last season. The forward was a disaster and found himself spending quite a bit of time on the third line trying to find his game. With seven years at $9MM AAV, the Sabres have to hope that Skinner will be able to bounce back and become that fixture on the second line that they were hoping for. The talent is there to surround the goal-scoring forward, but the team needs for him to execute, otherwise the team will be stuck with a player and a contract that they don't want.
What should be on the Sabres' Holiday Wish List?
The Sabres may be in need of help in goal. The Sabres have a solid offense and defense, but their goaltending could be what's holding them back. The team can hope that Linus Ullmark is ready to take the starting load this season. He did produce impressive numbers with a .915 save percentage in 34 appearances, but is he the answer in net? Unfortunately, top goaltending prospect Ukko-Pekka Luukkonen, might not be ready for another couple of years, meaning the team may need to find a way to bring in a more proven goaltender that can handle big minutes.
Photo courtesy of USA Today Sports Images.