Navigating the salary cap is one of the more important tasks for any GM.  Teams that can avert total cap chaos by walking the tightrope of inking players to deals that match their value (or compensate for future value without breaking the bank) remain successful.  Those that don't see struggles and front office changes.
PHR will look at every NHL team and give a thorough look at their cap situation heading into the 2020-21 season.  This will focus more on players who are regulars on the roster versus those who may find themselves shuttling between the AHL and NHL.  All cap figures are courtesy of CapFriendly.
San Jose Sharks
Current Cap Hit: $79,146,667 (under the $81.5MM Upper Limit)
Entry-Level Contracts
D Mario Ferraro (two years, $925K)
F Danil Yurtaykin (one year, $925K)
F Lean Bergmann (two years, $837K)
F Fredrik Handemark (one year, $793K)
F Noah Gregor (one year, $768K)
F Alexander True (one year, $763K)
F Joachim Blichfeld (one year, $737K)
Potential Bonuses:
Ferraro: $213K
Bergmann: $133K
Handemark: $133K
Gregor: $65K
True: $20K
Blichfeld: $20K
Total: $584K
The Sharks are overloaded with plenty of prospects on entry-level deals. The team sampled many of those players last year in hopes of finding some bottom-six depth, but very few players were able to make their mark last year. The most obvious success was the play of Ferraro, who established himself as an NHL defenseman after spending two years at the University of Massachussets-Amherst playing alongside Cale Makar, and now will battle for a top-four spot in the Sharks' lineup this year. While his offense is still coming around, the defenseman is a hard-worker and impressive locker room presence already after one season and should only get better.
Another player who should get a legitimate opportunity at center for San Jose is Handemark. The 27-year-old SHL veteran has been solid presence in Sweden for years and now will bring his talents over to San Jose in hopes of adding to the team's bottom-six depth. Handemark had career highs of 14 goals and 38 points in 52 games and should replace the spot formerly held by Joe Thornton. The rest are less likely to make the squad unless one of them can prove they can handle a bottom-six role.
One Year Remaining, Non-Entry-Level
G Devan Dubnyk ($2.17MM, UFA)
F Ryan Donato ($1.9MM, RFA)
F Marcus Sorensen ($1.5MM, UFA)
F Stefan Noesen ($925K, UFA)
F Patrick Marleau ($700K, UFA)
F Matthew Nieto ($700K, UFA)
F Antti Suomela ($700K, UFA)
F Dylan Gambrell ($700K, RFA)
*- Minnesota is retaining an addition $2.17K of Dubnyk's cap hit and salary
One of the most interesting acquisitions this offseason was bringing in both Dubnyk and Donato from Minnesota. Both be free agents in a year, although Dubnyk will be an unrestricted free agent. The team brought in the long-time Wild starter with the hopes that the 34-year-old might push for the starting goalie spot next season. Dubnyk is coming off one of his worst seasons in Minnesota after many solid seasons. The team hopes he can bounce back and solidify a weak position last year. The other piece to the trade with Minnesota was Donato, a highly-touted college prospect who is already on his fourth team in just three years. The Sharks hope that dropping him into a top-six situation might set the young forward off after scoring 14 goals last season.
For a minimum deal, the team will bring back Marleau, who has the opportunity to pass Gordie Howe for first place in the NHL in games played this season. Sorensen and Noesen should establish themselves in the bottom six. Sorensen looked on the verge of joining the top six after a 17-goal season in 2018-19, but came down to earth instead, scoring just seven goals. Noesen scored 13 goals in 2017-18 with New Jersey, something that San Jose hopes he can re-create this season. The same sentiment goes for veteran Matt Nieto signed out of Colorado.
Two Years Remaining
F Tomas Hertl ($5.63MM, UFA)
F Joel Kellman ($750K, UFA)
D Jacob Middleton ($725K, RFA)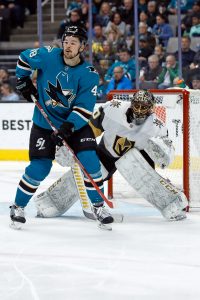 Not much went right in San Jose last year and a major injury to Hertl, who tore his ACL and MCL in his left knee in January and had surgery in February to repair them. However, when healthy, Hertl was one of the team's top players. He made the all-star game after posting 16 goals and 36 points in 48 games before the injury and was coming off a 35-goal season the previous year. If the team can get him healthy and have him bounce back in 2020-21, the team should be in good shape and have two seasons to observe his play before having to make a decision on a long-term deal.
Three Years Remaining
F Timo Meier ($6MM, RFA)
The 24-year-old forward has proven to be a solid, dependable goal scorer for the Sharks as he posted 22 goals and 49 points in 70 games last year. That's a touch less than the 30 goals and 66 points he had in 78 games in 2018-19, but considering the type of season that San Jose had, he is still one of the core pieces for the next three years.
Four Or More Years Remaining
D Erik Karlsson ($11.5MM through 2026-27)
F Logan Couture ($8MM through 2026-27)
D Brent Burns ($8MM through 2024-25)
D Marc-Edouard Vlasic ($7MM though 2026-27)
F Evander Kane ($7MM through 2024-25)
G Martin Jones ($5.75MM through 2023-24)
F Kevin Labanc ($4.73MM through 2023-24)
D Radim Simek ($2.25MM through 2023-24)
This is where the Sharks have failed, locking up all their aging veterans and the team is only beginning to feel the effects of all these long-term deals, many of which are on the wrong side of 30.
Karlsson hasn't looked like the dominant blueliner they thought they acquired from Ottawa two years ago. Karlsson, now 30, has dealt with continual injuries in his two years in San Jose and despite solid numbers (six goals, 40 points in 56 games), the team was hoping for a game-changing player when they brought him aboard and signed him for an $11.5MM AAV. Burns is no different. The team has another five years of the 35-year-old blueliner, who saw a major drop off in points last season. After posting an 83-point campaign in 2018-19, Burns managed just 45 points last season and is starting to look his age. Don't forget that the team also is investing seven more years in Vlasic, already 33 years old, who also has seen his game diminish on the ice.
On the forward end, Couture, 31 years old, is locked up for seven more years and the captain also dealt with injuries and posted just 16 goals last season in 52 games. The Sharks have to hope that he can bounce back this season or that contract too, could look like a mistake. The team also has to look at itself in the mirror after handing a four-year, $18.9MM deal to Labanc after a disappointing season where he scored just 14 goals and 33 points after scoring 17 goals and 56 points the previous year. A risky move after struggling last season. Kane was one of the few players that posted solid results for a second straight year. The 29-year-old did see his points total drop a bit, but Kane posted 26 goals in 64 games after scoring 30 goals the previous year in 75 games.
However, the biggest question mark has been the play of Jones in net. The 30-year-old has posted two straight subpar seasons with the exact same save percentage of .896 and continues to struggle. The team hopes that a new goalie coach and the addition of Dubnyk can change the outlook of Jones' career, who the team still has four more years invested in.
Buyouts
None
Contract Terminations
None
Retained Salary Transactions
None
Still To Sign
F Jonathan Dahlen (RFA)
D Tony Sund (RFA)
Looking Ahead
The Sharks are hoping that several of their veteran players can get back on track in 2020-21 as most of their team struggled to one of their worst seasons of their franchise, a year when they thought they could challenge for the Stanley Cup. With so much money invested in a group of veterans, there is little money to provide significant depth, both in the top-six as well as in the bottom-six. To make matters worse, the team has quite a bit of young talent, but very few of them are ready to help the NHL club this coming season, leaving the team in a tough place if the veterans can't return to form.
Photo courtesy of USA Today Sports Images.