The second half of our mailbag is a busy one with topics including coaching candidates around the league, Nashville's goaltending situation, the slow free agent market, the future of Kyle Dubas in Toronto, Colorado's salary cap planning, and more.  If your question doesn't appear here, check back in last weekend's mailbag.
@michiganroman: Who are the top-5 ex-NHLer head coaching candidates?
Gerard Gallant certainly has to be at or near the top of the list.  While it's notable that his stints with Florida and Vegas didn't last too long, it's also important to note that those teams did well after he took over.  The purpose of a coaching change is usually to give a jolt to the current roster in the hopes of improving things and he has shown that he can have an early impact.  Given Gallant's expansion experience with the Golden Knights, he'd certainly make sense for Seattle.
Mike Babcock and Bruce Boudreau could make sense depending on what a team is looking for.  A team looking for some structure and discipline could turn to Babcock while one that is seeking an offensive boost could look at Boudreau.  John Stevens' stock may be up after the strong season Dallas had as well.
I know the question asks for five but I have two other names I want to highlight.  One is Jim Montgomery, the former coach of the Stars.  His firing was related to an off-ice issue and following a stint in rehab, he's back in the game as an assistant with St. Louis.  I could see someone giving him a second chance at some point.
The other one is a bit more off the radar in Kevin Dineen.  He's currently the head coach of AHL San Diego (the second time Anaheim has hired him to run their farm team) while he has head and assistant coaching experience in the NHL as well as some international experience with Canada's under-18 team and their 2014 women's Olympic team.  That's a rather rare combination to have so I'm a little surprised his name doesn't surface as often for coaching vacancies.
gg24: Will the Rangers be a contender after just this year's FA and draft acquisitions?
pitmanrich: How do you judge David Quinn's first two years as Rangers head coach? How much credit does he deserve for the likes of Strome, DeAngelo, Zibanejad and Panarin's career years and how much is awful defensive play down to him? Rangers are definitely heading in the right direction under Gorton despite little added this offseason but if they miss the playoffs, will coach Quinn be on the hot seat or does he deserve more time?
There's one way that the Rangers are a contender this season and that's if Igor Shesterkin plays like he did in a brief stint last year over the full 2020-21 season.  If that happens and the offense holds up (or even improves with Alexis Lafreniere), they could do some damage.  Having said that, I wouldn't have them in the contender tier just yet.
I also wouldn't have them in a spot where Quinn is coaching for his job either.  When the team said they were doing a full-scale rebuild, that typically takes longer than three years even though they've been able to take some shortcuts along the way by getting Artemi Panarin and lucking out in the lottery to get Lafreniere.  Unless they take a huge step back, Quinn's job should be safe.
Mika Zibanejad may be the only one where I'd give Quinn a fair bit of credit for 'unlocking' his potential.  He was a good second center before but now, he's one that appears to be a franchise cornerstone.  Panarin helped Ryan Strome to his career numbers and it's not as if Panarin's offensive prowess came out of nowhere.  Anthony DeAngelo certainly has emerged since Quinn took over but it also coincides with DeAngelo getting his first real opportunity.  As for their poor defensive showing, their back end isn't full of high-quality defenders so I think roster composition and not system problems is more to blame there.
acarneglia: How do you project the Metropolitan Division to shake out? Any surprises? Dark horses?
This one is tough to call now as we have no idea who will actually be in the Metropolitan Division or even if there is a Metropolitan Division following the expected re-alignment to accommodate the all-Canadian grouping that is likely to be required.  So instead, here is some general commentary of how things look.
In terms of the regular teams, I could see Carolina pushing for the top spot.  It's going to be a year of platooning goalies and they're used to that structure already while the core they have now is better than the one they had for most of last year.  Philadelphia will be up there and if Tristan Jarry can hold up as the full-fledged starter, Pittsburgh should be as well and Washington can't be counted out.  I could see the Islanders taking a step back but a Barry Trotz-coached team is always going to be in the thick of things.  The Rangers may not quite be at that level yet, Columbus seems vulnerable after their moves, and New Jersey still has a ways to go, even with some stability between the pipes now.
The Duke: Can you please make long- and short-term sense of Nashville's goaltending? Thanks.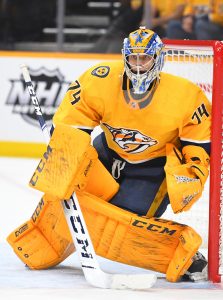 The Predators seem to be in decent shape on both fronts.  Pekka Rinne and Juuse Saros are both signed for next season only and will probably platoon regardless of what format the schedule winds up being.  At that point, Saros will be eligible for restricted free agency and arbitration and will likely get the higher payday and take over as the 1A role unless he really struggles next season.  I wouldn't necessarily call him a starter but they don't really need him in that role for too long either way.  Rinne can either take a pay cut to stick around or walk.  If it's the latter, Connor Ingram moves up and if last season wasn't an aberration, he could push for a decent-sized workload right away.
Long-term, Yaroslav Askarov is their goalie of the future.  He may be three or four years away from moving into that role so GM David Poile's hope at this time is that one of Saros or Ingram is the other netminder when Askarov is ready to make the jump.
I wouldn't put Nashville near the top of the league in goaltending for next season but their tandem is good enough to get the job done most nights.  I believe Askarov has the potential to be one of the top goalies down the road so I'd say they're in good shape in terms of their long-term situation.
DarkSide830: Updated predictions on top remaining FAs?
There are five top-20 players from our top-50 rankings that are still unsigned so I'll use that as the cutoff point for 'top' players.
Mike Hoffman (4) – He's willing to take a one-year deal although he may not wind up with top dollar when it's all said and done.  Something around $4.5MM is possible with Nashville looking like a strong fit.  They have the money and the roster spot to fill while he'd be a huge boost to a power play that wasn't very good a year ago.
Mikael Granlund (9) – I like New Jersey here for him.  The long-term, big-money deal isn't happening but a two or three-year pact for him to serve as a veteran mentor and bridge to some of their younger talent makes some sense, especially with his positional versatility.  The Devils can afford to pay more than most teams but the AAV should check in somewhere near the $4MM mark.
Travis Hamonic (13) – I've liked Winnipeg as his landing spot going back to the start of free agency and I'm not changing that one now.  He takes a PTO to go to camp with them with an agreement in hand to sign a deal closer to $3MM once Bryan Little is placed on LTIR.
Sami Vatanen (14) – If Philadelphia can get Philippe Myers to take a one-year deal, I think Vatanen on a one-year, $2.75MM or so contract makes a lot of sense for both sides.  If they opt for a multi-year deal for Myers, they price themselves out of signing Vatanen at which point he'd have to look elsewhere.  I could see the Kings looking at him on a one-year deal as well with an eye on moving him at the deadline.
Erik Haula (16) – I'm surprised he's still out there given that there are quite a few teams that could use help down the middle.  Returning to Florida may make the most sense for him – their depth chart at center isn't great and they've lost some offense in free agency.  A one-year deal around $2MM or so would sting in the short-term but he'd have a chance to boost his offensive numbers and try again next summer with a better platform year to work off of.
lapcheung39: The Chicago Blackhawks spend only under $2MM on both their goalies. Do you think they will add a veteran like Anderson, Howard?
If there was a veteran goaltender out there that could really make a difference, I'd say that Chicago should go and get that goalie.  Craig Anderson and Jimmy Howard aren't difference-makers at this stage of their respective careers though.  They're fringe backups and the Blackhawks already have that with Malcolm Subban and Collin Delia who are the early contenders to serve as their goalie tandem next season.
Kevin Lankinen's name isn't getting enough attention though.  I may be swayed a bit too much by his performance at the 2019 World Championships but he's a goalie that can win his team some games on his own which is something that can't be said for the other two.  While some have him being the odd man out, it wouldn't surprise me in the least if he winds up as Chicago's starter when all is said and done.  Justified or not (and I'm inclined to call it the latter), this is the route that GM Stan Bowman opted to take with his goaltenders.  With what's left, they may as well see it through with what they have.
jimmertee: How long does Kyle Dubas keep his job?
I think his leash is still pretty long.  The direction that this team has gone isn't just solely his vision and it seems pretty evident that team president Brendan Shanahan is fully onboard with it.  They've fully committed to going the way they have with so much of their cap space tied up in four forwards so unless things really go completely off the rails next season, I don't sense his job is in any jeopardy.
I also don't expect things to go off the rails.  I like the addition of T.J. Brodie into their top four defensively and while they've certainly gotten older and slower up front, guys like Wayne Simmonds, Joe Thornton, and Jason Spezza don't have to do much to provide value on their deals.  Considering the minimal cap room they had to work with, Toronto has assembled a relatively good bottom-six group.  If it winds up being an all-Canadian division as it appears it's going to be, they're going to be right in the mix.
At some point, yes, the core is going to have to show they can get the job done in the playoffs but I think that breaking point is still a couple of years away.  At that point, Dubas will have had to re-sign or replace Frederik Andersen and Morgan Rielly and that will have a big impact on the roster composition at that time.  If they're still not over the hump by then, then it may be time to wonder about his future but that's not on the immediate horizon.
Dtownwarrior78: At the pace they are going now, how long do you see it taking for the Red Wings to truly become potential Cup challengers again? Anytime within the next 3 years or longer? At least competitive for a playoff spot?
It wouldn't shock me if they're three years away from a playoff spot, let alone Cup contention.  While lottery luck hasn't landed them a top pick, there's a decent core emerging with Lucas Raymond, Filip Zadina, Moritz Seider, and even Michael Rasmussen and Joe Veleno.  None of them is a franchise player but that's the making of a solid group, especially with Dylan Larkin and Anthony Mantha in the fold as well.
My concern is their defense and goaltending, however.  Seider should be good and Filip Hronek is quite underrated.  But after that, there are a lot of question marks.  Between the pipes, there's no starter of the future in the system.  That's at least a piece that can be signed in free agency but if they're envisioning Thomas Greiss as their starter while he's under contract, they're not going to be a significant postseason threat.  Until they add another core defender and a proven number one goalie, they're not going to be in contention, even as their young group of forwards develops and improves.
M34: Avs defense. After the sure-fire big-time contract that Makar is going to get, and with Byram and Timmins expected to take big steps forward this season or next, then adding in the flat or potentially decreasing cap situation, how does Sakic make this work, both on the books and on the ice?
Let's tackle the second part first.  Conor Timmins could very well start in the minors if Ian Cole shifts over to his off side which isn't going to help his contract demands.  Bowen Byram is also good enough to start in the NHL but playing time on the left side behind Samuel Girard, Devon Toews, and Ryan Graves is going to be hard to come by.  So in the short-term, the on-ice solution is simply to send them down – Timmins to the Eagles and Byram back to junior.  Eventually, they'll have to trade someone out (even with Cole's deal expiring next offseason) but that's something to ponder next offseason at the earliest.
Timmins is a restricted free agent next offseason like Cale Makar and is probably looking at a one-year deal near the qualifying offer amount or a two-year contract just over $1MM.  That's not hard to fit in either way.  Byram is three years away from his next contract (four if his deal slides next season) and by then, Erik Johnson and his $6MM will be coming off the books although a big chunk of his money is heading for Nathan MacKinnon.
The biggest question in the short-term is can they afford to re-sign Makar and still have enough to keep Gabriel Landeskog around plus have room to pay a starting goalie?  (Brandon Saad may want to stay there long term but that doesn't appear palatable unless the captain leaves.)   That will take some careful financial planning but in terms of their other young defenders, Colorado is in good shape for eventually bringing them into the fold and fitting them in under their cap structure.
Photo courtesy of USA Today Sports Images.