Topics in this edition of the PHR Mailbag include Philadelphia's back end, what's next for New Jersey, Mike Hoffman's market, the Blue Jackets and LTIR, Washington's goaltending situation, schedule and playoff discussion (including the oft-speculated all-Canadian division), and how Vegas can navigate through their cap issues.  If your question doesn't appear here, watch for it in next weekend's mailbag.
ripaceventura30: Did the Flyers do enough to replace the surprisingly retired Niskanen? Myers, Provorov, and Hagg really impressed last year, but are those guys plus Gostisbehere, Braun, Gustafsson, and Sanheim enough of a top-7 to keep this team in Cup contention?
I suspect they've done all they're going to do about Matt Niskanen's retirement.  I like Erik Gustafsson although his fit on this particular roster is a bit of a headscratcher, especially with Shayne Gostisbehere's tough season.  Adding a player with a similar profile as Gostisbehere wasn't something I was expecting but he'll help.
What will help more is the continued development of youngsters Philippe Myers, Travis Sanheim, and Robert Hagg.  Myers, in particular, has shown signs of being ready for a larger role and he'll get that opportunity.  Philadelphia's back end is set up to be more of a by-committee group (with the exception of Ivan Provorov) so despite losing Niskanen and his nearly 22 minutes a game, I think they'll be okay without him.
Is what they've done enough?  I'd have liked to see more of an impact veteran behind Myers than the re-signing of Justin Braun but in terms of preserving flexibility in this particular cap environment, Chuck Fletcher has navigated this reasonably well.  They still have the ability to try to lock Myers up long term and if that doesn't happen, they may be able to add to their roster either in free agency or by an in-season move.
SpeakOfTheDevil: Do you see the Devils making any other moves this offseason? Perhaps offer sheeting someone as has been rumored?
I think they should have another move or two left in them.  Cap space isn't an issue (though budgetary restrictions could very well be in play) but they're a team that could appeal to some free agents looking for a soft landing with the hopes of having more success on the open market a year from now.  There are definitely openings on the wing and there are some good options available at those spots.
As for the offer sheet, my inclination is no.  Yes, prospective GMs were reportedly asked if they'd be willing to go that route so it's certainly on the radar but there's a reason they rarely occur.  Players actually have to sign the agreement and that in itself usually puts an end to any talks quickly as they often don't want to do so.  From there, doing one only makes sense if the amount is low enough for the signing team to justify the cost but high enough to deter the other team from matching.  That's what hurt Montreal's offer sheet for Sebastian Aho last summer as it wasn't high enough to scare Carolina off.
There are definitely vulnerable teams but about the only one I could see getting hit is Tampa Bay if they're not able to clear out money.  And with all due respect to New Jersey, I just don't see one of their young players wanting to leave a Cup-winning team for one that's still in a rebuild.  I do believe the Devils have another move (a free agent signing or a trade to take on a bad contract) to make but it won't be an offer sheet.
DVail1979: I know the back story for the most part but just how toxic is Mike Hoffman considered? If it isn't his off the ice issues why else wouldn't Hoffman be signed already? He is a high-end scorer that could help out most teams. Is he just unwilling to take the Taylor Hall one-year route? Where (if anywhere) do you see him ending up and what kind of contract?
I don't think that particular incident from his time in Ottawa is really playing much of a factor with Hoffman's situation.  There has been plenty of interest and he has indicated a willingness to do like Hall and sign for a year.  But if he's doing that, he's not taking a bargain price and it needs to be a situation where he's well-positioned for a good year statistically.
Right now, the market has slowed to a crawl and about the only deals that are getting signed are bargains.  That should change as the schedule information is released as the start of training camp will act as a soft deadline for free agents.  Eventually, trade activity will increase as well which could open up other options.
As for a prediction of what he signs for, I'm going to say a one-year deal in the $4.5MM to $5MM range.  That's still a small drop from what he made a year ago but that's second line money and a team would find some value at that price point.  Two teams come up as good fits for me – Nashville if he wants to go to a team with an eye on contending for a playoff spot and New Jersey if he's looking for a pillow deal at top dollar.  He'd slide in as a top-six winger on either team and would get lots of power play opportunities to try to pad his stats in the hopes of having better luck on the open market a year from now.
Baji Kimran: Why are the Blue Jackets waiting to place Brandon Dubinsky on LTIR? You'd think they'd want to free up the cap space. Is there some sort of advantage to waiting?
Let's do a quick refresher on the rules before jumping into this one.  In a nutshell, placing a player on LTIR allows a team to spend up to that AAV over the Upper Limit, minus already-existing cap room.  That's why teams often recall players to get as tight to the cap as possible before putting a player on LTIR to maximize how much they're actually eligible for.  It's also why teams like Ottawa and other low-spenders never need to use it even though they have players that can be placed on it.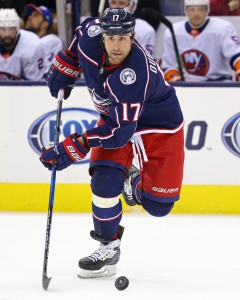 Now let's look at the Blue Jackets.  With Pierre-Luc Dubois unsigned, they have a little over $9MM in cap room, per CapFriendly.  If they placed Dubinsky on LTIR now (and offseason LTIR does exist, though rarely used), they wouldn't actually gain any cap space as their current cap room is greater than Dubinsky's $5.85MM AAV.
For Columbus to best utilize it, they first have to get Dubois signed.  Assuming it's a long-term deal that eats up the majority of that cap room, then they can pad their 23-player roster to make it as expensive as possible to get as close to $81.5MM as they can.  Then they can put Dubinsky (along with Gustav Nyquist who is out for several months) on LTIR and send down the extra players that were used to artificially inflate their spending to maximize their cap room.  That's the advantage of waiting.
Having said that, there's definitely a scenario where it's not used at all.  If Dubois only signs a bridge deal that leaves them with a few million in cap room, they won't need to use LTIR as they'll still be comfortably under.  They have the option to put Dubinsky on LTIR but they have to need to be in that position first and we're six weeks or so away from that happening at a minimum.
2012Orioles: Am I not worried enough about Ilya Samsonov being the starting goalie now with Holtby leaving in free agency? He played well last year but will he be able to transfer that performance to more games?
It's definitely a bit concerning, especially with Samsonov not being able to play in the playoffs.  It's risky handing the reins to an unproven goaltender and for all of the hype that he has, he has just 26 games of NHL experience.  Unfortunately, their cap situation made signing a top veteran (or re-signing Braden Holtby) a non-starter so it's a risk they have to take.
I think GM Brian MacLellan did well to mitigate that risk with the addition of Henrik Lundqvist.  Yes, he's on the downside of his career but he was a starter until the back half of last season.  At the very least, the 38-year-old can handle a platoon workload but if Samsonov falters, Lundqvist could conceivably hold his own playing a bit more than that.  Given the limited money they had available, that's a pretty good backup plan.
It's worth noting that Samsonov's playing time back home was even limited so there's definitely a question mark on his ability to handle a number one workload.  But with 2020-21 shaping up to be a shortened season and Lundqvist in the fold, it's not a situation where he'll be asked to make 50 or more starts so the risk is at least somewhat limited.  If he can get close to 40 starts, I think that's a workload he can handle without it hurting his performance while being a step up from what he's used to getting.  I suspect the Capitals would happily take that from Samsonov next year.
wreckage: Canadian division a real thing next year? Or just a consideration?
If so, how are playoff seeds determined? Say six Canadian teams should be in the playoffs as per point percentages or if the East/West was done. How do they figure it out or potentially figure it out?
It certainly looks like some sort of re-alignment is going to occur with Deputy Commissioner Bill Daly telling Kevin McGran of the Toronto Star just yesterday that this is the most likely outcome for next season.  That's probably going to involve the all-Canadian division and if they're not using short-term bubble hubs, we could see a baseball-type schedule where teams play the same opponent two or three times before moving on.
As for what the playoffs would look like, this is strictly a guess on my part as there has been nothing confirmed about that yet other than they'd like to go back to 16 teams.  Until they know the scheduling format, it's hard to look at the postseason but here's my best guess.
With the uncertainty surrounding border travel, it's difficult to envision a postseason format that involves Wild Card teams.  What if only three Canadian teams qualify under a normal format?  What if five do?  Now you're looking at an American team having to cross over and vice versa.  As a result, my prediction would be four teams per division, which would allow the first two playoff rounds to be played inside the division only.  By then, it'll be June and more info about a possible vaccine would be known and they can make plans from there (including possibly a Final Four bubble).
Conference play is going to be difficult as a result of the Canadian division so I wouldn't be surprised if there simply aren't conferences, just divisions.  The third round of the playoffs would be the team with the best remaining record (or points percentage if there is an imbalance in games played) against the lowest with the other two playing each other and the winners move onto the Stanley Cup Final.  That makes it possible that two East or two West teams play each other but it's (hopefully) just a one-time thing with things going back to normal or close to it for 2021-22.
lapcheung39: Are we going to see a dark horse next year to become the Stanley Cup champion?
It's certainly possible, especially with the likelihood of re-alignment.  Depending on how the new divisions look, a contender could find themselves in tough while a sleeper team takes advantage of a weaker division to propel themselves into contention.
A lot depends on how long the schedule winds up being as well.  If it's on the low end at 48 games, there isn't a lot of time for the contenders to separate themselves from the pretenders.  That can lead to some teams making the playoffs that don't necessarily have much business being there, somewhat like what happened in MLB in their shortened season.  But if it's closer to 70 games, that's enough for the separation to be much more pronounced.
We've seen enough 'bubble' playoff teams sneak in and do some damage in a normal year so when things are anything but normal, a dark horse team could certainly go all the way if everything falls their way.
@clowndeboer: How does Vegas resolve the issue of Marc-Andre Fleury's $7 million/yr x2 as the backup to Lehner? Your best guess(es)?
With what transpired back in the playoffs and Robin Lehner's subsequent five-year, $25MM deal, I thought Fleury would be elsewhere by now but it looks like the cap situation made moving him quite difficult.  So now the Golden Knights have some more salary cap clearing to do as they currently sit about $975K over the $81.5MM Upper Limit.
Clearly, someone has to go.  However, that doesn't necessarily have to be by a trade as they can use waivers to get themselves out of trouble.  With a lot of teams being capped out or close to it and several capable players set to be added to other rosters in the coming weeks, I don't expect a lot of claims in training camp which they can use to their advantage.
The current speculated roster configuration is carrying 19 skaters but with them being over the cap with that, they'll need to dip to the minimum of 18.  Carl Dahlstrom is the potential seventh defender but he only makes $850K so waiving and demoting him alone doesn't solve the problem.
They only have one waiver-exempt player in Cody Glass and while sending him down and bringing up or signing someone for the league minimum would get them cap compliant, Glass figures to be an important player for them so that's off the table.
I suspect Tomas Nosek could be vulnerable.  At $1.25MM, that's a bit expensive in this market for his role so I don't think he'd be claimed.  Waiving and demoting him frees up $1.075MM and bringing in a forward at the minimum to replace him (to get back to 12 on the roster) nets $375K in savings.  That, coupled with Dahlstrom's waiving, gets them cap compliant without having to make a trade.  It leaves them more vulnerable to injuries but they're hardly the only team that will be in that situation next season.
Photo courtesy of USA Today Sports Images.