Navigating the salary cap is one of the more important tasks for any GM.  Teams that can avert total cap chaos by walking the tightrope of inking players to deals that match their value (or compensate for future value without breaking the bank) remain successful.  Those that don't see struggles and front office changes.
PHR will look at every NHL team and give a thorough look at their cap situation heading into the 2020-21 season.  This will focus more on players who are regulars on the roster versus those who may find themselves shuttling between the AHL and NHL.  All cap figures are courtesy of CapFriendly.
Anaheim Ducks
Current Cap Hit: $82,429,999 (over the $81.5MM Upper Limit)
Entry-Level Contracts
F Max Jones (one year, $863K)
F Sam Steel (one year, $863K)
Both Steel and Jones were selected as first-round picks with the hopes that they'd become key contributors one day.  That hasn't happened just yet as both have struggled at times in the NHL.  Steel, a prolific point producer in junior, managed just 22 points in 66 games last season while Jones had only a dozen in 59 contests and was briefly sent to the minors as a result.  The 22-year-olds are still certainly part of GM Bob Murray's long-term plans but neither of them appears to be in line for a notable raise on their entry-level salaries.
One Year Remaining, Non-Entry-Level
F David Backes ($4.5MM, UFA)*
D Christian Djoos ($1MM, RFA)
F Ryan Getzlaf ($8.25MM, UFA)
F Danton Heinen ($2.8MM, RFA)
F Carter Rowney ($1.133MM, UFA)
* – Boston is retaining another $1.5MM on Backes' contract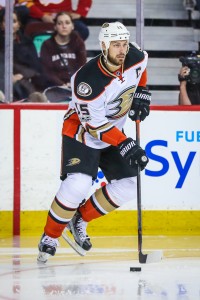 Statistically speaking, it was Getzlaf's worst offensive year of his career as his 0.61 points per game average was a career-low.  Also statistically speaking, he was one point off the team lead in scoring with 13 goals and 29 assists.  Needless to say, that is not production worthy of that price tag but it's also quite clear that Getzlaf's next deal isn't going to come anywhere near that.  The 35-year-old made it clear last season that he had no interested in being traded so it stands to reason that his intention will be to remain with Anaheim once this contract ends.  His next deal will carry 35+ implications (unless the salary is evenly spread) but something in the $4MM to $5MM range – second-line money – may be palatable to both sides.
Heinen and Backes were brought in from Boston in separate trades but for entirely different reasons.  While Backes was salary ballast in the Ondrej Kase swap where a first-round pick was the key to the deal and likely won't be back, Heinen was brought in to be a secondary scorer for the Ducks.  While the pandemic makes it a limited sample size, he wasn't producing at much higher of a rate than he was with the Bruins.  If that happens again next season, he could be a non-tender candidate over giving him a $2.775MM qualifying offer and arbitration rights.  If he performs closer to his rookie-season rate though, something in the $4MM range is possible.  Rowney and Djoos are likely to be role players next season and while Rowney will likely be looking at a pay cut in his next trip through free agency, the 26-year-old Djoos could set himself up nicely if he can hold down a regular spot in the lineup which could give him a shot at doubling his price tag.
Two Years Remaining
D Kodie Curran ($1MM, UFA)
F Nicolas Deslauriers ($1MM, UFA)
F Ryan Kesler ($6.875MM, UFA)
D Jacob Larsson ($1.2MM, RFA)
D Hampus Lindholm ($5.206MM, UFA)
D Josh Manson ($4.1MM, UFA)
F Sonny Milano ($1.7MM, RFA)
F Rickard Rakell ($3.789MM, UFA)
Two years ago, Rakell was one of the bigger bargains in the league after putting up a 34-goal season.  He hasn't scored that many in the last two seasons combined.  Along the way, he has gone from being a top liner to more of a secondary scorer.  He'll be 29 when he hits free agency and by then, the hope is the cap ceiling will be up, albeit only slightly.  If he wants a shot at really cashing in though, he'll need to back to his 2016-17 and 2017-18 output.  Milano didn't look out of place in nine games after being acquired which earned him a bit of job security but will need to take another step forward over the next two seasons if he wants to be tendered a $1.8MM qualifying offer.  As for Deslauriers, his role on the fourth line is relatively secure for the time being but as the cap crunch continues to be felt around the league, even $1MM may be tough to get two years from now.
Then there's Kesler.  He last played on March 6, 2019 and isn't likely to play again due to lingering hip issues.  He's eligible to be placed on LTIR which will allow Anaheim to spend over the cap (by up to his $6.875MM price tag depending on what their roster is before they place him there) which will allow them to comfortably get into cap compliance for next season without having to make any cost-cutting moves.
On the back end, Lindholm has never been able to become a top offensive threat but he has still been a quality top-pairing player over the last few years.  Even in this most recent free agent class, top defensemen still received sizable raises and if he gets to the open market two years from now, Lindholm will certainly be in line for one as well.  Manson signed his deal two seasons ago following a breakout year offensively but his production has plummeted since then.  He's still an effective second pairing player that provides some grit but he's someone that could feel the squeeze a little bit on the 2022 market if he isn't able to put up a few more points between now and then.  Curran, a rookie who will turn 31 before next season starts and Larsson both will be trying to lock down full-time spots which will ultimately determine if they're able to get a raise on their next deals or be settling for sixth or seventh defender money.
Three Years Remaining
F Derek Grant ($1.5MM, UFA)
F Troy Terry ($1.45MM, RFA)
D Kevin Shattenkirk ($3.9MM, UFA)
Grant finished fourth on the Ducks in goals last season despite missing a dozen games to a shoulder injury and several more after being traded to Philadelphia.  That was enough to earn him a small raise and a three-year deal in what is his third stint with Anaheim.  Unless he can get closer to the 20-goal mark though, it's unlikely that another raise is on the horizon.  Terry is another youngster that hasn't quite been able to make a consistent impact in the NHL but Anaheim opted to give him a bit of a raise in exchange for a term that's a bit longer than a bridge deal.  There is some upside with this deal and if he is able to become a regular producer, doubling this price tag will certainly be an option.
Shattenkirk had a resurgent season with the Stanley Cup champions in Tampa Bay and was able to be one of the few players to land a contract greater than our initial projections when he was slotted 17th in our free agent rankings.  He should step into a top-four role and provide a good return in that role but he will need to stay in the 30-point range to have a chance at landing a similar-priced contract in 2023.
Four Or More Years Remaining
D Cam Fowler ($6.5MM through 2025-26)
G John Gibson ($6.4MM through 2026-27)
F Adam Henrique ($5.825MM through 2023-24)
F Jakob Silfverberg ($5.25MM through 2023-24)
Henrique and Silfverberg were the only two Ducks to surpass the 20-goal mark last season but neither of them are ideal top liners despite being their second and third-highest paid forwards.  Both contracts are overpayments and while Anaheim could certainly stand to clear up some payroll, both of them will be hard to move.  They'll be entering their age-34 seasons on their next deals and will likely be looking at pay cuts at that time.
Fowler has been a fixture on Anaheim's top pairing for a long time now and while he's not a prototypical number one defender, his deal is still good value for a number two.  Gibson, meanwhile, checks in with the seventh-highest AAV among goalies for next season.  For someone that when he's on is an above-average netminder, having a price tag that's a little higher than the median among starters is appropriate.
Buyouts
D Simon Despres (paying $662.5K each year through 2024-25 but is cap-exempt)
F Corey Perry ($6.625MM in 2020-21, $2MM in 2021-22 and 2022-23)
Retained Salary Transactions
None
Still To Sign
No remaining restricted free agents but they will likely still look to add a backup goalie.
Best Value: Lindholm
Worst Value: Getzlaf
Looking Ahead
Once Kesler is placed on LTIR at the start of next season, Anaheim will have a decent amount of room for any in-season moves.  While they may not necessarily be ready to contend for a playoff spot, they could serve as a facilitator to take an expiring high-priced contract off of someone's hands and receive a nice incentive to do so.  Or, if their young players take a step forward early on and they're in the mix, they'll be well-positioned to add at a time where a lot of playoff teams will be close to being capped out.
Murray should have an opportunity to take a big swing next year with Getzlaf coming off the books (his next deal should be a fair bit cheaper) along with Backes and Perry's cap hit dropping by $4.625MM.  However, with so many of his defensemen set to see their deals expire in 2022 along with Rakell, some of those savings may need to be set aside for those core players.  Still, as things stand, their long-term cap situation projects to relatively clean which is something that can't be said for quite a few other teams.
Photo courtesy of USA Today Sports Images.