The month of October has come and gone and while the frenetic pace of player movement has come to an end, there was still some notable news around the league on the player front which are highlighted in the top stories of the week.
Galchenyuk To Ottawa: The Senators have made quite a few moves already to shake up their team and that continued with the signing of forward Alex Galchenyuk to a one-year, $1.05MM deal.  While the 26-year-old has seen his stock drop considerably since leaving Montreal two years ago (when he had a $4.9MM AAV), he still put up 24 points in 59 games last season.  Even if he's only able to produce at that level in a bigger role with Ottawa, Galchenyuk should still be able to live to provide some value which makes it a no-risk move for the Sens with some upside.
Bertuzzi Receives Award: While many players have avoided salary arbitration, one went through the process in Detroit winger Tyler Bertuzzi.  The Red Wings filed at $3.15MM while Bertuzzi submitted $4.25MM and the result was closer to the first number as he was awarded a one-year, $3.5MM deal.  His numbers last season were nearly identical to his 2018-19 campaign as he posted 21 goals and 27 assists in 71 games before the pandemic hit.  While Bertuzzi's camp may be disappointed that the arbitrator didn't come closer to his number, he can still take some solace in more than doubling his salary from the $1.4MM he made in each of the last two years.  He will once again be a restricted free agent with arbitration rights next offseason.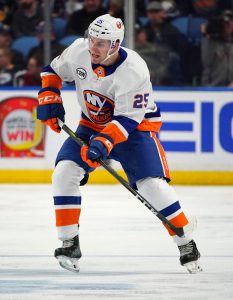 Toews Avoids Arbitration: After dealing a pair of second-round picks to acquire him, Colorado was able to lock up defenseman Devon Toews to a four-year, $16.4MM contract, avoiding salary arbitration.  As has often been the case with contracts this offseason, the deal is heavily backloaded with his 2020-21 salary checking in at $2.35MM but jumps to $5.9MM at the end.  The 26-year-old completed his first full NHL season last year but did well with 28 points in 68 games while logging over 20 minutes a night.  The lack of NHL experience (just 116 career regular season games) likely worked in the favor of the Avalanche who now hope they have a top-four blueliner inked at a team-friendly cap hit.
Daley Calls It A Career: After 16 years in the NHL, defenseman Trevor Daley decided to hang up his skates and announced his retirement.  Injuries limited the 37-year-old to just 43 games last season with the Red Wings but while his career ended on somewhat of a quiet note, he certainly had a good run as a productive secondary threat from the back end.  Overall, he had a respectable 309 points in 1,058 games with Dallas, Chicago, Pittsburgh, and Detroit.  Daley is heading back to the Penguins now in a different capacity as he has joined their front office and will assist with player evaluations as well as serving as an 'eye in the sky' whenever next season gets underway.
Olofsson Takes Two: Victor Olofsson's rookie campaign was one that not many saw coming.  After a strong year in AHL Rochester in 2018-19, he made an immediate impact with the Sabres, picking up 20 goals and 22 assists in just 54 games last season.  He was rewarded for his efforts with a two-year, $6.1MM pact to avoid arbitration.  Expectations will be high for the 25-year-old as he enters his sophomore season with an improved offense following the signing of Taylor Hall and the acquisition of Eric Staal but even if he's able to simply replicate his 20-goal performance over the next couple of years, he'll provide Buffalo with a good return on that contract.
Photo courtesy of USA Today Sports Images.