One of the most intriguing arbitration cases scheduled for the next few days was Victor Olofsson, the Buffalo Sabres sniper who has scored 22 goals and 46 points in his 60-game NHL career. Despite being a relative newcomer to the NHL, Olofsson is already 25 and is a lot closer to unrestricted free agency than some of his rookie counterparts. His hearing was scheduled for November 4, but it appears as though it will not be necessary. The Sabres have signed Olofsson to a two-year contract that carries an average annual value of $3.05MM. Pierre LeBrun of The Athletic reports that it will pay Olofsson $2.85MM in 2020-21 and $3.25MM in 2021-22.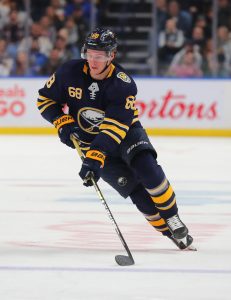 Not only does a two-year deal limit the cap hit and provides a very real chance for the Sabres to receive excess value out of the young forward, but it also leaves him a restricted free agent in 2022. While he has already turned 25, Olofsson's birthday comes after the normal start of free agency meaning this deal does not walk him right to the UFA market. At its expiry, the two sides will have a chance to work out a long-term deal should his outstanding goal production continue.
Even though he has real 30-goal potential, there are some things to consider about Olofsson's production so far. Only nine of his 22 career goals have come at even-strength, and this year he scored on 15.7% of his shots. If used properly he can be a game-changing presence on the powerplay, but he has still yet to prove that he can jump over the boards and produce at even-strength on a regular basis.
Still, there's a lot to like about a deal that pays him about half of what the Sabres owe Kyle Okposo in each of the next three seasons, or what they could have found on the free agent market. Olofsson will join a top-six that suddenly looks quite impressive, after the offseason additions of Taylor Hall and Eric Staal. The team also has top prospect Dylan Cozens coming and still have Jack Eichel in the middle of it all, providing all-world production.
At the end of this deal, Olofsson will be arbitration-eligible once again and could potentially get himself to unrestricted free agency by taking that one-year award. He'll also be owed a hefty qualifying offer of $3.25MM, something he could fall back on if his production dips but the Sabres still want to keep him around.
Because this was their final arbitration case, Buffalo will now receive a short buyout window starting two days from now.
Photo courtesy of USA Today Sports Images