With free agency and the draft fast approaching, activity around the league is starting to pick up with some notable trades being among the top stories of the past seven days.
Interim Tag Removed: It had been anticipated for a while that Bob Boughner would have the interim tag removed with GM Doug Wilson stating back in early April that Boughner had the upper hand at landing the full-time role after he replaced Peter DeBoer during the season.  However, it took until this week for the removing of the tag to be made official with Rocky Thompson and John Madden being named as Boughner's assistants.  This is his second tenure as an NHL head coach having also held the role with Florida in 2017-18 and 2018-19.
Ryan Bought Out: While he won't be the only player that gets bought out during the window that just opened up on Friday, Bobby Ryan has hit the free agent market after the Senators bought out the final two years of his deal.  The 33-year-old has seen his production dip considerably in recent years to the point where he wasn't close to being worth his $7.25MM AAV.  While there will be a lingering salary cap charge for the next four years, that shouldn't be much of a concern for Ottawa as they're typically well below the Upper Limit.  Meanwhile, the Masterton Trophy winner should have some interest on the open market in a third line role but it's safe to say that he'll be taking a significant pay cut.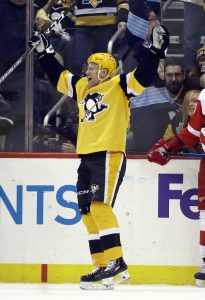 Panthers-Penguins Swap: While word leaked a little early, Pittsburgh and Florida were eventually able to get a trade completed as the Panthers acquired winger Patric Hornqvist in exchange for defenseman Mike Matheson and winger Colton Sceviour.  Hornqvist hasn't reached the 20-goal mark over the last two years but should still give Florida a boost to their secondary scoring, albeit at a pricey $5.3MM price tag.  However, they offloaded that much and then some to Pittsburgh in Matheson (six years remaining at $4.875MM) and Sceviour (one year left at $1.2MM).  It was only a few years ago that Matheson was viewed as a key cog on Florida's back end but he has struggled considerably the last couple of seasons to the point where he was even used as a winger at times this year.  Sceviour, meanwhile, gives the Penguins a bit of versatility in their bottom six, an area that was of some concern in their Qualifying Round loss to Montreal.
Petry Extension: One of the notable defensemen that was set to hit the open market in 2021 can be scratched off the list as the Canadiens signed Jeff Petry to a four-year, $25MM extension.  The 32-year-old has quietly been one of the more consistent offensive blueliners in recent years and has scored double-digit goals in three straight years while he logged a career best 23:37 in average ice time this season.  While he plays on the second pairing behind Shea Weber, Petry has become a player that is capable of stepping into the top role when needed.  While there is only a minor jump in AAV ($750K), the deal will take Petry into his age-37 season which could carry a bit of risk down the road for Montreal.
Staal To Detroit: Quite a few teams will be looking to clear out some cap room in the coming days and the Rangers were able to accomplish that as they sent a 2021 second-round pick to the Red Wings to get them to take on the final year of defenseman Marc Staal's deal.  New York received future considerations as the return.  Staal carries a $5.7MM AAV but is owed just $3.2MM in salary.  If he remains with Detroit, he'll serve as a mentor on their back end while being an in-season trade candidate but it's also possible that they buy him out to open up the roster spot.  In the meantime, other teams that are looking to free up some cap room now have a better idea of what it's going to cost to do so.
Photo courtesy of USA Today Sports Images.