The Montreal Canadiens have made a huge move just a few weeks before free agency opens, extending Jeff Petry for another four years. Petry was still under contract for the 2020-21 season but will now be locked up through 2024-25. The new deal is worth a total of $25MM, giving him a $6.25MM cap hit starting in 2021-22. It also includes a 15-team no-trade clause and a no-movement clause, meaning he will require automatic protection in the upcoming expansion draft. Chris Johnston of Sportsnet tweets the full breakdown:
2021-22: $5.0MM salary
2022-23: $3.0MM signing bonus + $4.5MM salary
2023-24: $3.0MM signing bonus + $4.5MM salary
2024-25: $2.0MM signing bonus + $3.0MM salary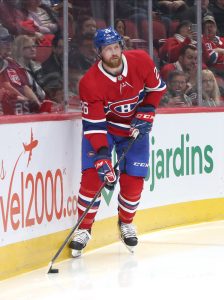 Though he still doesn't get quite the recognition of one, Petry has developed into one of the best two-way defensemen in the league over the last few years. In fact, his 128 points over the last three seasons put him 17th among all NHL defenders, while his 36 goals sit 11th over the same time period. Though he'll never get the same type of press that teammate Shea Weber receives, Petry is almost equally important to the Canadiens and showed it this postseason.
The 32-year-old defenseman averaged more than 25 minutes a night as Montreal shocked the hockey world by defeating the Pittsburgh Penguins in the qualification round and took the Philadelphia Flyers to six games. For a team that wasn't even expecting to be included in the playoffs, their performance was admirable and as Pierre LeBrun of The Athletic tweets, could have had a real impact on the uber-competitive Petry's decision to remain.
There's no doubt that Petry earned an extension with his play, but it's not like this deal comes without a fair bit of risk for the team. Petry will turn 33 in December (likely before the 2020-21 campaign even begins), meaning this deal takes him deep into his thirties at an expensive cap hit. While his current play is deserving of a raise on the $5.5MM cap hit he currently carries, it's hard to expect him to continue at that level for the duration of his new contract.
Combine that with the fact that Weber still has six years left on his current contract, which keeps him at a $7.86MM cap hit through 2025-26 and the Canadiens will have quite a bit of space eaten up by two aging defensemen. Of course, there are ways around that, including a revamped cap recapture system should Weber decide to retire before his contract expires. But with a Montreal team that is still looking for an identity upfront, committing so much money to aging defensemen could end up backfiring.
Photo courtesy of USA Today Sports Images