July 1st is typically filled with hundreds of millions committed to contracts signed in the early hours of free agency.  However, this is no ordinary year and as a result, the UFA market is on hold for a while yet with the Stanley Cup on pace to be awarded sometime in October with the official offseason beginning after that.  So instead of there being plenty of new deals to talk about, let's take a look back at the free agent frenzy from recent years.  Next up is 2018 while 2019 will run on Friday.  Click here for the 2017 retrospective.
Once again, the biggest deals of the day were contract extensions with the majority of the UFA market being three years or lower.  However, there were a handful of longer-term deals handed out with the results being somewhat of a mixed bag.
For the purpose of this exercise, we're limiting our scope to the deals handed out on July 1st itself which means players like James Neal and Calvin de Haan who were in the top-10 of our UFA list but signed later are not considered here.
Key Re-Signings
Drew Doughty (LA) – 8 years, $88MM – Doughty's signing had been speculated for a few days prior to this but July 1st was when it was made official, making him the highest-paid defenseman in NHL history at the time.  Doughty had plenty of leverage as he was going to be one of the top UFAs a year later and was coming off a career year but the early returns haven't been great.  His production dipped in 2018-19 and again this season to his lowest point per game average since 2013-14 while struggling a bit more than usual at the defensive end.
Oliver Ekman-Larsson (ARI) – 8 years, $66MM – This was another move that had been rumored for quite a while but the Coyotes had to wait until this time to extend their captain to the richest deal in team history.  Like Doughty, there was no denying that he was one of the top players that could have potentially hit the open market a year later and while it's a bit on the expensive side, losing him would have been disastrous.  Ekman-Larsson is coming off of a bit of a down year but he's young enough that there are still several strong years left in him.
Logan Couture (SJ) – 8 year, $64MM – Yet another deal that was reported a few days beforehand but couldn't be made official until the turning of the NHL calendar, Couture's contract seemed a bit pricey at the time but it has held up well so far.  He was coming off of one of his better offensive years at the time and since then, he had a career season in 2018-19 before injuries derailed his 2019-20 campaign.  However, with six years left on the deal, he may very well slow down towards the end of it.
Ryan McDonagh (TB) – 7 years, $47.25MM – Several Tampa Bay players have taken a bit less than market value to stick around and McDonagh continued that trend as a $6.75MM AAV for someone that was a top-pairing defender at the time was cheaper than expected.  However, the seven-year term came as a surprise and could present some problems before too long as the 31-year-old had his worst offensive year since his rookie campaign while his ATOI has dropped nearly four minutes a night from three years ago.
Top AAV Free Agent Signings
(Players changing teams)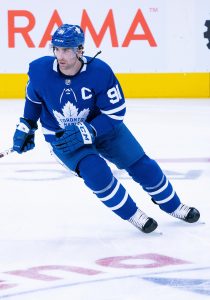 John Tavares (TOR) – 7 years, $77MM – This one came as a bit of a surprise given what Toronto had on the horizon for signing their top young stars but they still managed to find a way to bring him in.  At an $11MM AAV, the contract was never going to be a bargain at any stage but he has averaged over a point per game over his two years with the team while taking over as team captain.  He's providing them with what they expected – a legitimate top center – but with the cap crunch coming as a result of the COVID-19 pandemic, this deal along with those handed to their top youngsters could soon paint the Maple Leafs into a bit of a corner when it comes to trying to keep the core together; Morgan Rielly and Frederik Andersen aren't that far away from being UFA-eligible themselves.
James van Riemsdyk (PHI) – 5 years, $35MM – Who says you can't go back to a former team?  He did just that by signing with Philadelphia who initially drafted him second overall back in 2007.  He gave up a bit of term to take a bit higher of a salary relative to expectation and while he hasn't quite produced at a $7MM level, he has been reasonably productive, tallying 46 goals over his first two years despite a dip in ice time compared to his average over his time with Toronto.  One area of some concern is van Riemsdyk's drop in power play production – he had 39 points (17-22-39) with the man advantage over his last two seasons with Toronto but just 22 (12-10-22) with the Flyers.
Paul Stastny (VGK) – 3 years, $19.5MM – A late effort by Winnipeg to free up money to sign Stastny proved unfruitful as he moved on to Vegas where his production has taken a dip.  Injuries limited him to just 50 games over his first season while this year, he had the lowest point per game average of his career (0.54) over his 71 games.  The shorter term is certainly beneficial though; as much as the $6.5MM AAV isn't an ideal price tag, they'll be out of the contract a year from now while he still provides them with some quality depth down the middle.
Ones To Forget
Ilya Kovalchuk (LA) – 3 years, $18.75MM – Kovalchuk's return to the NHL from Russia cost more than expected, especially for someone on a 35-plus contract.  The early returns were good too as he had 14 points over his first 14 games with the Kings before things went completely off the rails.  His ice time dropped quickly and he was told late in the year that he could skate with the team if he wanted to but wouldn't play.  It didn't get any better this year and he was eventually sent home to await a contract termination once a signing bonus instalment was paid.  Kovalchuk wound up with Montreal before he was shipped to Washington near the trade deadline while Los Angeles now has $6.25MM in dead cap space for next season because of the 35-plus distinction.
Jack Johnson (PIT) – 5 years, $16.25MM – Handing a 32-year old player that many viewed as a third pairing option a five-year deal raised a lot of eyebrows.  Johnson's no longer the top pairing player he was in his prime but he's still decent in a limited role.  However, for a team that's cap-strapped as often as Pittsburgh is, having a player costing $3.25MM against the cap that is down to that type of role isn't ideal.  It's not a massive price tag but with the salary cap now flattening out, this could cause some problems in the near future.
John Moore (BOS) – 5 years, $13.75MM – The $2.75MM isn't a terrible price tag on its own but the five-year term didn't make much sense then and less now.  Yes, injuries cost him 30 games this season but he was still scratched on several occasions while his ice time dipped to 16:33 per night.  It's fair to suggest he's not a part of their top six now and with some youngsters on the cusp of making it, Moore may not make back into that group either.
Jay Beagle (VAN) – 4 years, $12MM – For years, Beagle has filled a specific role and done it well – he wins faceoffs and logs a lot of ice time shorthanded.  That role carries some value on a lot of teams but it doesn't change the fact that he's a fourth liner.  Giving a fourth liner $3MM per year carries some risk, especially for four years and even more so knowing that he was 33 in his first season with the Canucks.  Beagle still wins draws and kills penalties but he struggled considerably outside of those situations and two more years of that deal on the books isn't ideal.
Leo Komarov (NYI) – 4 years, $12MM – Komarov's at his best in a limited role where his physicality can make a difference.  The Islanders had several of those players when they signed him – they still do – and his effectiveness has waned over the first two years to the point where he was in the press box as a scratch on multiple occasions.  At $1MM, he would provide some value still but at three times that, it may become a problem deal over the next couple of years.
Bargains
David Perron (STL) – 4 years, $16MM – Going back to a former team isn't rare but it's still relatively uncommon.  Going back for a third stint with the same team is much rarer but that's what happened here.  Perron had a career year in Vegas with 66 points so this was somewhat of a below-market deal and he has played quite well on it.  While his point per game average with Vegas was the best of his career, these last two seasons were his second and third highest.  $4MM doesn't always get you a lot on the open market but a capable top-six forward is certainly better than most.
Jonathan Bernier (DET) – 3 years, $9MM – This begins the run on goalies as basically every other bargain deal was signed by a netminder.  Bernier essentially took over as the starter for the Red Wings this season while faring okay in the first year while in a platoon role.  The overall numbers don't look great but considering how much Detroit has struggled, they weren't going to be great.  If he winds up being the starter again this season, the value will go up even more.
Jaroslav Halak (BOS) – 2 years, $5.5MM – Getting someone who had started as much as Halak had for this price was impressive enough.  But the value he has given Boston is more than that as they have been able to lighten Tuukka Rask's workload and the benefits have been significant as they've been among the top goaltending tandems in the league since then.  Halak has embraced the role and already has signed an extension for next season.
Anton Khudobin (DAL) – 2 years, $5MM – Rask's old partner with Boston moved on to the Stars and the results were similar to Halak with the Bruins.  He picked up a significant share of the workload which helped keep Ben Bishop rested and both netminders responded with strong performances.  With more teams starting to see the value of a platoon, Khudobin should be well-positioned to earn a raise on the open market this summer even with it not being a great time to hit free agency.  Dallas will certainly make an effort to keep him as well.
Petr Mrazek (CAR) – 1 year, $1.5MM – After a rough 2017-18 campaign, Mrazek's market was minimal so he joined the Hurricanes with the hopes of bouncing back.  He did exactly that, posting a 2.39 GAA with a .914 SV% during the regular season which helped propel the Hurricanes to a surprising Eastern Conference Final appearance.  At a time where the good backups were signing for a fair bit more than $1.5MM, they got someone who basically did just as well for a fraction of the price.  Mrazek was able to parlay that strong performance into some job security as he landed a two-year, $6.25MM deal last July.
Photo courtesy of USA Today Sports Images.