It's July 1st which means today should be filled with hundreds of millions committed to contracts signed in the early hours of free agency.  However, this is no ordinary year and as a result, the UFA market is on hold for a while yet with the Stanley Cup on pace to be awarded sometime in October with the official offseason beginning after that.  So instead of there being plenty of new deals to talk about, let's take a look back at the frenzy from recent years.  We begin with 2017; 2018 will appear on Thursday and 2019 on Friday.
This group of free agents wasn't the strongest overall and teams were showing a bit more restraint after a dreadful 2016 UFA market that saw quite a few brutal contracts handed out.  Nevertheless, there were still some notable deals handed out including several that haven't worked out as well as intended.
For the purpose of this exercise, we're limiting our scope to the deals handed out on July 1st itself which means players like Alexander Radulov and Patrick Marleau who signed soon after are not considered here.
Key Re-Signings
Cam Fowler (ANA) – 8 years, $52MM – Fowler signed this extension coming off of what was his best offensive showing since his rookie season while logging nearly 25 minutes a night.  A $6.5MM cap hit for a potential top pairing defenseman was reasonable and while injuries have hit him every year since then, it's still not a bad deal for someone that has settled in as their second or third defender most nights.  All in all, the deal has held up pretty well.
Justin Schultz (PIT) – 3 years, $16.5MM – Schultz's first full season with the Penguins was the best of his career as he looked as if he had finally lived up to his potential as a highly-touted blueliner.  The deal represented a reasonable price tag for a capable top-four defender with some offensive upside while allowing him another opportunity to hit the open market while still somewhat in his prime.  Instead, injuries have been an issue each year and while he had 51 points in 2016-17, he was only able to muster up that many points combined on this contract.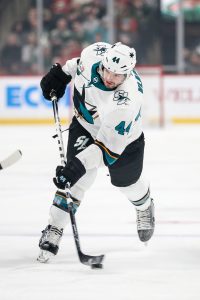 Sharks – San Jose gets their own section here.  Marc-Edouard Vlasic (8 years, $56MM) inked an extension that looked pricey at the time and even worse now.  He has slowed down considerably over the last couple of years and still has six seasons left on his deal.  Martin Jones' (6 years, $34.5MM) extension hasn't looked great either.  He has posted .896 save percentages in each of the two years of the contract, numbers that are below average for a backup let alone a starter.  Both of those contracts are hurting their salary structure and will be tough to get out from under.  Meanwhile, Joe Thornton agreed to another one-year extension worth $6.5MM.  Injuries limited him to just 47 games that year but he still managed 36 points.
Top AAV Free Agent Signings
(Players changing teams)
Kevin Shattenkirk (NYR) – 4 years, $26.6MM – Shattenkirk was the top prize to get to the open market.  It was known that he wanted to go to the Rangers and there were bigger deals that he left on the table to sign with New York.  At the time, it seemed like a fortunate turn of events for the Rangers.  It wasn't.  He struggled considerably in his two seasons with the team before being bought out where they will incur a $6.083MM cap charge next season for having done so.
Karl Alzner (MTL) – 5 years, $23.125MM – This was the longest contract handed out to a free agent changing teams on day one of free agency in 2017.  It looked questionable at the time and worse now.  After holding down a regular role with the Canadiens in his first year with them, he has spent the majority of his time since then in the minors.  If he's not bought out this offseason, he'll likely be back there next season as well.
Justin Williams (CAR) – 2 years, $9MM – While he was 36 in his first season back with the team, the multi-year pact was a good one for both sides.  Williams had 51 and 53 points over his two seasons on that deal and served as their captain in 2018-19.  That performance wasn't a huge bargain but as far as comparing it to the other notable deals signed on this day three years ago, it was one of the better contracts signed.
Ones To Forget
Martin Hanzal (DAL) – 3 years, $14.25MM – On the surface, this seemed a little pricey but not too much.  At the time, Hanzal was a capable third line center that could move up when injuries arose and overpaying for that was understandable.  Unfortunately, back issues have basically made the last two years a write-off (seven games last year, zero this season) while he missed more than half of 2017-18 as well.  In the end, they got six goals and six assists out of him for their money.
Dmitry Kulikov (WPG) – 3 years, $13MM – Kulikov's 2016-17 season was a disaster, to put it gently.  Despite that, the Jets went off of his reputation from his time in Florida and handed him a three-year deal that didn't make any sense from the moment it was signed.  Injuries were an issue in the first two years while being in a sheltered role when he did play.  Injuries were also a problem this season but he was better, logging 20 minutes a night for the first time with them.  The deal ends on a better note than it started but it was still a bad one.
Sam Gagner (VAN) – 3 years, $9.45MM – Gagner had a career year with Columbus heading into free agency with 50 points so from an AAV perspective, this didn't seem excessive.  He was passable in his first year with the Canucks but then spent most of the second season of the deal in the minors.  He was dealt to Edmonton during that second season and hung around on the NHL roster for most of it this year but the output was minimal; all told, he had a combined 26 points over the final two seasons which is far from a good return.
Steve Mason (WPG) – 2 years, $8.2MM – He was brought in to mentor/push youngster Connor Hellebuyck but only played in 13 games in the first season of the contract and didn't fare all that well.  With the Jets in a cap crunch the following summer, they had to part with Joel Armia to offload Mason's contract on Montreal (and they immediately bought him out).  The deal worked out well for Mason as he made nearly $7MM to play those 13 games but it's one to forget for Winnipeg.
Bargains
Evgenii Dadonov (FLA) – 3 years, $12MM – This deal carried plenty of risk since Dadonov's first tour through the NHL (with the Panthers, no less) wasn't good.  But he lit up the KHL to earn a second chance and has made the most of it, posting 81 goals and 101 assists over the life of the deal in 225 games.  He's shaping up to be one of the more coveted wingers in the upcoming free agent class and even in a weaker market, he's looking at a nice raise.
There really isn't another big bargain out of this class as a lot of the signings early on were short-term deals for veterans or role players/minor leaguers signing quickly to get some certainty for the upcoming year.  Here are a couple of the veteran deals that panned out relatively well at least.
Ron Hainsey (TOR) – 2 years, $6MM – He wore down towards the end of the contract but he gave the Maple Leafs a little more than 21 minutes a night over the two years while chipping in with a respectable 46 points.  The team also praised the impact of his leadership at several times throughout his stint as well.  Paying $3MM a year for someone that spent a lot of time on the top pairing is a pretty good return even if he struggled by the end of it.
Ryan Miller (ANA) – 2 years, $4MM – Brought in to be an insurance policy for John Gibson, Miller wound up finishing fifth in the NHL in save percentage (.928) in his first season while posting a Goals Saved Above Average rate of 11.86 in just 28 games, his best mark in nearly a decade.  Miller's performance was more average in his second season but with the backup goalie market going up considerably in price over the last few years, he still gave Anaheim some extra value overall.
Photo courtesy of USA Today Sports Images.