Topics in this edition of the PHR Mailbag include the impact of prior chemistry affecting player evaluations, plenty of talk about the Rangers, how the inability to renegotiate contracts could result in more bridge deals down the road, and Detroit's challenging situation surrounding Andreas Athanasiou.  If your question doesn't appear here, check for it in last weekend's mailbag.
sovietcanuckistanian: How much stock do you (or anyone in a front office I guess) put in chemistry amongst players in/at the minors level transitioning to the pros? I ask, because, I watched MacKinnon and Drouin play together in Halifax (QMJHL). The year they won the Memorial Cup, they had Martin Frk on their line (he seems to be doing okay for himself as part of the Kings AHL squad – but languishing a little at sticking with NHL opportunities). Would the Habs or Avs (or any team that has players that have juniors chemistry) target a player like that as an inexpensive deadline pickup? Or am I putting too much stock in such things? – Thanks for your insight.
To use Frk specifically as an example, both Montreal and Colorado have had ample opportunities to pick him up over recent seasons considering the frequency that he has found himself on the waiver wire.  At the very least, those two teams don't seem to think it's much of a factor.  Personally, I'm inclined to agree.
While players on the fringes of an NHL spot can sometimes turn around and lock down a full-time role, it's rarely high in the lineup.  Chances are that the player you're trying to find that chemistry with is higher in the lineup.  You'd have to be a team that's well out of contention early on in order to have the willingness to put that fringe player in a key role for an extended period of time to see if the chemistry can be rekindled.  There typically aren't many teams out of it early enough to do so.
In a lot of instances, a lot of time has elapsed between their junior success and the present day.  Look at Frk – his big year with Nathan MacKinnon and Jonathan Drouin was back in 2012-13, seven seasons ago.  All three players have had a multitude of linemates since then; lots has changed so teams aren't realistically going to expect them to pick up where they left off after so much time has passed.
This isn't to say that it's entirely meaningless.  I think it's something that could be used on the checklist when evaluating potential additions.  Having the potential – minute as it may be in some circumstances – is something that is a plus.  But in most cases, past chemistry from the junior level with a current player on the team shouldn't be a significant factor in determining whether or not to bring a particular player onboard.
met man: Are the Ranger Russian goalies exempt from the upcoming expansion draft?  What are the criteria for exposure?
The league has already confirmed that they will use the same rules as they did for the Vegas draft.  That means that players on the first or second year of their entry-level contracts (or have two years or less of NHL experience) will be exempt.  This works out perfectly for the Rangers.
While Igor Shesterkin has plenty of professional experience, the NHL doesn't view his time in the KHL as professional experience.  He'll be wrapping up the second and final year of his entry-level deal so he is exempt.  Alexandar Georgiev will be eligible for selection but he's certain to be the one that's protected.  Henrik Lundqvist, if not bought out this summer, will be weeks away from unrestricted free agency so he'll be left unprotected.  At this point, their biggest concern when it comes to the Seattle draft and goaltending will be finding someone to leave unprotected since at least one netminder under contract has to be left exposed.
It'll be a great summer for veteran AHL  goalies this summer as two-year deals should be handed out to quite a few of them in order to satisfy that particular requirement.  Expect the Rangers to be one of the teams giving out that particular contract to someone.
pitmanrich: Has age finally caught up with Henrik Lundqvist or is it David Quinn/Lindy Ruff's defensive system which regularly gives up 40+ shots per night to blame for his dramatic decline over last 18 months? Can he rebound and help the Rangers make the playoffs next year or is he a backup goalie nowadays?
I think it's age more than anything else.  This season notwithstanding, Lundqvist has basically been New York's undisputed starter for the better part of the last 14 years.  He had a pretty big workload in Sweden before coming to North America too.  He has had a great career but it is clearly soon coming to an end.  I think his days of being a number one, regardless of whose system is in place, are pretty much numbered.
Given how well he has played over his career, I certainly wouldn't write him off entirely as a factor for next year as a backup goalie…if he's still around.  With their pending salary cap issues, it's certainly a possibility that the Rangers decide to buy out the final year of his deal which would save them $3MM on next year's salary cap.  Considering he'll likely still be the third-stringer if they hold onto Shesterkin and Georgiev, that may not be the worst idea either even though it would add $1.5MM onto the books for 2021-22.
CoachWall: I have read rumors that the Rangers are listening on Brady Skjei, which makes sense. He is a big ticket item and hasn't lived up to the hype. What are you hearing?
Knowing the cap crunch that's coming with Georgiev, Ryan Strome, and Anthony DeAngelo needing new deals (and perhaps fitting in Chris Kreider as well if an extension is worked out), GM Jeff Gorton is certainly going to be exploring all of his cost-cutting options and by default, that's going to be Skjei.  His name has been in speculation going back to when he signed his six-year, $31.5MM deal but I don't think there's a move coming with him.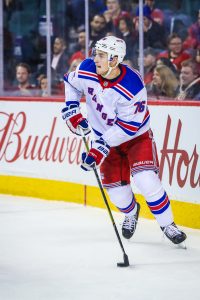 If they want to free up money, they can attach a draft pick or prospect to try to get out of (or reduce) Marc Staal or Brendan Smith's contract.  As mentioned earlier, a buyout on Lundqvist gives them some wiggle room.  With due respect to those players, that frees up the money without taking away from the core like a Skjei trade would.
The Rangers don't really have a replacement that's ready in their system to take his place either.  While it's possible (if not probable) that they'd receive a young defender as part of any trade return, they're making a weak spot even weaker with a Skjei trade.  They're looking to come out of their rebuild so moving him would set that back a bit.
Having said that, with the trade market favoring the sellers and players with term (Skjei has four years left after this one) drawing a lot of interest, perhaps there's a deal out there that's too good to be true for him.  But if they don't get that, he's probably not going anywhere.
MoneyBallJustWorks: Do you ever see players in the league eventually following basketball and NFL players in holding out for trades or new contracts if underpaid? Players like MacKinnon and Pastrnak certainly deserve more but seems like hockey players just are content to ride out the bad contract.
They probably aren't content to ride out their below-market deal but they don't have a choice.  Unlike the NFL, contract renegotiations aren't legal in the CBA.  It's part of the reason that I think we'll start to see a few more short-term bridge contracts in the years to come.  While some players are okay with the extra security that comes with a long-term deal that sets them up for life, others certainly want to maximize their compensation and wouldn't want to run the risk of being in a situation like this.
For what it's worth, contract renegotiations are quite rare in the NBA; the trade requests in that league often pertain to other reasons (lack of playing time, a more desirable market, etc).  Hoops Rumors' Glossary contains an overview of the very specific criteria required for a renegotiation to occur in the NBA.
tigers22: Red Wings trade AA to St Louis for a 2020 2nd round pick, 2021 1st, and a conditional 2023 2nd (1st rounder if Blues repeat as cup champions. Sound good?
It sounds great for Detroit but the Blues wouldn't have any interest in that.  For starters, they don't have the cap space to make a deal work (even with Jay Bouwmeester on LTIR) and considering the disastrous season that Athanasiou is having, that would be a significant overpay.  Last summer when he was coming off his 30-goal season, a first-rounder and another piece would have been about right in terms of trade value.  Now, they might be hard-pressed to get the second-rounder on its own (and St. Louis no longer has their 2020 second-rounder which wasn't the case when this question was posed).
To say this year has been a disaster for him would be a huge understatement.  He just managed to reach the 10-goal mark this week and while plus/minus isn't as big of a deal as it once was, being -45 in 46 games is ghastly.  It's already in the bottom-30 among forwards in NHL history and if he keeps up this particular pace, he'd be within striking distance of the all-time low among NHL forwards (Washington's Tommy Williams in 1974-75 had a -69 rating).
This presents a bit of a conundrum for GM Steve Yzerman.  Selling low is never ideal but Yzerman will need to decide if he's part of their long-term core.  If so, then they need to get a long-term deal done this summer.  If not, Athanasiou would be wise to take a one-year pact which would put him within striking distance of UFA eligibility.  That won't help his value either.  He's an intriguing change of scenery candidate and, quite frankly, may benefit from it but when is the right time to pull the trigger on a trade?  It certainly isn't going to be an easy call to make.
Photo courtesy of USA Today Sports Images.