Topics in this edition of the PHR Mailbag include how Shea Weber's injury will affect Montreal's deadline plans, where Chris Kreider could wind up, expansion discussion, the chances of RFA winger Jesse Puljujarvi being moved by the deadline, and how active (or inactive) the Flyers may be over the next week.
If your question doesn't appear here, watch for it in next weekend's mailbag.
bigdaddyt: What's the chances that Weber is done for season/career? And what does Montreal do in response to either?
Since this question was posed, the Canadiens received an update on Weber's status after he met with the specialist that performed his surgery back in 2018.  The prognosis was largely positive as they announced he'll miss four-to-six weeks with an ankle sprain.  So it's certainly not a career-ender which was being floated out there and if Montreal does manage to claw their way back into the playoff hunt, he'll be back at some point.  (I'm not counting on that happening so I wouldn't be surprised if they ultimately just shut him down for the season.)
As for what it does for Montreal's plans, probably not a whole lot.  Jeff Petry's name is out there but since the Canadiens have no intention of committing to a larger-scale rebuild, they didn't have a lot of incentive to move him before this happened.  I thought Christian Folin, a right-shot defender, could be moved to a contending team looking for depth but given Montreal's shallow right-side depth which extends to the minors, that isn't as much of a guarantee now.  They're certainly not going to turn around and trade for a right-shot replacement though.  Cale Fleury may get another look at some point as well.
Weber's injury undoubtedly hurts the Canadiens but in the grand scheme of things, it really shouldn't affect their plans moving forward on the trade front.
acarneglia: Where does Kreider end up and what do the Rangers get for him? How about Georgiev?
Given their trade history and the fact that the Bruins are known to be quite interested in Kreider, they're a popular speculative destination for him.  I wouldn't be shocked if he landed there either.  But I'm going in a different direction here.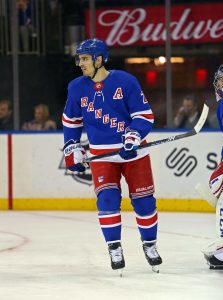 The Avalanche have a short window to try to win before players like Cale Makar and Gabriel Landeskog need new, pricier contracts.  (Philipp Grubauer is also up at that time so if they go for a more proven goalie at that time, that's another big cost on the horizon.)  They're probably not going to land a legitimate goaltending upgrade so why not improve their strong spot instead?  They were in on Taylor Hall to an extent so they're not against going for a rental like Kreider is.
New York isn't necessarily just looking for picks and young prospects.  Given where they are in the rebuild, young NHL-ready players are going to be in the asking price.  Colorado has a couple of those that could move in a deal like this in Tyson Jost and Vladislav Kamenev.  They're also in a pretty safe spot in the playoffs and have a quality prospect pool so moving their first-rounder shouldn't be much of a concern.  I'll toss out two scenarios here – if Jost is involved, it's him and the first-round pick and that's plenty.  If Kamenev is the player involved with the first-rounder, then I think there's a lower pick involved (or comparable prospect).  Something like a 2021 fourth-rounder that upgrades to a third if he re-signs or the Avs reach the Western Conference Final.
As for Alexandar Georgiev, I don't think he's going anywhere now that Toronto made their move for Jack Campbell instead.  The market for goalies is typically soft at this time of year and with the Maple Leafs out of the mix, that's one less potential suitor for his services already.  I don't think there's enough demand for New York to land a strong return and there's no point in taking less than they want to merely get a deal done.  Get to the offseason with the three goalies and then reassess the situation at that time.
M34: With the expansion draft looming, one would have to think that teams need to be mindful of their assets versus their protection rights.
What does a team like Colorado do regarding a contract like Erik Johnson's? He has a full NMC, but certainly the Avalanche do not want to be forced to use a protection slot on him. Is a buyout a realistic option or do they have to try and convince him to waive the NMC? Of course they would have to take a minimal return, probably retain salary, etc, in a trade scenario.
Also, what other players fall in a similar category?
Considering probably 30% or more of most rosters will change between now and Seattle's draft in 2021, I'm not sure teams are really worried about that just yet.  Pittsburgh just went and added someone that they'll need to protect in Jason Zucker but I suspect that didn't give GM Jim Rutherford any pause before he decided to pull the trigger on the deal.  I expect that it will start to be a bit more of a consideration at June when a good chunk of the summer trading happens but until rosters are set closer to September and the free agents are all gobbled up, it's not going to necessarily be at the forefront.
With regards to Johnson's case, I don't think they need to worry about that situation just yet (there's a good chance their back end will look a bit different next June than it does now) but let's dive into it.  They can ask him to waive it to allow him to be left unprotected.  That happened several times with the Vegas draft and that's how Marc-Andre Fleury got to the Golden Knights even though he had a no-move clause in his deal.  A buyout would also be a possibility and would result in a $2MM cap charge (and payment) for four seasons presuming the move came in 2021.  Is that worth guaranteeing a protection spot for someone else?  Perhaps.  Given who needs new deals that summer to begin with, it's an option that is going to be considered regardless of expansion and would be weighed against the potential for paying down the contract in a trade.
Other players that could be in that type of situation (bad contract needing protection) include Milan Lucic, Bobby Ryan, Brandon Dubinsky, Brent Seabrook, and Marc Staal.  Those are all among the 60 players with no-move clauses at that time.  But with another summer spending spree on the horizon, that list will undoubtedly grow between now and then.
@SnoopMinnis: Chances Oilers trade Puljujarvi at the deadline? Him and a draft pick for Spencer Knight seems like it makes sense for both teams. Panthers replace Hoffman or Dadonov next year with Jesse, they got BOB for 6yrs more, so Oil get future number 1 SG.
I'd peg the odds of Edmonton trading Puljujarvi as pretty low.  Yes, the restricted free agent is having a nice season in the SM-liiga but I don't think he has really increased his trade value there.  If what teams were willing to pay for him months ago wasn't enough then, it probably isn't enough now unless the deal is of the minor variety.  In terms of standalone value, the best case scenario for Edmonton would be a second-round pick and that typically doesn't get you more than a rental player on deadline day.  Is that enough to entice Ken Holland to move him?  Probably not.
As for the trade proposal, unless that draft pick is a lottery selection, I don't think Florida would be interested.  One of the worst kept secrets in hockey last year was their expected pursuit of Sergei Bobrovsky so their selection of Knight was made with that in mind.  The timeline works in terms of a transition.  Knight should spend three years at Boston College, plus a year or two as the starter in the minors to get more reps in.  By the time he gets to the NHL, Bobrovsky will be more of a platoon option by then anyway.  Knight isn't a luxury in that sense.  He's the successor for the Panthers' high-priced netminder and it doesn't make much sense for them to deal him for a draft pick and a player that has struggled at the NHL level so far.
I also wouldn't put Puljujarvi as a capable replacement for one of Mike Hoffman or Evgenii Dadonov.  Florida certainly won't be able to re-sign both of them but there is a substantial drop-off between one of them and Puljujarvi, a player who had a lot of chances in a top-six role with Edmonton and couldn't produce.  Whoever winds up with Puljujarvi (and at this point, re-signing with the Oilers is probably the best option for him even if he doesn't want to go back), is going to be looking at him as more of a depth piece with the hopes that he can out-produce those expectations, not a top-six option that's going to be counted on for 20 goals when he didn't score that many over parts of three seasons in Edmonton.
mydadleftme: Do you think the Flyers can move anyone, or at least accomplish bad contract swaps. Lots of things suggest Gostisbehere would be traded but I cannot imagine moving that contract would be that easy.
I don't expect a whole lot from Philadelphia between now and the trade deadline.  They'd like to add but with only a couple million in full-season cap room, that doesn't allow for much more than a depth acquisition unless the other team is retaining close to the maximum 50%.  Nolan Patrick appears to be getting closer to a return as well so that should be a bit of an upgrade in itself once he's up to speed.
I don't think Shayne Gostisbehere gets moved but my reasoning is different than yours.  His knee is still bothering him after surgery and that's going to give interested teams some pause.  With the potential that a knee injury has to affect his mobility, teams are going to want to see him in action and get some conclusive evidence as to how the surgery affects his game.  They're not going to get that between now and February 24th.
His contract (which has three years left at $4.5MM after this one) doesn't seem all that bad to me.  Yes, he's two years removed from his 65-point season but he doesn't need to produce at that level to justify that price tag.  A year ago, he had 37 points which is a decent return on that deal.  Looking at it that way, this is his only real down season.  That shouldn't be enough to scare teams away entirely on its own.  If Gostisbehere can return this year and show that there are no ill effects from the surgery, there's a move to be made but it will have to wait until the offseason at the earliest.
Photo courtesy of USA Today Sports Images.