As the holiday season approaches, PHR will take a look at what teams are thankful for as the season heads past the one-quarter mark. There also might be a few things your team would like down the road. We'll examine what's gone well in the early going and what could improve as the season rolls on for the Detroit Red Wings.
What are the Red Wings most thankful for?
Very little has gone right for Detroit this season as the team finds itself dead last in the league, four points out of 30th place and nine points out of 29th place, suggesting the team is likely to land another significant lottery in June. And while none of that is worthy of being thankful for, Detroit's general manager Steve Yzerman, is eager to complete the team's rebuild and likely has no qualms about seeing this franchise at the bottom in hopes of completely rebuilding the franchise up. It has plenty of complementary pieces and several players who could be stars, but a picking up a franchise player in a stacked draft might be the most valuable piece to this franchise.
Who are the Red Wings most thankful for?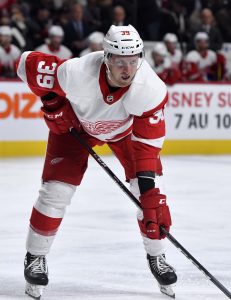 Mantha missed eight games with a knee injury, returning today, but continues to be the team's leading scorer with 12 goals and 23 points this season, which puts him on pace for almost a goal per game. After posting 48 points for the past two seasons, Mantha looks ready for a potential breakout season if he can remain healthy. He is third on the team among forwards in TOI, averaging 18:54 and looks to have taken his game to another level this year.
Considering that Dylan Larkin has seen a slight decline in his play so far, the team should be thankful that Mantha continues to improve season after season.
What would the Red Wings be even more thankful for?
Defense.
Detroit has struggled defensively this season with injuries as the team has been without several of their veteran blueliners for chunks of the season already. Other than Filip Hronek, the defense has looked to be in serious trouble. Danny DeKeyser has missed all but eight games so far this season. Trevor Daley has missed 20 games, Mike Green has missed eight games and isn't the same player he once was, while Jonathan Ericsson has been waived and used just eight times this season. Even Dennis Cholowski has failed to live up to expectations this year and has been sent to the AHL as well.
The team needs the defense to get healthy and more importantly, they need some of their young blueliners to take that next step and provide some defense to give the team a chance.
What should be on the Red Wings' Holiday Wish List?
Goaltending.
The teams goaltending has hit some hard times. The star of the team is Jonathan Bernier, who is boasting a 3.34 GAA and a .890 save percentage in 20 appearances. And yes, that's the best of the bunch. 35-year-old Jimmy Howard, who is currently out with a strained groin, is struggling even worse with a 3.94 GAA and a .887 save percentage in just eight appearances. The team did add Eric Comrie to the team in a trade with Arizona. However, so far there hasn't been any indication that he's the answer in two appearances, although it's still early.
Unfortunately, the team may not find the answer during the holidays. They may be more likely to fix that problem by making a big splash in the free agent market this summer when some interesting names might be available, including Washington's Braden Holtby, Jacob Markstrom, Robin Lehner amongst others.
Photo courtesy of USA Today Sports Images.