Hindsight is an amazing thing, and allows us to look back and wonder "what could have been."  Though perfection is attempted, scouting and draft selection is far from an exact science and sometimes, it doesn't work out the way teams – or players – intended.  For every Patrick Kane, there is a Patrik Stefan.
We're looking back at the 2007 NHL Entry Draft and asking how it would shake out knowing what we do now.  Will the first round remain the same, or will some late-round picks jump up to the top of the board?
Here are the results of the redraft so far, with their original draft position in parentheses:
1st Overall: Patrick Kane, Chicago Blackhawks (1)
2nd Overall: Jamie Benn, Philadelphia Flyers (129)
3rd Overall: P.K. Subban, Phoenix Coyotes (43)
4th Overall: Logan Couture, Los Angeles Kings (9)
5th Overall: Max Pacioretty, Washington Capitals (22)
6th Overall: Jakub Voracek, Edmonton Oilers (7)
7th Overall: Ryan McDonagh, Columbus Blue Jackets (12)
8th Overall: James van Riemsdyk, Boston Bruins (2)
9th Overall: Wayne Simmonds, San Jose Sharks (61)
10th Overall: Kevin Shattenkirk, Florida Panthers (14)
11th Overall: Jake Muzzin, Carolina Hurricanes (141)
12th Overall: Kyle Turris, Montreal Canadiens (3)
13th Overall: David Perron, St. Louis Blues (26)
14th Overall: Mikael Backlund, Colorado Avalanche (24)
15th Overall: Evgenii Dadonov, Edmonton Oilers (71)
Another mid-round pick jumps into the top half of our first round as Dadonov is the Oilers selection. They would certainly like him more than Alex Plante who they actually took in that spot 12 years ago, but Dadonov comes with his fair share of frustrations as well. Picked out of Russia after making his debut at the highest level there, Dadonov wouldn't suit up for a North American team until 2009. That year he showed exactly why the Florida Panthers spent the 71st pick on him by scoring 40 points in 76 games at the AHL level and making his NHL debut, but it wasn't all followed by roses.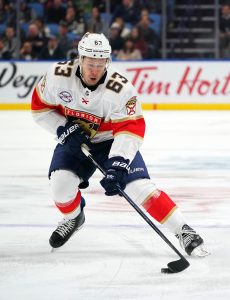 After bouncing back and forth between the two leagues for most of the next two seasons, Dadonov was actually traded to the Carolina Hurricanes in a minor deal in January of 2012. He would never suit up for the Hurricanes, instead spending the rest of the season with the Charlotte Checkers, before deciding the minor leagues weren't for him. Dadonov returned to Russia and the KHL where he would spend the next five seasons, eventually becoming one of the league's most consistent offensive producers. After a 66-point season with St. Petersburg in 2016-17, the Panthers decided to pursue their old flame once again and brought him back to North America. This time, there would be no minors.
Over the last two seasons Dadonov has proven to be one of the increasingly rare success stories to come back from the KHL and produce, scoring 56 goals and 135 points in 156 games. Finding immediate chemistry with some of the other talented forwards in Florida, he's now actually closing in on a potentially large contract in free agency. Dadonov's current deal expires after this season and if he decides to stay in North America there will be plenty of suitors who believe he could give their team an offensive punch.
It is interesting though that the 30-year old winger comes in this high. Because of his time away from the NHL he ranks 24th in points among players selected in 2007, and has still only played 211 games in the league. Obviously his skill and production over the last two seasons have swayed voters enough to believe he was the right choice at 15th overall.
He certainly could have been the right pick for the Minnesota Wild, who held selected 16. After the Carolina Hurricanes wagered on NHL bloodlines by picking Brandon Sutter earlier in the round, the Wild followed suit by snapping up Colton Gillies, a big winger out of the Western Hockey League. Gillies had only scored 13 goals and 30 points that season for the Saksatoon Blades, but he was the nephew of Hall of Fame forward Clarke Gillies who had won four Stanley Cups with the New York Islanders. The younger Gillies had shown his physicality even as a young player in the WHL, and the Wild must have hoped they could pull out some of his family's offensive history.
Unfortunately, that never happened. In 154 NHL contests, Gillies recorded just six goals and 18 points. He left for the Slovakian league in 2015 and ended up in the KHL where he plays to this day. The 16th overall pick is still not much of a scorer, making him another first-round bust from 2007. If Minnesota had the chance again they may have taken someone else, but who?
With the sixteenth pick of the 2007 NHL Entry Draft, who should the Minnesota Wild select?  Cast your vote below!
[Mobile users click here to vote!]
*Tragically, 17th overall pick Alexei Cherepanov died at the age of 19 and would never get a chance to suit up in the NHL.  He has not been included in this vote.