The Mitch Marner saga is over. The Toronto Maple Leafs have finally signed their star winger, announcing that they have signed Marner to a six-year deal that carries an AAV of $10.893MM, the seventh-highest in the league.  The deal buys out his remaining four years of restricted free agent eligibility as well as two years of UFA status.
PuckPedia reports that the breakdown of the deal is as follows:
2019-20: $700K base salary, $15.3MM signing bonus
2020-21: $700K base salary, $14.3MM signing bonus
2021-22: $750K base salary, $9.608MM signing bonus
2022-23: $750K base salary, $7.25MM signing bonus
2023-24: $750K base salary, $7.25MM signing bonus
2024-25: $750K base salary, $7.25MM signing bonus
The 22-year-old is coming off of a career season across the board after posting 26 goals and 68 assists; his 94 points ranked 11th in the league (fifth among wingers) while leading the team in scoring.  He also added two goals and two assists in the postseason.  The fourth overall pick back in 2015, Marner sits third in scoring from that draft class behind the top two picks in Connor McDavid (Edmonton) and Jack Eichel (Buffalo).
Accordingly, Marner was believed to be seeking a contract comparable to that of teammate Auston Matthews, who inked a five-year deal with a cap hit of $11.634MM last season.  He ultimately came up short of that but sets a new market benchmark for restricted free agent wingers while checking in as the second-highest-paid winger in the league behind Artemi Panarin of the Rangers.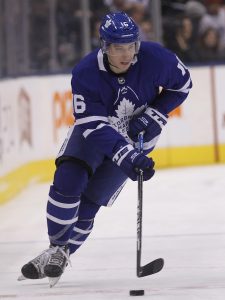 As the top RFA in this class, many expected that other free agents were waiting to see what Marner got before working to finalize their own contract.  With that now done, it will be worth watching to see if that helps move the needle for other wingers such as Mikko Rantanen (Colorado), Matthew Tkachuk (Calgary), plus Patrik Laine and Kyle Connor (Winnipeg), among others.
With this deal, the Maple Leafs now have over $40MM tied up in four forwards between Marner, Matthews, John Tavares, and William Nylander.  The first three of those are all in the top-seven in the league in cap hit which will make them a very intriguing team to keep an eye on as they work to remain in salary cap compliance.   This type of salary structure has never really been seen so many teams will be looking to see how they're able to work within it.
When it comes to the upcoming year, they will be making full use of LTIR this season with Nathan Horton ($5.3MM) and David Clarkson ($5.25MM) both heading on there for the entire year.  However, CapFriendly projects them as currently being more than $13MM above the Upper Limit at this time so there is likely more work that needs to be done.  Winger Zach Hyman and defenseman Travis Dermott are both expected to be injured to start the season and if they're projected to miss at least three weeks, they can also start on LTIR which would allow Toronto to get under to start the year although they would need to make some moves when those players are ready to return.
Regardless of the salary cap implications, GM Kyle Dubas has to be pleased that he was able to get Marner signed before the season gets underway.  In doing so, he avoids the risk of talks running well into the season as they did with Nylander a year ago.  Had that happened, Marner's AAV for this season would have been higher than $10.893MM which likely provided another impetus to get something done before the puck drops on the start of the season on October 2nd.  With his deal now complete, it will be interesting to see how quickly the other dominoes around the league will fall.
Sportsnet's Elliotte Friedman was the first to report a deal had been agreed upon while TSN's Darren Dreger was the first to report the cap hit.

Photo courtesy of USA Today Sports Images.