Hindsight is an amazing thing, and allows us to look back and wonder "what could have been." Though perfection is attempted, scouting and draft selection is far from an exact science and sometimes, it doesn't work out the way teams – or players – intended. For every Patrick Kane, there is a Patrik Stefan.
Starting this week, we're looking back at the 2007 NHL Entry Draft and asking how it would shake out knowing what we do now. Will the first round remain the same, or will some late-round picks jump up to the top of the board?
Here are the results of the redraft so far, with their original draft position in parentheses:
1st Overall: Patrick Kane, Chicago Blackhawks (1)
2nd Overall: Jamie Benn, Philadelphia Flyers (129)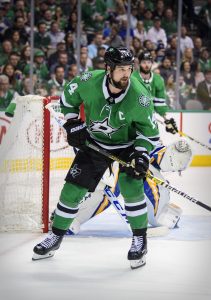 Already Benn has made one of the biggest jumps in any of the three years we've covered in this series. The Dallas Stars captain had only played a single year of junior hockey in the BCHL when he was picked in 2007, but immediately made the Stars look like geniuses thereafter. A dominating power forward for the Kelowna Rockets of the WHL the following two seasons, Benn would step right into the NHL in 2009 and never really look back. Scoring 22 goals and 41 points as a rookie he would finish seventh in Calder Trophy voting, actually four spots ahead of James van Riemsdyk who was the real second overall pick.
Benn has scored at least 22 goals in every season of his career save for the lockout-shortened 2012-13. He reached his peak on offense a few years ago when he recorded 41 goals and 89 points in 2015-16, establishing himself as a star in the league and earning an eight-year, $76MM extension to stay with Dallas for the majority of his career. Second among all 2007 draftees in goals and points, it's easy to see why the voters took him ahead of the other available names.
Third overall in 2007 belonged to the Phoenix Coyotes, who must have seen Benn up close at some point but decided that Kyle Turris was the BCHL star they wanted. The British Columbia native had just put up 66 goals in 53 games for the Burnaby Express, leading the league by 15 (though he actually lost the overall scoring title to undrafted Tyler Bozak). Turris looked like a lock as a future first-line center, but unfortunately things didn't go quite that smoothly in Arizona.
After a year at the University of Wisconsin, Turris decided to sign with the Coyotes but things wouldn't last in the desert. After a few years bouncing back and forth from the minor leagues, Turris sat out the beginning of the 2011-12 season as a restricted free agent to try and force a trade but eventually would decide playing hockey was better for his career. After just six games with the Coyotes that season however, Turris was shipped to the Ottawa Senators. He would become an excellent player when given the minutes in Ottawa, but in 2017-18 he was flipped again when the Senators got a chance at Matt Duchene.
While Turris has been a fine player, he is coming off a terrible year with the Nashville Predators and ranks 11th in scoring from the 2007 draft. Certainly not a bust if you take his whole career into account, but you can bet the Coyotes would have liked a different player if they could do it all over again.
With the third pick of the 2007 NHL Entry Draft, who should the Philadelphia Flyers select? Cast your vote below!
[Mobile users click here to vote]
*Tragically, 17th overall pick Alexei Cherepanov died at the age of 19 and would never get a chance to suit up in the NHL. He has not been included in this vote.