4:00pm: The buyout is official.
11:41am: Even though the Carolina Hurricanes hoped to convince Patrick Marleau to stick around after arriving in a trade from the Toronto Maple Leafs, the expected buyout is going to move forward. Luke DeCock of the Raleigh News & Observer reports that GM Don Waddell admitted as much today, noting that the team will have to pay a $3MM signing bonus right away and then the remaining $833,333 split over the next two seasons. Since Marleau is on a 35+ deal however, the Hurricanes will not receive any cap relief and will continue to have his $6.25MM hit on the books for this season. A buyout will make Marleau an unrestricted free agent and a return to the San Jose Sharks is possible.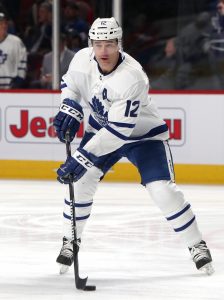 Thanks to his no-movement clause, Marleau will also not require waivers for a buyout. The 39-year old forward was acquired by the Hurricanes on Saturday along with a package that included a conditional first-round pick in a straight salary dump by the Maple Leafs. Toronto desperately needed some cap room to help them re-sign their trio of restricted free agents, and Marleau seemed ready to leave the organization and return to the west coast with his family.
One of the NHL's true iron men, Marleau has now gone ten straight seasons without missing a single game and has played in at least 74 games every year of his career (save for the lockout-shortened 2012-13 where he played in all 48). During that career he has amassed 551 goals and 1,166 points in 1,657 games, putting him among the all-time leaders in each category. Unfortunately, he is still chasing that elusive Stanley Cup and has only even made it to the Stanley Cup Final on one occasion. His hope that a move to Toronto in 2017 would give him that opportunity fizzled when the Maple Leafs were ousted two years in a row by the Boston Bruins in the first round.
As his Cup dreams dwindled in Toronto, so did his play as Marleau recorded his worst goal-scoring season since his rookie year in 1997-98. With just 16 goals and 37 points he was no longer worth the $6.25MM hit for the Maple Leafs, who are trying to find a way to surround Auston Matthews, John Tavares and Mitch Marner with enough talent to go on a deep playoff run.
Wherever he signs (if he does at all), Marleau could potentially play for the league minimum of $700K given he is already earning nearly $3.5MM for this season.
Photo courtesy of USA Today Sports Images