Free agency is now less than a month away from opening up and there are quite a few prominent players set to hit the open market while many teams have key restricted free agents to re-sign.  Here is a breakdown of New Jersey's free agent situation.
Key Restricted Free Agents: D Steven Santini – The New Jersey Devils went out and acquired Sami Vatanen this season to help a defensive unit that was struggling to keep up with their forward group. While Taylor Hall was putting up an MVP season and Nico Hischier was proving why he was selected first overall, the team didn't believe they had enough depth on defense and sacrificed Adam Henrique to improve. This summer, further improvement could come from within. Santini, 23, ended up playing 36 games for the Devils in 2017-18, and amazingly logged more than 20 minutes in those games. Though his possession numbers were atrocious, that can largely (but not completely) be explained by the incredibly poor zone starts he was given.
More than 72% of the faceoffs taken while Santini was on the ice were in the defensive zone, one of the most heavily-skewed numbers in the entire NHL. The New Jersey coaching staff heavily sheltered Will Butcher this season to allow him to use his offensive talents, a trade that came at the expense of Santini who is considered more defensively responsible. Now he'll head into RFA negotiations as a possible full-time option on the blue line going forward, especially if the team lets John Moore walk in free agency. He's not arbitration eligible, and will likely come to an agreement fairly quickly.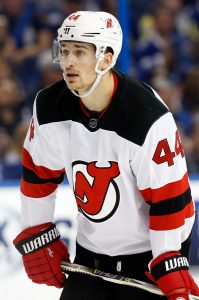 F Miles Wood – Part of the Devils incredible turnaround falls at the feet of Hall and Hischier, but it was the team's depth up front that had everyone talking. After being a fairly weak offensive team over the last few years they started to come in waves of speed, headlined by Wood's impressive season. The 22-year old scored 19 goals and was a very effective player for the team at even strength. If he's given more powerplay opportunities in the future that number could potentially grow even higher, as it wasn't the result of an outrageous shooting percentage or any other easy to spot outlier.
Other RFAs: F Stefan Noesen, F Blake Coleman, F Nick Lappin, F Kevin Rooney, F Mario Lucia, D Michael Kapla, G Ken Appleby
Key Unrestricted Free Agent: F Michael Grabner – After putting up such a good first half the Devils went out at the trade deadline and acquired some more depth players up front, and even spent a second-round pick (and prospect) on Grabner. That didn't seem to pay off for the team, as the counter-punch artist added just two goals and five points in 21 games down the stretch for New Jersey before going scoreless in just two playoff contests.
Still, Grabner is coming off back-to-back 27-goal seasons and will be a sought after commodity on the free agent market. The 30-year old speedster is an excellent penalty killer and can stretch defenses better than almost anyone in the league. Though he can struggle at times to finish his chances, and doesn't create many opportunities for his linemates, many teams would be lucky to have him suit up in their bottom-six. Grabner is coming off just a two-year $3.3MM contract and will likely be looking for a big raise on a multi-year contract. The Devils may believe that's too rich for them as they instead look to their young players for continued development.
F Patrick Maroon – The other deadline addition for New Jersey was Maroon, who was also coming off a 27-goal season in 2016-17. This year he had just 17, but found his playmaking stride for the Devils and recorded 13 points in 17 games. Struggling with the rest of the team in their first-round playoff exit, he still could represent a perfect fit for the Devils who don't have many other players in the power forward mold. Maroon is an excellent puck protector, and has shown that when given the chance to play with skilled players is quick enough to still keep up.
It's hard to gauge Maroon's market after he struggled with the Edmonton Oilers early on. He fetched them just a 2019 third round pick and the rights to college forward J.D. Dudek at the deadline, and may not have a ton of teams knocking down his door in the summer. That would be just fine with the Devils if they're looking to bring him back, though nothing has been reported between the two so far.
Other UFAs: F Jimmy Hayes, F Brian Gibbons, F Drew Stafford, D John Moore, F Michael Latta, F Bracken Kearns, F Ben Thomson
Projected Cap Space: Last season the Devils were seen as a dark horse candidate for nearly every free agent because of their huge amount of cap space and this year should be no different. With nearly $25MM in cap room depending on where the upper limit lands, the team could go after any player they want, including John Tavares or John Carlson. Though there are some restricted free agents to get under contract, GM Ray Shero should have just about all the resources he should need to help the Devils make it back to the playoffs once again.
Photo courtesy of USA Today Sports Images