One of the bigger names still waiting on a deal is the Detroit Red Wings' Tomas Tatar, who is due a huge raise. All has been quiet in Detroit outside of the fact that Tatar filed for arbitration, which was suspected. But George Malik, of Kuklas Korner, found this interview that shed some light on what's going on between Detroit and Tatar:
"Arbitration is the last option, I have to sign off, it's just a mandatory contract. Unless I agree with Detroit, I'll go to the court, where they'll give me a year's contract. That would probably be my last season in Detroit. We'll see in a few days or weeks before it all comes together," said Tatar.
The Athletic's Craig Custance looks further into the issue, pointing out that should Detroit only sign Tatar to a year, it would certainly help the rebuilding process in terms of what Tatar could rein in at the deadline. At the same time, he wonders why the Red Wings, who already have an overabundance of bad contracts, would want to extend Tatar for a long time when the team is clearly not going to be anywhere near contender status in the near future.  But Custance, after getting a "no comment" from general manager Ken Holland, makes a very astute point:
Put another way, only 30 NHL players have scored more goals in that three-year span than Tatar. That comes with a cost, and for an organization that was willing to pay Justin Abdelkader, Darren Helm and Gustav Nyquist market value, this would be the odd one in which to take a hard line on.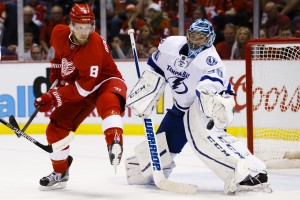 The money owed to Helm and Abdelkader alone makes this perplexing to any Red Wings fan. Both received generous offers in comparison to their ho-hum production. Tatar is a slam dunk. If the Red Wings are truly "rebuilding on the fly," as Holland as said for has nearly been five seasons, he finds a way to extend Tatar for multiple years. But this team isn't set up to do much. Though the Athletic's Sean Tierney shows that the Red Wings made slight gains in goal scoring, it's just that: slight. Detroit has the fourth oldest roster in hockey, which only pushes the notion that they should be looking to get younger.
The Red Wings, whether or not the front office wants to admit it, are a shell of what they once were. Though Holland's goal is to make the playoffs next season, he's returning a roster that is nearly identical to the same squad who mustered just 79 points. That seems like a farfetched goal. But if the playoffs are truly in their crosshairs, Tatar's signing is a critical piece to returning.