The free agent period is now less than two weeks away from opening up and there are several prominent players set to hit the open market while many teams have key restricted free agents to re-sign.  Here is a breakdown of Chicago's free agent situation.
Key Restricted Free Agents: G Anton Forsberg – Although he wasn't the headliner in the Artemi Panarin for Brandon Saad swap, Forsberg is an intriguing young goalie who should settle in as the replacement for Scott Darling to play behind Corey Crawford.  He hasn't had much success yet at the NHL level which should keep the asking price low despite a stellar season at the AHL level in 2016-17.  He's due a qualifying offer of $715K and a one year deal for Forsberg should come in close to that.
D Ville Pokka – Pokka has yet to play at the NHL level after spending the last three years in Chicago's farm system but that may very well change next season.  His production took a notable dip with Rockford (from 45 to 30 points) but he's still an intriguing two-way defender.  Contract talks have already started and while he's due a two-way qualifying offer just under $875K, he's a candidate to take less than that in exchange for more guaranteed money, a move that may help his push for a roster spot in 2017-18.
Other RFA's: D Erik Gustafsson, F Kenton Helgeson, F Michael Latta, F Tomas Jurco, F Dennis Rasmussen, D Nolan Valleau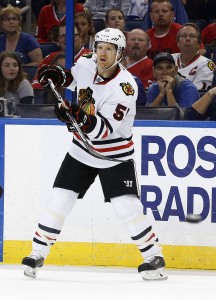 Key Unrestricted Free Agents: D Brian Campbell – His second go-round in Chicago wasn't anywhere near as successful as his first but that was to be expected given his age and the role he was brought to play.  Campbell still did a decent job in a bottom half spot in the lineup where he averaged 18:26 per night, his lowest ice time in more than a decade.  Now 38, Campbell has indicated that he would like to stay in Chicago but he may have to take another pay cut from the $2.25MM he earned (including bonuses) this past season in order to do so.
D Johnny Oduya – GM Stan Bowman brought Oduya back into the fold just before the trade deadline in order to bolster their back end but that was after that had squirreled away a bit of cap space with Dallas retaining half of his $3.75MM cap hit as well.  That won't be the case in free agency so unless he's willing to sign a one year incentive-laden contract, he's probably not an option to come back.  He's not an ideal top four on a contending team but he should still receive lots of interest as a dependable veteran third pairing player.
Other UFA's: G Mac Carruth, F Andrew Desjardins, G Lars Johansson, F Pierre-Cedric Labrie, F Brandon Mashinter
Projected Cap Space: With Marian Hossa out for the season and expected to be headed for LTIR, Chicago may have a little bit more room to work with this summer.  However, as things stand, they sit at $76.5MM in committed contracts to 21 players per CapFriendly which is already $1.5MM over the cap.  Considering that they will want to be under before they can put Hossa on in-season LTIR (to give them some in-season payroll flexibility), there's some more cutting that will need to be done before they can look towards adding in free agency.
Photo courtesy of USA Today Sports Images.