Just moments after the Niklas Hjalmarsson deal, the Chicago Blackhawks have traded Artemi Panarin, Tyler Motte and their 2017 sixth-round pick to the Columbus Blue Jackets for Brandon Saad, Anton Forsberg and Columbus' 2018 fifth-round pick.
In spectacular fashion, the Blackhawks have reunited Saad with his former teammates, something that perhaps pushed along the deal in the first place. Saad won two Stanley Cups with the Hawks before being shipped out of town in one of their cap-saving measures, which interestingly is what brings him back just two years later. Though Panarin and Saad both have a cap hit of $6MM, the "bread man" is signed for only two more years and will be demanding a hefty raise in the summer of 2019. The former Rookie of the Year is a legitimate 70+ point winger in the prime of his career, something that is extremely difficult to find on the open market.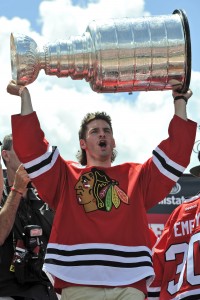 Saad himself can score 30 goals and is a much more well-rounded player, better defensively and physical. Though he clearly doesn't have the elite offensive talent of Panarin, he can be a legitimate first-line winger and should slot back in next to Jonathan Toews for the next four seasons. The 24-year old is under contract through 2020-21, meaning they won't have to worry about re-signing him for an extra couple of years.
Interestingly, the Blackhawks have also found a potential backup goaltender after losing Scott Darling earlier this offseason. Forsberg is clearly ready for an NHL role, but was behind Sergei Bobrovsky and Joonas Korpisalo in Columbus. He comes over as a restricted free agent, and will need a new contract before next season. Motte, the prospect going the other way is an undersized forward who played 33 games for the Hawks this year, struggling to contribute much offensively. Though he had an outstanding season as a junior for the University of Michigan, that same offensive flair hasn't carried over to his professional play just yet.
Really though this trade comes down to Panarin for Saad, and a move for more cost certainty for the Hawks. They get a former fan favorite back, who is both younger and locked up for a longer term, but deal one of the individually gifted scorers in the entire league. It will be a bittersweet pill to swallow, as fans have gotten used to seeing Panarin and Patrick Kane play games with opposing teams and almost score at will, but perhaps Saad will bring back a more dominant Toews on the top line.
For Columbus, they move out some of the physicality and size to introduce pure skill. While it's not clear where Panarin will play, adding him to a lineup that already includes Cam Atkinson will be too much to handle for most teams on most nights. They only have him locked up for two more seasons, but with a dominant defensive group, Vezina-winning goaltending and scoring depth on all four lines look like a solid contender for the immediate future.
Elliotte Friedman of Sportsnet broke the deal, with Pierre LeBrun of TSN gave details on the other pieces.