Over the next few weeks we will be breaking down each team's situation as it pertains to the 2017 NHL Expansion Draft. Which players are eligible, and which will likely warrant protection or may be on the block. Each team is required to submit their protection lists by 4pm CDT on June 17th. The full rules on eligibility can be found here, and CapFriendly has provided a handy expansion tool to make your own lists.
After going to the playoffs three consecutive years from 2010-12 the Arizona Coyotes have taken a sharp downturn in recent years, culminating in another disappointing season in 2016-17. They finished in 28th place with just 70 points, and unfortunately dropped all the way to seventh in the upcoming draft. Since most of their impressive assets are still very young, the team shouldn't have much trouble protecting their future in the upcoming expansion draft. They do however have some interesting names that may be taken.
Eligible Players (Non-UFA)
Forwards:
Jamie McGinn, Tobias Rieder, Brad Richardson, Josh Jooris, Mitchell Moroz, Tyler Gaudet, Peter Holland, Brandan Troock, Jeremy Morin, Jordan Martinook, Alexander Burmistrov, Anthony Duclair, Teemu Pulkkinen
Defensemen:
Oliver Ekman-Larsson, Alex Goligoski (NMC), Connor Murphy, Luke Schenn, Kevin Connauton
Goaltenders:
Notable Exemptions
Clayton Keller, Dylan Strome, Max Domi, Christian Dvorak, Lawson Crouse, Christian Fischer, Jakob Chychrun, Anthony DeAngelo, Brendan Perlini, Nick Merkley
Key Decisions
Like the Colorado Avalanche who we profiled yesterday, the Coyotes have more than enough protection slots to go around up front. Unlike the Avalanche though, who have a tough situation on defense the Coyotes will more than likely use the 7-3-1 method, allowing them to protect all of their valuable contracts.
Up front, the Coyotes amazingly have just three players signed for next season who are eligible to be taken, though several other restricted free agents will warrant protection. With seven slots, they actually have enough to even acquire another player or two without putting anything of true value at risk. Holland, Martinook, and Jooris all have shown various levels of upside in their NHL time, while others like Pulkkinen have performed well at the AHL level.
Because of the extremely few veterans signed for next season, the Coyotes actually still have some work to do. Each team needs to expose at least two forwards who are under contract for 2017-18 and played in at least 40 games this season of 70 the past two. McGinn, Rieder and Richardson are the only three who are signed, meaning another player will need a contract before the draft happens. Jooris is the most likely for this, as he doesn't project as one of their current protected forwards but does fill the requirement.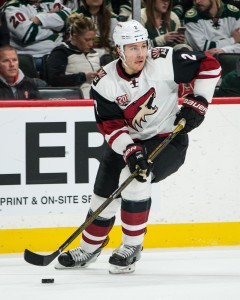 On defense the biggest loss would likely be Schenn, the former fifth-overall pick who is now on his fourth organization without ever living up to the shut-down billing he had coming out of the WHL. If the team was worried that Vegas might take him—and there is definitely a chance the team would, seeing as he is a cheap 27-year old with more than 600 games under his belt already—and they really didn't want that, they could go with the eight skaters method and protect four defensemen, though it seems very unlikely.
In net, Smith is a near-lock to be protected after the team refused to discuss him at the deadline despite his excellent season. GM John Chayka had this to say at the time:
We're trying to grow, and he's a key cog of that growth for us. Wayne Gretzky was traded.  At the same time, [Smith's] an important piece for our organization. There's no discussion on him.
That does make Domingue an interesting option for Vegas, as the former fifth-round pick has turned in two solid seasons in part-time duty. While he doesn't have the same immediate upside of Antti Raanta or Philipp Grubauer (two goaltenders who may also be exposed), Domingue is only 25 and costs just over $1MM for next season.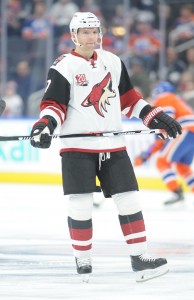 It's important to note that Dave Bolland, Craig Cunningham and Chris Pronger, all of whom are technically still on the Arizona payroll are exempt from the draft due to their career-ending injuries. Pronger has in fact already been inducted to the Hall of Fame, and currently works for the Department of Player Safety. Pavel Datsyuk, whose rights were acquired at the draft last year is also on the books and has a no-movement clause, but will not need protection because of his expiring cap-hit and status as a retired player.
Vegas will have a chance to speak to the pending free agents for the Coyotes like any other team, and there is the possibility they could go after Radim Vrbata instead of any exposed player. Vrbata had a solid season in the desert, leading the Coyotes with 55 points. At 35 he's clearly past his prime, but for a team that will severely lack scoring ability he may be an interesting option. Shane Doan is also a free agent as of this moment, but it seems unlikely that he would go to Vegas for the end of his career—if it's not over already—after making it clear he only wanted a trade to a potential Stanley Cup contender at the deadline.
Projected Protection List
F Jamie McGinn
F Tobias Rieder
F Peter Holland
F Jordan Martinook
F Alexander Burmistrov
F Anthony Duclair
F Teemu Pulkkinen
D Alex Goligoski (NMC)
D Oliver Ekman-Larsson
D Connor Murphy
In all, the Coyotes sit in outstanding shape going into the expansion draft without much to lose. Since all of their highly-touted assets are still too young to be eligible, they've actually put themselves in a situation to acquire a player or two before the draft from a team in a worse situation.
Though they aren't likely to compete next season, they could easily add young players to their core this summer to make their team substantially better. Like the acquisition of Crouse last summer in exchange for Bolland's contract, or the draft-finagling to move up and get Chychrun, Chayka and the Coyotes front office is headed in the right direction. It would be surprising to not see them take advantage of their protection slots and ample cap space again over the next few weeks.
While this list reflects the roster as it is today, it could clearly change as the team makes the decision on who to extend or a deal to bring someone in. As it sits, Schenn or Domingue look like the toughest losses, which won't really inspire much excitement among Golden Knights fans.
Photo courtesy of USA Today Sports Images.