Over the next few weeks we will be breaking down each team's situation as it pertains to the 2017 NHL Expansion Draft. Which players are eligible, and which will likely warrant protection or may be on the block. Each team is required to submit their protection lists by 4pm CDT on June 17th. The full rules on eligibility can be found here, and CapFriendly has provided a handy expansion tool to make your own lists.
The Colorado Avalanche finished the 2016-17 with one of the worst records in recent memory, winning just 22 games and seeing just a single player reach the 20-goal mark. As if their year could get any worse, they fell three spots in the draft lottery and will be required like everyone else to give up a player to the incoming Vegas Golden Knights.
Eligible Players (Non-UFA)
Forwards:
Nathan MacKinnon, Matt Duchene, Gabriel Landeskog, Carl Soderberg, Joe Colborne, Blake Comeau, Troy Bourke, Mikhail Grigorenko, Samuel Henley, Sven Andrighetto, Matthew Nieto, Rocco Grimaldi, Felix Girard, Mike Sislo, Turner Elson
Defensemen:
Erik Johnson (NMC), Tyson Barrie, Francois Beauchemin (NMC), Mark Barberio, Eric Gelinas, Duncan Siemens, Patrick Wiercioch, Nikita Zadorov
Goaltenders:
Semyon Varlamov, Calvin Pickard
Notable Exemptions
J.T. Compher, Mikko Rantanen, Tyson Jost, A.J. Greer, Andrei Mironov, Chris Bigras
Key Decisions
The Avalanche are in an enviable position when it comes to forwards, where many of their core pieces are still exempt due to the rebuilding nature of the club. It's not so rosy on defence though, as both Johnson and Beauchemin hold no-movement clauses and thus require protection. Should the team be able to convince one of them—namely Beauchemin, since Johnson still at least represents some trade value—to waive their clause, they could use the 7-3-1 protection format. Otherwise they'll likely have to go with the eight skater route or risk losing one of Zadorov or Barrie.
That would leave them with just four slots up front which isn't ideal, but at least could protect the future and biggest trade pieces. That is assuming they don't move Duchene or Landeskog before the draft, which would open up another spot for a younger player like Grimaldi or Andrighetto. Another option would be a buyout once the first window opens on June 15th, though Beauchemin—the most likely recipient—signed his latest contract after he turned 35 and thus the Avalanche would incur the whole $4.5MM cap hit next season regardless.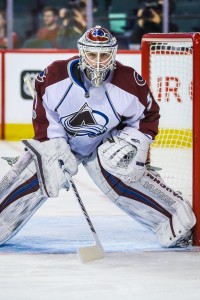 In net there sits the team's most important decision. Whether or not to protect Varlamov or Pickard has been much debated, with reports coming out previously that the team will keep the former. After two solid seasons backing up, Pickard struggled at times in the increased role this year when Varlamov went down to injury. That's not to say the young goaltender doesn't have a bright future as he recently showed, backstopping Team Canada to a silver medal in the recent World Championships. He was given player of the game honors for Canada in their 2-1 shootout loss to Team Sweden in the gold medal game, and recorded a .938 save percentage in the tournament.
From each team, Vegas is also given the opportunity to talk to pending free agents before the draft. If they should come to an agreement with one, they would forfeit their selection from his former team. The Avalanche don't really have any UFA targets that would be of much interest, though perhaps 25-year old Brendan Ranford provides some. The Group VI free agent has only played a single game in the NHL, but has proven to be a successful AHL scorer. If for some reason the Golden Knights believe they won't be able to sign him—or any of the Avalanche UFAs—after July 1st, they could forego their selection entirely.
Projected Protection List
F Nathan MacKinnon
F Matt Duchene
F Gabriel Landeskog
F Mikhail Grigorenko
D Erik Johnson (NMC)
D Francois Beauchemin (NMC)
D Tyson Barrie
D Nikita Zadorov
G Semyon Varlamov
While Colorado is one of the most likely teams to make a move before the deadline, this is how the protection list currently projects for them. The Avalanche could also make a deal with the Golden Knights to take a player like Soderberg off their hands, who suffered an inexplicable drop-off in effectiveness this season. With three more seasons on his current contract, his $4.75MM cap hit is certainly one the Avalanche would love to rid themselves of as they continue their rebuild.
In all, Pickard looks like the worst loss the Avalanche could incur at this point and with several weeks still before the draft they may be able to solve that issue. The Golden Knights should have their fair share of goaltenders available to them, many of which they may feel more comfortable drafting. The Avalanche will continue to look forward with their group of "untouchables" which includes MacKinnon, Rantanen and Jost, each of whom are at no risk of being selected.
Photo courtesy of USA Today Sports Images