Corey Crawford must feel like an old man these days. When the Chicago Blackhawks goaltender looks around at the creases of his main rivals in the Western Conference, one thing is constant: inexperience. He knows it well, from when he took on the Vancouver Canucks in 2011 as a rookie. At the other end of the rink was a 31-year old Roberto Luongo, who had already been through three playoff runs and was about to win the Jennings trophy for dominating in the regular season.
Crawford and the Hawks would lose in seven games, but it was an important step towards their cup win in 2013 when he would post a .932 save percentage—still the best mark of his career. It's not easy to backstop a team to the Stanley Cup, even if you do have an excellent group in front of you. Just ask Martin Jones, who actually played his best hockey last year in the Finals against Pittsburgh, despite losing. It took a while for him to really find his groove and even then it wasn't enough.
So when Crawford sees the standings and notices a trend among the biggest contenders, it might make him even more confident heading into this year's tournament. Perhaps even if he is a bit older, that experience will pay off in the toughest two months of any sport.
In Minnesota, the team battling with the Hawks for the top of the Central Division, the crease is tended by Devan Dubnyk who has just 16 games under his belt in the playoffs. He's clearly one of, if not the, best goaltender in the league right now but last season saw him struggle mightily in the first round. Like Crawford, he'll eventually find his stride but is this the year?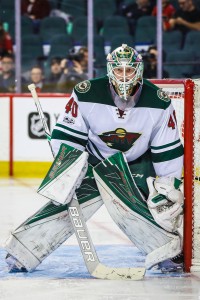 Edmonton looks like they'll be back in the playoffs for the first time in a while, but even Connor McDavid can't save them if Cam Talbot falters. For all the strong play he's given the Oilers this year, 46 minutes is all he has seen of playoff hockey. It will be a real test for the Oilers, especially because of the lack of an experienced backup for him. No wonder there were rumors about Jaroslav Halak at the deadline.
When Anaheim traded away Frederik Andersen to the Maple Leafs this summer, they decided to give the reins to John Gibson. While he's been everything they hoped this year, Andersen was the one with 28 games of playoff experience, not Gibson. He looked shaky at best last year in his two games, allowing three goals in each of them. It will be a big test for Gibson, who is close to returning from injury, as he tries to prove the Ducks right in their decision to make him the #1 guy.
Jake Allen is in a similar situation, after the Blues decided to ship Brian Elliott to Calgary—more on him in a second. Allen has started just eight playoff games (though played in 11), and his .902 career save percentage in them doesn't inspire much confidence. If the Blues do make it, he'll have to take a few pointers from Martin Brodeur on how to perform in the postseason.
So that leaves the Predators, Flames and Kings (in addition to Jones in San Jose), all of whom have plenty of experience in net but varying confidence in those goaltenders. Pekka Rinne is basically an average starting goaltender at this point, and Brian Elliott is likely right beside him in that category if not a little worse. The duo of Jonathan Quick and Ben Bishop have well over 100 games of experience, but the Kings are on the outside looking in. Do they have another eighth place Cup run in them?
So Crawford and the Blackhawks will hope that no one surprises them this year, and they can lean on experience and history to help them out in their playoff run. Now it's up to one of the inexperienced to turn the corner and prove they can perform when the games are just a little more meaningful.
Photo courtesy of USA Today Sports Images