The Stars have completed their expansion draft protection, signing Curtis McKenzie to a one-year, $700K extension. They also have announced a two-year entry-level deal for goaltending prospect Landon Bow. Both contracts will begin during the 2017-18 season.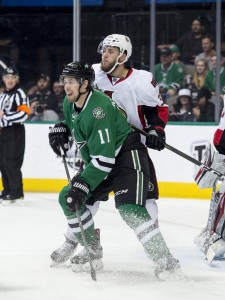 As we predicted when the Stars extended Adam Cracknell earlier this week, McKenzie was the obvious choice for the Stars to extend and fulfill their expansion draft requirements up front. While Brett Ritchie or Radek Faksa could have been exposed to cover the requirements, both will likely be protected by the team. They now have Cracknell, McKenzie and Dan Hamhuis as expansion draft fodder that fill the 70/40 requirement.
McKenzie has played 43 games for the team this season, recording 11 points and 67 penalty minutes. His fourth-line role has been expanded slightly of late after the Stars shipped Patrick Eaves and Lauri Korpikoski out of town at the deadline. Whether he continues in that role next season is still to be determined, but he'll benefit from the expansion draft with some guaranteed money. The 26-year old actually has two game-winning goals this season, and does have a bit of offensive upside to his game.
In his first season of professional hockey in 2013-14, McKenzie broke out with 65 points in 75 AHL contests. He has followed it up with more solid minor league numbers, though his impact at the NHL level has been less noticeable.  For a Stars team that will need to reload this offseason and try again while Jamie Benn and Tyler Seguin are in their prime, McKenzie and his relatively low cap-hit could come in handy in their bottom-six.
Bow on the other hand is a 21-year old undrafted goaltender that has split time between the ECHL and AHL this season. His numbers while in the American league are poor, but has shown at least enough ability to be an intriguing lottery ticket. Goaltenders often mature much later into their game than other positions, and Bow was exceptional in his final season of junior hockey after already being passed over in the draft. Probably nothing more than organizational filler, he at least is worth an ELC to see what he can do. The Stars need all the goaltending help they can get, as the tandem of Kari Lehtonen and Antti Niemi continue to struggle at the NHL level.
Photo courtesy of USA Today Sports Images