After rumors of the deal yesterday, the Anaheim Ducks have announced the signing of a one-year extension for young winger Logan Shaw. Though the team has not released the details, Renaud Lavoie of TVA Sports reports that the deal is one-way and will see Shaw earn $650,000 next season.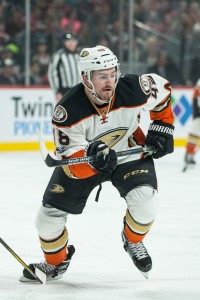 Shaw was the return for Michael Sgarbossa earlier this season from Florida, and has turned into an effective bottom-six penalty killer for the Ducks. In 43 games, he has just five points and has never been much of a scoring threat even going back to his junior hockey days. Instead, he is a big body who can skate well enough to effectively defend and give the team a bit of energy.
He also gives Anaheim another body to expose in the upcoming expansion draft, not unlike Chris Terry for Montreal. While the Ducks will likely have to go the eight skaters route leaving them perfectly covered in the 70/40 expansion requirements up front, if they can work out a deal with Vegas or move one of their defensemen prior to the draft, they may have been stuck with just Jared Boll meeting the requirements up front. They now have options as Shaw and Boll will definitely be left exposed.