After the shocking dismissal of Gerard Gallant on Sunday night, general manager and head coach Tom Rowe ran his first practice today. The Miami Herald's George Richards writes that the practice didn't look too different from the ones run under Gallant. Richards also included Rowe's comments regarding Gallant after making the move to fire him Sunday:
"Gerard Gallant, first, is a great human being, a really good guy. The other day was brutal on everyone," Rowe said. "The players really liked him, respected him. I came in and told them we weren't going to change a whole lot, maybe a few things."
Richards adds that Rowe hasn't had a lot of time to change much in a short turnaround, but that some changes included Jonathan Marchessault returning to the top line.  Jussi Jokinen was shuffled to the second line while Seth Griffith, who played on Florida's fourth line, changed to the third line.
While Richards looked at Rowe's changes on the ice,  The Sun-Sentinel's Dave Hyde focused on the shift in thinking within the organization.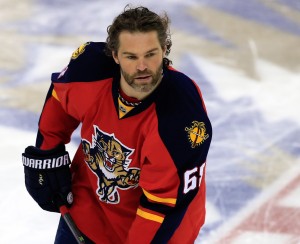 Hyde reports that it was analytics winning out in Rowe's favor. Hyde doesn't mince words, writing that old school mindsets have given way for the new wave of analytics and Gallant, along with President of Hockey Operations (and former general manager) Dale Tallon, were casualties of the new way of doing business. He also wonders who is "in charge" of the organization, quipping:
 To announce Gallant's firing Monday, four Panthers officials were needed on the teleconference with media. Four. One more and they'd have a starting lineup Tuesday night in Chicago for the first game of their next chapter.
 Hyde adds that it's the analytics mindset led by Rowe and assistant general managers Eric Joyce and Steve Werier that "have the ear" of owner Vinnie Viola. Hyde continues that the writing was on the wall for Gallant, using the case of former Panther
Logan Shaw
 as an example:
Gallant thought his big presence could help and kept pushing for him to be promoted from the minors. The front office didn't like his analytics profile. Shaw recently was traded to Anaheim in a small deal for winger Michael Sgarbossa. Maybe it's a good trade. Again, we'll see. But it certainly sent a message to Gallant of where he stood.
Meanwhile Pierre LeBrun feels that there was no justifiable reason to fire Gallant, writing that the dismissal generated a league-wide "shaking of the head." Echoing Hyde, LeBrun chalks the firing up to a philosophical schism, but cautions by saying he doesn't intend to "fan the flames of that debate." LeBrun continues:
I think you need to keep an open mind to both analytics and how best to use that information, within the context of understanding what makes a player useful just from knowing the game. There's room for both schools of thought in hockey, and I'm mighty tired of people trying to make you pick a side.
LeBrun wonders who will receive the credit or blame based on the Panthers' performance. Regardless, the Panthers' decision making seems to be a microcosm of the debate raging on in the NHL regarding "old school" thinking versus the "new school" way.
Photo Courtesy of USA Today Sports Images