Every hockey player that's played without a full face-cage has experienced it, that almost-painless moment when you get a stick in the face. The rage boils over you just before the pain rolls in, and you get blood on your brand new gloves. Marko Dano knows it well, after taking a stick from Kyle Quincey in last night's Winnipeg-New Jersey game. The anger has subsided, and the forward happily celebrated the laceration on twitter today. "Finally look like a real hockey player".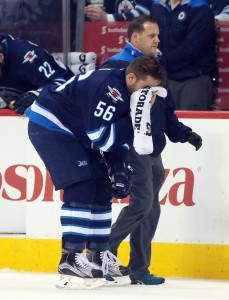 Dano left the game in the first period and didn't return, and it's unclear whether he'll be able to play in the Jets' next game. In the photo he sent out, his eye is almost swollen shut. The 22-year old has just six points in fifteen games this season, but looks like he'll be able to contribute more down the road.
T.J. Oshie returned to Capitals practice today, but didn't participate in any contact drills according to Isabelle Khurshudyan of the Washington Post. Interestingly, Oshie spent most of the practice paired with Taylor Chorney on defense. Tom Gulitti of NHL.com reports that Oshie is unlikely to play this week, although the forward didn't rule it out himself.
More good news from Capitals practice. Matt Niskanen was a full participant today, taking his regular turn with Karl Alzner during all drills. The defenseman has been out since Saturday with a lower-body injury, but seems fully recovered and is expected to play tomorrow when the New York Islanders come to town.
With the best news of all, Dave Strader returned to the Dallas Stars broadcast booth last night after being diagnosed with cancer this summer. In a touching video, Strader calls out the starting lineups for the Stars in the dressing room, with the team giving him an encouraging cheer after each name. Strader has been a voice in hockey for almost four decades, and though he says he's not strong enough to call a game just yet, we can't wait to hear him again.
Photo courtesy of USA Today Sports Images.