According to Elliotte Friedman and the player himself, Johnny Gaudreau has re-signed with the Calgary Flames for six seasons.  He'll earn approximately $6.75MM per season, bringing him in almost half a million higher than Sean Monahan who signed earlier this summer.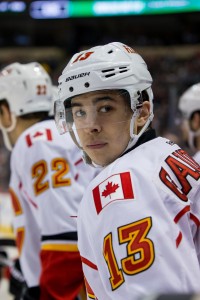 In Gaudreau, the Flames have a budding superstar at a reasonable price. The diminutive winger put up 78 points last season as a 22-year old, and has been likened to other smaller players like Martin St. Louis and Patrick Kane. While Gaudreau might not be a perfect parallel for either of those two, his production has already blown his draft position out of the water.
The Flames selected him in the fourth round before he completely dominated the college hockey ranks at Boston College, and proved that even at 5'9″ (allegedly) he can make an impact at the highest level. Pairing him with Monahan, the prototypical top-line center has built a duo that is almost unstoppable in the offensive end, the two combining for 141 points last season, despite being 22 and 21 respectively.
The contract will buy out one of Gaudreau's free agent years and, like many of the contracts this summer, has a strong portion of the money allotted in signing bonuses, making it resistant to buyouts or work-stoppages. While he will become a free agent before his 29th birthday, the Flames have locked in some cap-certainty for the next six seasons without going over their negotiating limit of $7MM. If Gaudreau continues on his pace, and decides to hit the open market in 2022, he'll easily make up any money he left on the table here. A good sign for Flames fans though, is that both he and Monahan have expressed the desire to stay in Calgary for their entire careers – though this is far from a certainty.