Sean Monahan is staying in Calgary a while longer. The team announced today that the restricted free agent has signed a seven-year deal. The value will come in at $44.625MM, a $6.375MM AAV and it will include a partial no-trade clause in the final three years. A press conference is to be scheduled for this afternoon to announce the deal.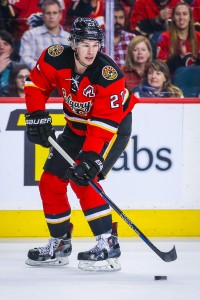 Monahan is a restricted free agent for the first time in his career, after posting 159 points through his first 237 career games. At just 21, he's one of the best young centers in the game, and has found amazing chemistry with fellow star Johnny Gaudreau.
The sixth overall pick in what is turning out to be a fabulous 2013 draft, Monahan has proven he should be considered in the top echelon of centers in the NHL and will now stay long-term in Calgary. With he and Gaudreau publicly stating that they want to stay in the Canadian city, it was just a matter of time until the deal was finalized.
While they still need to sign Gaudreau, the Flames now seem poised to go on a long streak of contention, led by their dynamic duo up front. With Sam Bennett also making an impression in his first NHL season, they have three players 23 or younger who are capable of scoring 30 goals in a season. With Dougie Hamilton and T.J. Brodie locked up long-term on the back end, joining veteran and captain Mark Giordano, they have a core capable of making it back to the playoffs as soon as 2016-17.
[Related: Updated Calgary Flames Depth Chart]
Monahan's $6.375MM cap-hit comes in just above Nathan MacKinnon's number from earlier this summer, and his performance comes in right alongside the former first-overall pick (in the same draft as Monahan to boot). While Gaudreau will undoubtedly cost more, the Flames have left themselves enough room with a ton of money coming off the books after next season. Ladislav Smid, Dennis Wideman, Deryk Engelland and the goaltending duo of Brian Elliott and Chad Johnson all become unrestricted free agents next season, giving the club money to work with (for a new Bennett contract, for instance).
First teased by Eric Francis of Sportsnet this morning. Elliotte Friedman was first to give us the seven-year details, along with the dollar value. CapFriendly provided details on the NTC.