While the official start date of free agency remains in flux depending on when the playoffs end (the later of October 9th or a week after the completion of the Stanley Cup Final), many teams are already looking ahead to when it opens up.  There will be several prominent players set to hit the open market while many teams have key restricted free agents to re-sign.  Washington has most of their team already signed for next season but a few players of note will have their contracts expire next month.
Key Restricted Free Agents
F Travis Boyd – Boyd is Washington's only roster forward that's slated to be a restricted free agent so he appears here by default.  He was actually quite productive in a limited role this season with 10 points in just 24 games while averaging just 11:45 per game.  The Capitals are going to need to go with cheap roster fillers so if Boyd is willing to accept something around the $800K he has made the last two years, he could stick around.
D Jonas Siegenthaler – After spending most of his first two seasons in North America in the minors, Siegenthaler held a regular roster spot this season, getting into 64 games which were mostly spent on their third pairing.  The 23-year-old also played in all but one of their playoff games which is a good sign that he'll be part of their plans for next season.  He'll be able to get more than his qualifying offer of $787.5K but as is the case with their forwards, affordability at the bottom of the depth chart will be critical.  Siegenthaler is worthy of a multi-year deal but to keep costs low, a one-year pact around $1MM may be the likelier outcome.
Other RFAs: D Kristofers Bindulis, F Shane Gersich, D Connor Hobbs, D Lucas Johansen, F Brian Pinho, F Daniel Sprong
Key Unrestricted Free Agents
D Brenden Dillon – Acquired from San Jose before the trade deadline, Dillon became an important part of Washington's top four right away, averaging a little over 20 minutes a game before the pandemic hit and over 22 minutes per contest in the playoffs.  Offensively, he's limited (surpassing the two-goal mark just once in the past six years) but he's steady in his own end, can block shots, and adds a level of physicality that many teams will covet.  While a big raise isn't likely, Dillon should still be able to command a small increase on the $3.27MM AAV he has played under for the last five years as there will be teams with an interest in using him on their second pairing.
D Radko Gudas – Dillon's acquisition wasn't good news for Gudas as it pushed him a little further down the depth chart to the point where he was scratched at times in the playoffs.  That doesn't help his free agent case.  The change in scenery from Philadelphia didn't allow him to show more in his new environment but rather solidified that he's a third pairing option.  His physicality and the fact that he's a right-shot player will still ensure that there's a good market for him but as teams will likely look to go cheaper on their depth players in the flattened cap environment, the top price point of his market may not be much higher than the $2.35MM AAV he had this season.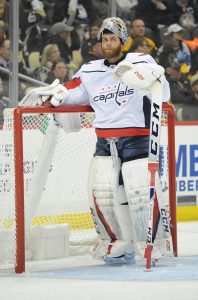 G Braden Holtby – After a couple of quieter seasons by his standards, Holtby had a chance to stake his claim to the top UFA goalie available.  That didn't happen.  Instead, he had the worst statistical season of his career with a 3.11 GAA and a save percentage of just .897.  Both of those were the worst of his career.  Holtby had an opportunity for redemption with Ilya Samsonov's injury preventing him from playing in the postseason and his numbers (2.46 GAA, .909 SV%) were better but Washington was still ousted quickly.  Samsonov's presence and Washington's cap situation means that Holtby is almost certainly on the way out.  Had he established himself at the top of the free agent class, he would have been well-positioned to land a long-term deal.  Now, a short-term contract somewhere that gives him a chance to rebuild some value may be the better way to go.
Other UFAs: F Liam O'Brien, F Ilya Kovalchuk, D Tyler Lewington, D Colby Williams
Projected Cap Space
On the surface, having roughly $10MM in cap space to work with, per CapFriendly, isn't too bad.  On the other hand, when you consider that they only have four defensemen under contract and could use a more proven second option to Samsonov, there really isn't much to spend.  The majority of this team is already in place for next season and it will be up to a new head coach to get the most out of them.
Another factor to consider is that winger Alex Ovechkin is slated to become an unrestricted free agent next summer.  Committing another long-term deal now could make it tougher to re-sign him and that's something they're not going to want to do.  Expect most signings to be short-term deals as a result which should also give them a bit more financial flexibility to work with and they'll need every bit of it.
Photo courtesy of USA Today Sports Images.