As we approach the end of the year, PHR continues its look at what teams are thankful for in 2022-23. There also might be a few things your team would like down the road. We'll examine what's gone well in the early going and what could improve as the season rolls on for the Winnipeg Jets.
Who are the Jets thankful for?
The emergence of Norriss-err, Morrissey this season has been a huge reason for the Jets' early success, setting a career-high with 40 points through his first 35 games. There's nothing like a true No. 1 defenseman to change the fate of a team, and after the disappointing 2021-22 season the Jets are right back in the Central Division playoff picture. Morrissey is playing more than 23 minutes a night, sits second in scoring among defensemen, and has quickly made the eight-year, $50MM contract he signed in 2019 look like a bargain.
At a $6.25MM cap hit through the 2027-28 season, Morrissey's development has made it possible for the Jets to stay legitimate contenders moving forward. It wasn't so long ago that things looked like a disaster in Winnipeg. The team was struggling, Mark Scheifele was a rumored trade chip, and Pierre-Luc Dubois wasn't willing to commit long-term. But things are looking a lot better these days, and a big part of that is because of the outstanding performance of Morrissey every night.
What are the Jets thankful for?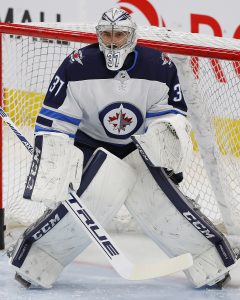 The return of Vezina-caliber Connor Hellebuyck.
If things continue the way they are now, Hellebuyck is going to lead the league in saves for the fifth-straight season. But while he continues to strap on the pads nearly every night, the performance has gone up and down over the last few years. When he won the Vezina Trophy in 2020, he had a .922 save percentage. This season, he's at .927. The improvement to team defense is part of it, but Hellebuyck has been outstanding so far, keeping the Jets alive every night.
He leads the league in shutouts with three and has already racked up 17.9 goals saved above average. Linus Ullmark's .938 save percentage and 20-1-1 record put him as the front-runner right now, but Hellebuyck looks like he'll be right there when the Vezina voting takes place.
It's simple. When you have one of the best goalies in the league, you have a chance for the Stanley Cup. Right now, the Jets have one of the best goalies in the league, and with Hellebuyck's history, it's hard to believe it will end anytime soon.
What would the Jets be even more thankful for?
Some better injury luck.
Even though they are in the mix and playing well, the Jets' can't seem to stay healthy. Mason Appleton, Nikolaj Ehlers, Saku Maenalanen, Nate Schmidt, Logan Stanley, and Blake Wheeler are all currently on injured reserve, while Cole Perfetti is also dealing with a more minor issue. That's more than $25MM on the sidelines, and a group that could be considered an entire core of some rosters.
When Hellebuyck missed practice earlier this month, the heart of many Jets fans jumped into their throat, expecting the worse. The netminder was only dealing with an illness, but it showed just how delicate their success is right now. A few more injuries and they might fall completely off the table, a couple fewer and they might go on a dominant run. There's a lot of talent on the Jets roster – if they can keep it on the ice, they have a good chance at contending in the Western Conference.
What should be on the Jets' holiday wishlist?
Another center.
The thing is, there's no guarantee that the team ever does get fully healthy. With so many wingers out, they have Adam Lowry playing the wing on the second line, meaning Kevin Stenlund and David Gustafsson are their third and fourth-line centers. You can think all you want that they have done a good job in a tough situation, but Gustafsson hasn't scored a single goal in 34 games and Stenlund is a minor league veteran with fewer than 80 NHL games under his belt.
When someone comes back they will be able to use Lowry in the middle of the third line again, but if Winnipeg is going to make a real run they should shore up that position with a little more depth. They've had players like Andrew Copp, Bryan Little, and Paul Stastny in that role in the past to great success.
That's not to say it's the only hole. David Rittich as a backup is a little scary, and the third defense pairing has been a rotating cast of characters all season. But the team only really has three legitimate centers at this point. It needs to be a focus, if the Jets do anything at the deadline.
Photo courtesy of USA Today Sports Images