Despite the announcement that he would be returning to North America after his recent contract termination in Switzerland, veteran forward Shane Prince has instead signed with Sibir Novosibirsk in the KHL. The former New York Islanders player will spend the rest of the season with his new club, after which he could once again pursue opportunities back in North America.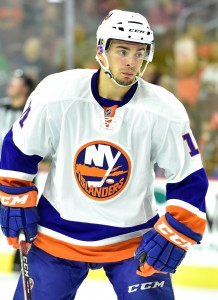 Prince, 26, became an unrestricted free agent in the most recent offseason after not receiving a qualifying offer from the Islanders, and decided to take his talents overseas. After signing a two-year contract with HC Davos in the NLA, he recorded six points in 16 games before requesting his release. The team granted it and terminated his contract to allow him the opportunity to return to North America, something that clearly has not happened. After the season with Sibir, he will once again be an unrestricted free agent.
Once a promising prospect in the Ottawa Senators program, Prince failed to translate his huge minor league offense into much at the NHL level and was routinely bounced between the two levels. His career high came in 2016-17 with the Islanders when he registered 18 points in 50 games, but still couldn't find much consistent playing time. After an injury plagued 2017-18 campaign, the team bid him farewell instead of risking salary arbitration.
Photo courtesy of USA Today Sports Images