The Minnesota Wild have tried to trade Jason Zucker multiple times. At the trade deadline this year, the Wild had a deal fall through with the Calgary Flames at the last minute while just last month they tried and failed to get a deal done with the Pittsburgh Penguins for Phil Kessel. It should come as no surprise then that Zucker comes in near the top of The Athletic's new trade board (subscription required) or that he was the topic of discussion on TSN 1040 radio today. Host Mike Halford —who also works at The Athletic—reported that a source told him the Vancouver Canucks are interested in the Wild forward and that there are several trade proposals already on the table.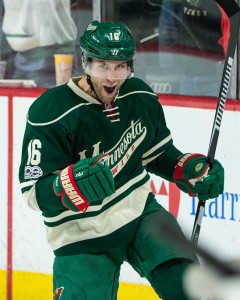 Zucker, 27, is one of the last bastions of the Minnesota forward core that former GM Chuck Fletcher built during his time there. Since taking over, new GM Paul Fenton has jettisoned Nino Niederreiter, Mikael Granlund and Charlie Coyle, bringing in some different faces to try and change their playoff outcome. Unfortunately, the Wild didn't even make the playoffs this season and now face an uphill climb back to contention. If Fenton is trying for a long-term approach to that problem it would make sense to move Zucker's remaining four years at a $5.5MM cap hit for future assets—though Kessel would have not been that kind of acquisition.
The Canucks however do have plenty of good young players to target, if Minnesota is interested in sending him that direction. The interest from Vancouver is obvious, given how well their young forwards performed this year and the huge amount of cap space they currently enjoy. Even though he didn't replicate his outstanding 2017-18 season, Zucker still produced 21 goals and 42 points last year for the Wild, and is one of the fastest skaters in the league. His deal only takes him through until he turns 31, and the Canucks have a need on the left side of their top-six beside either Bo Horvat or Elias Pettersson.
Still, because of Zucker's value the Canucks won't be the only ones interested. That same Athletic trade board has several quotes from executives around the league wondering why the Wild would even be interested in moving him, meaning Vancouver would likely need to pay a premium to win the bidding.
Photo courtesy of USA Today Sports Images