The offseason is now in full swing with the draft complete and free agency now underway.  What storylines lie ahead around the league in the weeks to come?  Our Offseason Keys series wraps up with a look at the Washington Capitals.
Before the celebrations of their Stanley Cup title even ended, the Capitals got busy when it came to accomplishing some offseason objectives.  They locked up John Carlson long-term, got out of Brooks Orpik's contract, and hired a new coach…all before July came around.  Despite accomplishing a lot of their keys early on, Washington still has some work to do this summer before they look to defend their title.
New Deal For Wilson
For several years, winger Tom Wilson has had the reputation of primarily being a physical forward but he took a big step forwards towards changing that last season as he posted career highs across the board with 14 goals, 21 assists, and 187 PIMS in 78 games.  He also saw his role increase dramatically as he went from a bottom-six forward to someone that was frequently riding shotgun on the top line.  He followed up that performance with an even better showing in the playoffs where he picked up 15 points (5-10-15) in 21 contests.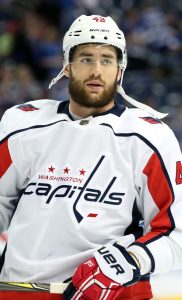 Interestingly, while Wilson was eligible for salary arbitration, he opted not to file in advance of Thursday's deadline.  That leaves him still eligible for an offer sheet but the biggest takeaway from this is that a guaranteed deal well in advance of the season isn't necessarily going to be the case.
GM Brian MacLellan has frequently stated that his preference is to sign Wilson long-term but it poses the question of what he's worth on that type of contract.  Yes, he's coming off of a strong season but his previous career high in points heading into last year was only 23.  That type of point production from a forward isn't something that typically yields a long-term commitment.  Instead, a 'prove it' bridge deal is often the route that gets taken and it will be interesting to see if they shift towards that if they can't come to terms on a long-term pact.  As Wilson is just 24, they can safely do so and still have him under team control at the end of the year.
Add A Veteran Goaltender
With Philipp Grubauer off to Colorado as part of a draft night trade, the Caps have lost a big security blanket behind Braden Holtby.  It was only a few months ago that Grubauer actually got the nod to start the postseason and while Holtby eventually reclaimed the starting role and played quite well after, he did struggle in 2017-18 and having Grubauer behind him gave them the opportunity to let him sit back and regain his form with a lot less pressure.
As things stand, Pheonix Copley is set to open the season as Washington's backup.  The 26-year-old has a total of two career NHL appearances and isn't exacting coming off of a confidence-inspiring minor league campaign, one that saw him post a 2.91 GAA and a .896 SV% in 41 games.  He brings some value in that he has a league-minimum cap hit but Washington could certainly stand to do better.
Whether it's looking at someone like Kari Lehtonen or Steve Mason in free agency or simply adding a third-stringer with a bit more NHL experience, bringing someone else in would be helpful.  Ilya Samsonov is now signed and is the goalie of the future but asking him to take on the starting reins in his rookie AHL season if something happens to Holtby would be risky.  MacLellan has done well to give them some wiggle room financially and spending some of those savings on some insurance between the pipes would be wise.
Add Defensive Depth
While Washington is expected to give youngsters Madison Bowey and Christian Djoos longer looks next season, it would still be a little risky going into the season with those two as the bottom pair and not much support behind them.  Orpik's deal was cleared out last month while Jakub Jerabek, a late-season addition, remains an unrestricted free agent.  In the system, Aaron Ness has a little bit of NHL experience but isn't someone that's going to be counted on for more than a few games here and there.
Basically, the Capitals need to replace Orpik with a similar veteran on a short-term deal (or simply re-sign Orpik as he was bought out by Colorado).  Fortunately for them, the market on veteran blueliners has been slow to develop so this is something they can slow play a bit unless there is a specific player they're targeting.  There will be defenders that will be looking for cheap deals or PTOs in late August/early September and Washington should have a favorable pitch given the year they just had and a spot potentially up for grabs.
Photo courtesy of USA Today Sports Images.