With the Stanley Cup now awarded and the draft on the horizon, the offseason is now in full swing.  What storylines lie ahead around the league in the weeks to come?  Our Offseason Keys series continues with a look at the Pittsburgh Penguins.
Although the Penguins went for it at the trade deadline by bringing in center Derick Brassard, they fell short of winning their third consecutive Stanley Cup title as they fell to the Cup-winning Capitals in the second round.  Most of the team is already under contract for 2018-19 but Pittsburgh still has a few things to do this summer.
Clear Some Payroll
As they've become quite accustomed to, cap space is something that the Pens don't project to have a lot of by the time they re-sign their restricted free agents.  That will hinder their attempts to add to the roster unless they can find a way to clear some space.
Pittsburgh does have a few underachievers that they could look to find new homes for.  Winger Carl Hagelin ($4MM) is now entering the final year of his contract and the fact that he's going to be an expiring deal should actually help his value.  While he hasn't lit it up in recent years, speed is in high demand and now that there's less long-term risk attached.
Winger Conor Sheary ($3MM) failed to get to his output from the previous season (53 points) but he still put up a respectable 18 goals in 2017-18.  He has shown in the past that he's at his best when he plays alongside Sidney Crosby and has struggled when not on his wing which may give teams some pause.  However, that type of money for someone who is capable of approaching 20 goals isn't bad so even though there are two years left, there should be a market.
Meanwhile, defenseman Matt Hunwick ($2.25MM) struggled considerably in his first year with the Penguins to the point where some wondered if he'd be a buyout candidate this summer.  They probably won't be able to clear his full salary off the books since he has two years left on his contract but they may be able to flip him for someone making a little less that can handle the same depth role.
GM Jim Rutherford is known to be quite creative and tends to use every penny on the cap he can so if they can deal one or more of these players to free up some additional flexibility, they'll reap the benefits of doing so whether it's in the summer or later on in the season.
Re-Sign Or Deal Rust
In 2016-17, Sheary was the beneficiary of playing well with Crosby and got a nice contract out of it.  This summer, it's winger Bryan Rust as he made the most of regular time in the top-six.  The 26-year-old had a career year, posting 38 points in 69 games.  For perspective, he came into 2017-18 with a total of 41 points in 112 contests.  He went from being a depth player to someone that the Penguins counted on for secondary scoring.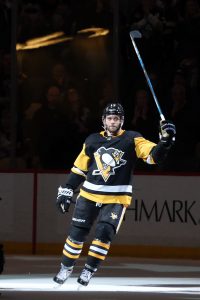 Rust now enters the summer one year away from unrestricted free agency and has salary arbitration rights.  He has positioned himself to jump, like Sheary, from a player hovering around the league minimum salary to one closer to the league average (which checked in at just over $3.1MM this past season.
As someone that has fit in well with the likes of Crosby and, to a lesser degree, Evgeni Malkin, giving Rust that type of contract would make some sense.  However, considering they've had success throwing lesser-known players into that role, perhaps they would be better served trying that approach again next season with someone like Zach Aston-Reese or Daniel Sprong (players on cheaper deals) and trading Rust to help free up some cap room or add to their back end.
Add Defensive Depth
Speaking of that back end, while Pittsburgh has an established top-four, their bottom pairing has been subject to a lot of fluctuation in recent years.  Hunwick was brought in to stabilize things but that didn't work out as intended which necessitated a midseason trade for Jamie Oleksiak from Dallas.  They were also forced to press Chad Ruhwedel into regular action as the season progressed, including in the playoffs where he played in every game.
Last summer, the Penguins completely rebuilt their back end at the minor league level and will likely do so again this offseason.  However, this time around, they may also want to look at adding a depth player or two with a bit more of a track record at the NHL level, especially someone who is a right-shot (or can at least play that side).  There are always going to be injuries and Rutherford could stand to have a bit more insurance at that position.  Fortunately for Pittsburgh, it's a lot easier to add depth defenders than it is top-four pieces so they shouldn't have too much trouble shoring up that position.
Photo courtesy of USA Today Sports Images.