With the Stanley Cup now awarded, the offseason is now in full swing.  What storylines lie ahead around the league in the weeks to come?  Our Offseason Keys series continues with a look at the San Jose Sharks.
Rather than make a lot of changes following a first-round exit at the hands of the Oilers in 2017, the Sharks opted to bring the majority of the team back for another run.  That trust was rewarded as San Jose, bolstered by the addition of Evander Kane at the trade deadline, made it to the second round before being ousted by the upstart Golden Knights.  Now, GM Doug Wilson has to decide whether to follow the same playbook again this summer or to shake things up.  He already has dealt with one major offseason key with extending Kane; here are three more.
Extension Talks
Wilson has been a proponent of getting new contracts done early.  He got Kane signed before he hit the open market and last summer, he wasted no time inking goalie Martin Jones and defenseman Marc-Edouard Vlasic to long-term extensions.  Two more core players are now eligible to sign as of July 1st in center Joe Pavelski and center/winger Logan Couture and it stands to reason that the Sharks will be looking to repeat recent history with these two.
Pavelski is coming off his lowest point total since the lockout-shortened season.  That's the bad news.  The good news is that he still put up 66 points which is still quite good.  The 33-year-old is unquestionably San Jose's top pivot and they have used him in all situations so he is someone they're going to want to keep around.  What will make his extension talks a little more interesting is that he will be 35 when his next contract kicks in.  Will the Sharks go with a longer term in order to try to keep the cap hit a little lower or come in with a two- or three-year offer at a higher AAV?  At either rate, expect talks to begin sooner than later if they haven't already and that his next contract will exceed his current $6MM cap charge.
As for Couture, it sounds like talks have already started and that the team is hopeful to get something done in these next few weeks leading up to the turn of the calendar.  While the Sharks have flip-flopped at times in terms of using him on the wing instead of down the middle, he has still been a very consistent player for them, averaging between 0.69 and 0.83 points per game over the last eight seasons.  Unlike Pavelski, the 29-year-old is young enough that a max-term deal (or close to one) is certainly going to be on the table and he should be in line for a raise on his current $6MM AAV.
New Deal For Hertl
Two years ago following a 46-point season, San Jose opted to give center/winger Tomas Hertl a bridge contract instead of a long-term pact.  Now, following another 46-point season, the Sharks have to give the 24-year-old another new deal.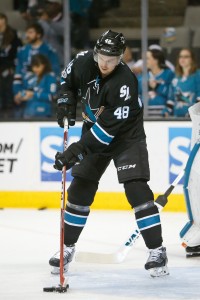 In his five-year NHL career, Hertl has been a capable secondary scorer but has yet to really establish himself as a true top-line forward despite having some opportunities to do so.  Despite that, he's still an important part of their core and is someone that they'd like to keep around for a while yet.
What's interesting here is how this could go a couple of different ways.  If the Sharks want to be active in free agency (more on that shortly), they may want to go with a one-year deal for Hertl this summer to maximize their salary cap flexibility.  His qualifying offer checks in at $3.2MM.  On the other hand, the time is right for a long-term pact as he looks to be entering the prime of his career (or close to it).
Is Hertl the type of player to commit to long-term though?  We're seeing a time where the top players get the big bucks and more and more cheaper players coming in to offset the higher salaries.  As a result, the middle class is getting the squeeze and that's where Hertl fits in; he's not a top-line player but is still a legitimate top-six forward.  Are they better off committing the better part of $5MM to a second-line player or following the recent trend of bringing in a lesser player to fill that spot in order to have more money to allocate for a top-liner?  They can defer that call by signing him short-term but it's one they'll need to make sooner than later.
Add A Top-Six Center
The Sharks have had strong depth down the middle in recent years.  Pavelski has succeeded as a number one, pending UFA Joe Thornton (when healthy) is still a strong playmaker, while Couture and Hertl have flipped between the wing and center.  That's a strong group to work with but none of those players are under team control for much longer.  They're in good shape for 2018-19 but after that, it could get iffy.
Assuming at least one of Couture or Pavelski signs an extension, that gives them a bit more security for one of their top-six roles.  Thornton is at best a stop-gap; he turns 39 next month so he's not part of the long-term plans.   Even Pavelski is a shorter-term solution given his age when his next contract kicks in.  San Jose has one legitimate center prospect in the system in Josh Norris but he's still several years away from being ready.
Accordingly, it wouldn't be surprising to see Wilson pursue more help down the middle either via free agency or trade.  They have the cap space to make a splash since the salary cap is expected to jump by several million for next season and doing so would give them high-end center depth for 2018-19 to make them more of a contender while giving them some more security at that position long-term.
Photo courtesy of USA Today Sports Images.