With the Stanley Cup now awarded, the offseason is now in full swing.  What storylines lie ahead around the league in the weeks to come?  Our Offseason Keys series continues with a look at the Boston Bruins.
Last summer, the Bruins were fairly quiet as they opted to improve from within and give their youngsters some opportunities to make their mark.  They were rewarded for their patience as they nearly won the Atlantic Division while making it to the second round of the postseason before being ousted by Tampa Bay.  Now, GM Don Sweeney will be tasked with adding some pieces to help them take that next step forward.  Here are the keys to their offseason.
Re-Sign Or Replace Nash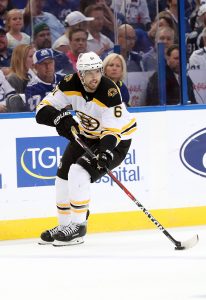 In an effort to bolster their attack in advance of the postseason, the Bruins paid a hefty price to acquire winger Rick Nash.  The 33-year-old didn't play poorly but he didn't exactly move the needle either while he also battled a concussion.  Boston must now decide whether or not to re-sign him or try to fill that vacancy through other means.  At the very least, he is going to be taking a significant pay cut from the $7.8MM AAV he has had for the past eight years after failing to hit the 40-point plateau for the past three seasons.
Boston could opt to follow what worked for them this past season and earmark that spot for a youngster like Anders Bjork, Zach Senyshyn, or Jakob Forsbacka-Karlsson.  However, with Jake DeBrusk and Danton Heinen already locked in as regular wingers and Ryan Donato appearing likely to have a regular spot as well, doing so could run the risk of having too many young players in important roles.  If it worked out, they'd be in great shape but if not, they may be forced to pay the price again next trade deadline.  Accordingly, it wouldn't be surprising to see them go after another winger if they can't get Nash locked up.
Then there's the other Nash.  Center Riley Nash emerged as a legitimate two-way threat for the first time in his career, posting 41 points in 76 games.  (For perspective, his previous career high was 25 points.)  With a weak market down the middle, the 29-year-old has positioned himself for a big raise from the $900K he made in 2017-18.  With big money tied up already in Patrice Bergeron, David Krejci, and David Backes (who has played center plenty in the past), can they afford to have another pivot making above average dollars?  On the flip side, given how important he was to them, can they afford to let him go?  While Rick Nash gets most of the attention given his history, Riley is an important player they need to decide on as well.
Find A Backup Goalie
History has shown that starting goaltender Tuukka Rask has struggled when he is leaned on to play too many games.  In 2017-18, he showed that with more rest, he can still be one of the better starters in the league.  The strong play of Anton Khudobin allowed Rask to have a few more games off but the backup netminder is set to hit free agency as one of the better players available in a fairly weak goalie market.
The 32-year-old is coming off of the third-largest workload of his career after making 29 starts while posting a respectable 2.56 GAA with a .913 SV%.  Those numbers may not stand out but overall, they're pretty good for a career backup.  As teams around the league look to take more pressure off their number ones, a player like Khudobin who has shown he can handle a larger workload than a typical backup is going to garner a fair amount of interest.
If they aren't able to bring Khudobin back, it's likely that they will look elsewhere in free agency as they don't really have anyone ready to step up and take over in their system.  Zane McIntyre, once viewed as a potential number two of the future, has seen his development largely stall at AHL Providence and their other minor pro options are just starting out.  Given how important rest is to Rask, expect the Bruins to follow the recent trend of paying a bit of a premium for an above-average backup whether it's Khudobin or someone else.
Add A Top-Four Left Shot Defenseman
In the short-term, a one-two punch of Zdeno Chara and Torey Krug on the left side isn't too bad.  However, there are some risks if they do start next season with those two in their familiar roles.  While Chara is still defying Father Time, he can't be asked to log well over 20 minutes per night for much longer.  Eventually, he needs to drop down the depth chart.  Meanwhile, Krug's offensive skills are a huge plus but his play in his own end is suspect at times which rules him out from really ascending to that top pairing.  Matt Grzelcyk has shown some promise but he's not ready for that type of role yet either.
While they didn't get him at the deadline, they did have interest in Ryan McDonagh and a player with his skill set would go a long way to really strengthening their back end.  Unfortunately for Boston, McDonagh is unlikely to be available this summer and there isn't anyone like him in free agency so the trade route will be the way to go here.  With the surplus of quality youngsters up front, Sweeney will at least have some trade chips at his disposal.
On the right side, Boston is in great shape long-term with Charlie McAvoy and Brandon Carlo leading the way.  Both players have five years of team control remaining so the team can afford to shift their focus to shoring up their left side and giving a quality back end a real boost.
Photo courtesy of USA Today Sports Images.