Free agency is now a little more than a month away and teams are looking ahead to when it opens up.  There will be several impact players set to hit the open market in July while many teams have key restricted free agents to re-sign as well.  We continue our look around the NHL with an overview of the free agent situation for the Arizona Coyotes.
Key Restricted Free Agents
F Christian Fischer – Fischer initially looked like a future top-six point producer for the Coyotes after being drafted early in the second round of the 2015 NHL Draft. He scored 15 goals and 33 points in 79 games as a 20-year-old rookie in 2017-18. Unfortunately, he has not reached those totals again in his career, though he is coming off his second best offensive season. The 26 year old scored 13 goals and 27 points in 80 games and will now look for a bit of a raise.
At 6-foot-2 and 214 pounds, Fischer brings size and a bit of physicality to the ice, which gives him a little more value than just his offense. Fischer is coming off a one-year contract with a $1.125MM cap hit which he signed after scoring five goals and ten points in 53 games in the 2021-22 season. After basically doubling his offensive output on a per-game basis, Fischer will likely look to double his salary as well and try to get a few years of term on his deal as well.
F Matias Maccelli – Maccelli had one of the quietest strong seasons in the NHL this year. A bit of an unknown in hockey circles, Maccelli put together a strong rookie season and earned some mentions in Calder Trophy talks. He was not one of the three finalists, but once the ballots are released, I'm sure he will be one of the next few players on the list.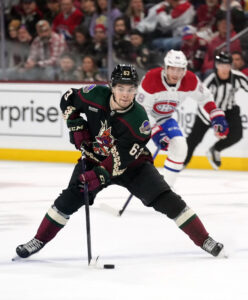 The 22 year old Finnish forward was a fourth round pick of the Coyotes in 2019 and has a strong AHL season in 2021-22 but really broke out with the Coyotes this season. He scored 11 goals and 49 points in 64 games which put him third on the team in points. He is just coming off his entry-level contract so he does not have arbitration rights yet which does not give the player much leverage. However, his point total will give him some reason to ask for a big raise, though the team will likely look for a bridge deal to see if he can repeat his offensive output while keeping his restricted free agent status following his next contract. A two-year deal with a cap hit of $2MM could make sense for both sides.
F Jack McBain – McBain was a third round pick of the Minnesota Wild but signed with the Coyotes after a four-year NCAA career at Boston College. While he developed into a star player at the college level, he is still just finding his way in the NHL. The 23 year old just wrapped up his first full NHL season by scoring 12 goals and 26 points in 82 games.
He has now completed his two-year entry-level contract but he burned the first year by playing ten NHL games following his college season ending just over a year ago. That means he does not have a ton of pro experience and not a lot of reason to ask for a big raise. The Coyotes were willing to give the young player a full-time NHL role right out of college and he would be wise to re-sign at a cap hit around $1M to continue developing his game in the best league in the world.
G Connor Ingram – Ingram earned the backup role for the Coyotes and played well behind a team that was not the greatest defensively. He suited up for 27 games and while his 3.37 GAA does not look great, he had a decent .907 SV% while facing a high quality of shots against. He will look for a small raise on his $733k cap hit from the past three seasons.
Other RFAs: Jan Jenik, Nathan Smith, Cameron Crotty, Ivan Prosvetov, David Tendeck
Key Unrestricted Free Agents
F Laurent Dauphin – Dauphin has proven to be a capable scorer at the AHL level in his career, but has not broken through to show he is a full-time NHL player yet. He played 21 games with the Coyotes this season and had just one point. The 28-year-old center now has 17 points in 94 career NHL games, though he did score 41 points in 48 AHL games this season.
Dauphin will sign another two-way contract with some team at a league minimum NHL salary but is destined for waivers at the start of next season on his way to another strong AHL campaign.
F Brett Ritchie – One part of the infamous brother trade that sent Brett to Arizona and Nick to Calgary, this Ritchie could now hit the open market. He had eight goals and 13 points in 50 games split between the Flames and Coyotes last season and will now look to sign another league minimum two-way deal for the upcoming season.
D Connor Mackey – Also traded from Calgary to Arizona midseason, Mackey was a promising college free agent just a few years ago and could prove to be valuable depth for a team like the Coyotes next season. He is currently playing at the World Championships after scoring seven points in 30 NHL games and his 6-foot-2 frame allows him to defend his side of the ice. He is a bit of a late bloomer, signing out of college at 24, and he is likely looking for a short term deal at league minimum as well.
Other UFAs: Michael Carcone, Bokondji Imama, Steven Kampfer
Projected Cap Space
Cap space won't be an issue for Arizona this summer. In fact, they are going to have to be aggressive to spend to the cap floor. They have $27MM in cap space and need to spend about $6MM just to reach the league's minimum salary for next season. They have been stockpiling draft picks and prospects but do not look to be ready to contend just yet. They will need to sign a few free agents or take on another dead contract like they already have with Shea Weber, Bryan Little and Jakub Voracek just to eat up cap space next season.
Photos courtesy of USA Today Sports Images.  Contract information courtesy of CapFriendly.