Navigating the salary cap is one of the more important tasks for any GM.  Teams that can avoid total cap chaos by walking the tightrope of inking players to deals that match their value (or compensate for future value without breaking the bank) remain successful.  Those that don't see struggles and front office changes.
PHR will look at every NHL team and give a thorough look at their cap situation for the 2023-24 season.  This will focus more on players who are regulars on the roster versus those who may find themselves shuttling between the AHL and NHL.  All cap figures are courtesy of CapFriendly.
Los Angeles Kings
Current Cap Hit: $84,937,314 (over the $83.5MM Upper Limit)
Entry-Level Contracts
F Quinton Byfield (one year, $894K)
F Alex Laferriere (two years, $875K)
F Arthur Kaliyev (one year, $894K)
D Jordan Spence (one year, $820K)
Potential Bonuses
Byfield: $2.65MM
Kaliyev: $212.5K
Spence: $82.5K
Total: $2.945MM
Byfield took a small step forward last season and has looked a bit better in the early going this year.  However, he's a lock for a bridge contract.  Barring a major uptick in production, that deal might be capped around the $2.25MM mark while his 'A' bonuses are going to be tough to reach.  Kaliyev, meanwhile, is a bit more established as a secondary scorer.  If he can get closer to the 20-goal and 40-point mark this season, he could push his bridge cost a bit higher than Byfield's while hitting his lone 'A' bonus.  Laferriere is just starting off his NHL career so it's a bit early to project his next deal but if he can stay on the third line, he should push past the $1MM mark at least.
Spence has been a strong point producer in the minors but isn't quite ready to play a big role just yet.  That will limit his earnings upside to the point where a one-year bridge contract around what he's making now might be what happens.  His bonuses are tied to games played with multiple thresholds so while he might not max out, he should reach some of that total if he stays healthy.
Signed Through 2023-24, Non-Entry-Level
F Jaret Anderson-Dolan ($775K, RFA)
F Viktor Arvidsson ($4.25MM, UFA)
G Pheonix Copley ($1.5MM, UFA)
F Carl Grundstrom ($1.3MM, RFA)
F Trevor Lewis ($775K, UFA)
F Blake Lizotte ($1.675MM, RFA)
D Matt Roy ($3.15MM, UFA)
G Cam Talbot ($1MM, UFA)
Potential Bonuses
Talbot: $1MM
Arvidsson has certainly improved his value since being acquired in 2021 from Nashville, putting up two of his better offensive years including reaching the 20-goal mark each time.  Free agency hasn't been kind to wingers lately but assuming he's able to come back from the lower-body injury that has him on LTIR, he should be able to get a small raise on this on a multi-year deal.  Lizotte has shown slow and steady improvement over his first few seasons despite having relatively limited playing time; this season looks to be a continuation in the early going.  If that happens, he could have a case to push past the $2MM mark with arbitration rights.  However, if the Kings are only comfortable playing him 10-12 minutes a night, he could become a non-tender candidate if they want to fill that lineup spot with someone cheaper even at the expense of some production.
Grundstrom has become a fourth-line regular for Los Angeles and chipped in with a dozen goals last season.  Still, with the Kings largely capped out, they may be hard-pressed to afford to give him much more if this is the role he's going to remain in.  A small raise is doable but a non-tender could be possible as well.  Lewis is a serviceable fourth liner which has kept him in the NHL for 16 seasons now.  If there is going to be a 17th, it'll be at or close to the minimum again.  Anderson-Dolan is the extra skater at this point so it's hard to see him commanding more than the league minimum either.  With nearly 100 NHL games under his belt already, he's a bit of an arbitration risk for the Kings (who wouldn't want to go higher than $775K) so barring him locking down a regular role, they might opt to non-tender him as well.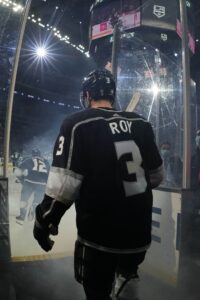 Roy is one of the more intriguing defensemen entering the final year of his deal.  He seemingly has largely flown under the radar with Los Angeles but he has put up back-to-back career years offensively despite not seeing a ton of power play time.  Defensively, he logs heavy minutes on the penalty kill, allowing him to hover around 20 minutes a night on average most years.  He turns 29 in March so he's young enough that he should still have several good seasons ahead of him.  Add those elements to the fact that Roy is a right-hand shot and you have a combination that should earn him a nice raise on the open market.  A jump to around the $4.5MM mark could be doable for him although it'd be surprising if that came with the Kings who might be inclined to give his spot to prospect Brandt Clarke next season.
Talbot came over after an injury-plagued year with Ottawa.  He hasn't been a true starter for a while but they're basically counting on him to be one.  His bonuses are easy to achieve (payable at 10 games played) and the bulk of that will be charged against the cap next year.  If Talbot can get back to his form from a few years ago, he could get back closer to the $3MM mark next summer.  Copley is in his first full season as the backup after an early-season recall turned into a career year last season.  The early results aren't good this year, however.  If he's able to turn things around, a small raise could be doable but his longer-term track record of being a third-stringer will work against him in free agency.
Signed Through 2024-25
D Tobias Bjornfot ($775K, RFA)
D Andreas Englund ($1MM, UFA)
D Vladislav Gavrikov ($5.875MM, UFA)
Gavrikov impressed after being acquired from the Blue Jackets at the trade deadline last season along with Joonas Korpisalo.  They only had room to keep one of the two and opted for the blueliner.  Expecting a jump in the cap in the near future, the 27-year-old decided to take a short-term deal this time around in the hopes of landing a more lucrative long-term pact in 2025.  As things stand, he might be able to get a small raise but not much more than that.
Englund worked his way back up to the NHL last season, splitting the year in a depth role between Colorado and Chicago.  He should be in a similar role this year and a $1MM price tag for a sixth or seventh defender is a reasonable cost.  Bjornfot's deal is one-way in both seasons as he opted to take some guaranteed money in exchange for taking less than his qualifying offer.  Playing time at the top level has been hard to come by for the 2019 first-rounder and he'll need to establish himself as a regular to get any sort of meaningful increase two years from now.
Signed Through 2025-26
F Adrian Kempe ($5.5MM, UFA)
F Anze Kopitar ($10MM in 2023-24, $7MM in 2024-25 and 2025-26, UFA)
It was widely expected that the Kings would work out an extension for their captain at some point and they wasted little time doing so.  Kopitar isn't a top-end scorer but has been close to the point-per-game mark the last few seasons while being a high-quality defensive center.  $10MM is a bit on the high side but on his next contract, he could provide some value on that deal, even when they start to manage his minutes.  Kempe has gone from a secondary producer to a go-to scorer over the last two seasons, notching 76 goals combined over the past two years.  As a result, his contract will be a nice bargain if he's able to keep scoring at that rate.  He'll be 30 in 2026 and if he remains a 30-plus-goal scorer, a decent-sized raise on a long-term deal could be on the horizon.
Signed Through 2026-27 Or Longer
D Michael Anderson ($4.125MM through 2030-31)
F Phillip Danault ($5.5MM through 2026-27)
D Drew Doughty ($11MM through 2026-27)
F Pierre-Luc Dubois ($8.5MM through 2030-31)
F Kevin Fiala ($7.875MM through 2028-29)
F Trevor Moore ($4.2MM through 2027-28)
Dubois was GM Rob Blake's big acquisition this past summer, giving them three impact middlemen which is a nice foundation to work from.  Dubois has never been a high-end scorer which, on the surface, makes this contract a bit of an overpayment.  However, he should take some minutes from Kopitar at some point and if that results in an uptick in production, Los Angeles should get a reasonable bang for their buck.  Fiala's first season with Los Angeles was a strong one as he averaged over a point per game for the second straight year and is on pace to do so early on this time as well.  If he's going to consistently stay at that level, this could become a below-market deal rather quickly once the salary cap starts to go up.
Danault's production has rebounded nicely after a tough final year in Montreal.  That, coupled with his strong defensive play and faceoff skills, has made him a viable second center.  With Dubois in the fold now, it will be interesting to see if his role will change much moving forward.  If not, a few more years like this could earn him a raise in 2027.  Moore has produced more than 30 points just once in his career while injuries prevented him from doing so last season.  As a result, this deal feels a bit high on the surface but if he stays healthy and can hang around the 40-point mark, they'll do okay with this contract.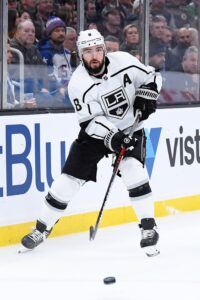 There's no denying that Doughty has been a terrific defender for the Kings throughout his career.  He's certainly a franchise icon.  However, there's also no denying that this contract has been an overpayment from the get-go and isn't likely to get any better as he ages.  It's not his fault either; it's just next to impossible to provide good value on what was briefly the richest contract for a defenseman in NHL history.  Doughty still logs big minutes, plays in all situations, and still puts up points at a pretty good clip.  He's still more or less a number one defender even.  But the contract is still in negative value territory and as he ages, it could get worse over time.
Anderson has been a reliable defensive defender in his first few NHL seasons but the Kings clearly felt that he had another gear to get to as evidenced by this contract.  His early start to this year suggests they were wise to do so as the production is certainly there so far.  If Anderson can become a legitimate two-way threat, this could become one of their better bargains in the near future.
Buyouts
None
Retained Salary Transactions
D Ivan Provorov ($2.025MM through 2024-25)
Salary Cap Recapture
F Mike Richards ($700K in 2023-24 and 2024-25, $600K from 2025-26 through 2028-29)
Best Value: Kempe
Worst Value: Doughty
Looking Ahead
The Kings are quite tight to the Upper Limit at the moment when everyone is healthy and have been papering Spence and Anderson-Dolan down to the minors just to bank a few dollars of cap space on off days.  They're hardly the only team in this situation but banking room to make an in-season splash at the trade deadline is going to be difficult.
Beyond this season, they're not in too bad of shape with around $65MM on the books for 12 players.  Yes, Talbot's bonuses will be on the books but Kopitar's pay cut covers that and more.  They don't have many expiring deals of note other than Roy whose spot could be filled internally.  If the goalie experiment doesn't go well this year, they should have enough flexibility to bring in a more proven option next summer.
Photos courtesy of USA Today Sports Images.