Hindsight is an amazing thing, and allows us to look back and wonder "what could have been." Though perfection is attempted, scouting and draft selection is far from an exact science and sometimes, it doesn't work out the way teams – or players – intended. For every Patrick Kane, there is a Patrik Stefan.
We're looking back at the 2009 NHL Entry Draft and asking how it would shake out knowing what we do now. Will the first round remain the same, or will some late-round picks jump up to the top of the board?
The results of our redraft so far are as follows, with their original draft position in parentheses:
1st Overall:  Victor Hedman, New York Islanders (2)
2nd Overall: John Tavares, Tampa Bay Lightning (1)
3rd Overall: Ryan O'Reilly, Colorado Avalanche (33)
4th Overall: Matt Duchene, Atlanta Thrashers (3)
5th Overall: Chris Kreider, Los Angeles Kings (19)
6th Overall: Nazem Kadri, Phoenix Coyotes (7)
7th Overall:  Mattias Ekholm, Toronto Maple Leafs (102)
8th Overall: Evander Kane, Dallas Stars (4)
9th Overall: Brayden Schenn, Ottawa Senators (5)
10th Overall: Oliver Ekman-Larsson, Edmonton Oilers (6)
11th Overall: Ryan Ellis, Nashville Predators (11)
12th Overall: Dmitry Orlov, New York Islanders (55)
13th Overall: Anders Lee, Buffalo Sabres (152)
Lee goes much higher this time around, jumping up from the first pick of the sixth round to just above the midway mark of the first after receiving just shy of 30% of the votes.  It's a pick that would have gone over much better for Buffalo after Zack Kassian didn't quite live up to his draft billing.
Lee's path to the NHL certainly wasn't a quick one.  He had a stint with Green Bay of the USHL after being picked and then spent the following three years with Notre Dame where he was a consistent scoring threat, putting up at least 17 goals and 34 points each year.  That earned him an entry-level deal in 2013 where he made his NHL debut just days later.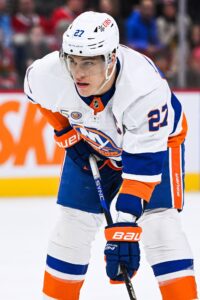 But it wasn't until 2014-15 that Lee became a regular with the Islanders.  As he did in college and the minors, he just kept on scoring, notching 25 goals in his rookie year to help him finish in the top ten in Calder Trophy voting for Rookie of the Year.  His best season came three years later when he cracked the 40-goal mark while also eclipsing the 60-point plateau.
While Lee hasn't been able to get back to that level since then, he has been a relatively consistent scorer.  He has scored 28 goals three times in the past five seasons; the two that he didn't were the campaigns shortened by the pandemic.  Along the way, he took over as captain in 2018 after John Tavares left for Toronto and signed a seven-year extension with the Isles one year later; that deal – which carries a $7MM AAV – still has three seasons left on it.
As things stand, Lee is tied for seventh in most goals scored from the 2009 draft class.  He's tied with Schenn, who went ninth in our redraft, despite playing in 180 fewer NHL games thus far.  As a result, he was one of the best bargain selections from 2009, if not the best value pick overall.
Now, we turn our focus to the 14th pick which was held by the Florida Panthers.  They selected blueliner Dmitry Kulikov, a player who hasn't lived up to the offensive profile he had in the QMJHL but one who has carved out a pretty good career for himself nonetheless and actually rejoined his original team in free agency this summer.  Was that the right pick for them or is there a better fit on the board?  Make your pick by voting in our poll below.
If you can't access the poll above, click here to vote.
Photo courtesy of USA Today Sports Images.