Hindsight is an amazing thing, and allows us to look back and wonder "what could have been."  Though perfection is attempted, scouting and draft selection is far from an exact science and sometimes, it doesn't work out the way teams – or players – intended.  For every Patrick Kane, there is a Patrik Stefan.
We're looking back at the 2009 NHL Entry Draft and asking how it would shake out knowing what we do now.  Will the first round remain the same, or will some late-round picks jump up to the top of the board?
The results of our redraft so far are as follows, with their original draft position in parentheses:
1st Overall:  Victor Hedman, New York Islanders (2)
2nd Overall: John Tavares, Tampa Bay Lightning (1)
3rd Overall: Ryan O'Reilly, Colorado Avalanche (33)
4th Overall: Matt Duchene, Atlanta Thrashers (3)
5th Overall: Chris Kreider, Los Angeles Kings (19)
6th Overall: Nazem Kadri, Phoenix Coyotes (7)
7th Overall:  Mattias Ekholm, Toronto Maple Leafs (102)
8th Overall: Evander Kane, Dallas Stars (4)
With Dallas originally taking Scott Glennie at the eighth spot, this selection certainly represents a significant improvement in outcomes for the Stars with 31.5% of the votes from our readers going to the power forward.  That was twice as many votes as the next-highest player.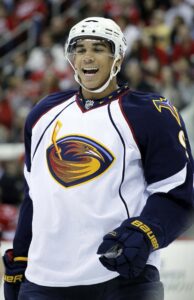 Kane was originally drafted fourth overall by Atlanta after a dominant showing with WHL Vancouver and they moved him right to the NHL.  While it took him some to adjust to playing at the top level, his third season was a breakout campaign as he picked up 57 points in the franchise's first season with Winnipeg.  To date, that is his career-best in a single season.
However, Kane wasn't without controversy during his time with the Jets and he later admitted that he requested a trade basically every offseason.  Eventually, that request was granted – while he was on the injured list, no less – as Winnipeg moved him to Buffalo in February of 2015 in what some would call a blockbuster move at the time.  Zach Bogosian also went to the Sabres as part of the swap with Tyler Myers, Joel Armia, Drew Stafford, Brendan Lemieux, and a first-round pick all coming to Winnipeg.
Things weren't much better for Kane in Buffalo.  The injury struggles continued while he produced at close to the same level as he did with the Jets.  With his contract coming to an end in 2018 and the Sabres out of contention, he was moved to San Jose at the trade deadline.
This time, the change of scenery helped as Kane played well enough down the stretch and in the playoffs to earn a seven-year, $49MM contract.  In his first two full seasons with the team, he had 56 goals and it looked like he had found a long-term home.
However, he didn't make it past the halfway point of the deal.  The relationship between Kane and the Sharks soured amid off-ice allegations that were investigated by the league and found to be unsubstantiated.  Then, Kane submitted a fake vaccination card in 2020, resulting in a 21-game suspension and an immediate assignment to the AHL upon its conclusion.  Two months later, they terminated the contract, citing a breach of contract and failure to adhere to COVID protocols.  Kane and the NHLPA filed a grievance which was settled last September.
In the meantime, Kane caught on with Edmonton in 2022 and was quite productive down the stretch with 39 points in 43 games, earning himself a new four-year deal that still has three years remaining.  Injuries limited him to just 41 regular season games in 2022-23 but he was still an important part of their top six and projects to be in that role for the foreseeable future.
Now, we move on to the ninth selection, which was held by the Ottawa Senators.  They initially took Jared Cowen out of WHL Spokane but he was only able to hold on to a depth role for a handful of years before calling it a career in 2016.  Clearly, he isn't the best option available in our redraft.  Who is?  Make your selection for the Sens below.
If you can't access the poll above, click here to vote.
Photo courtesy of USA Today Sports Images.